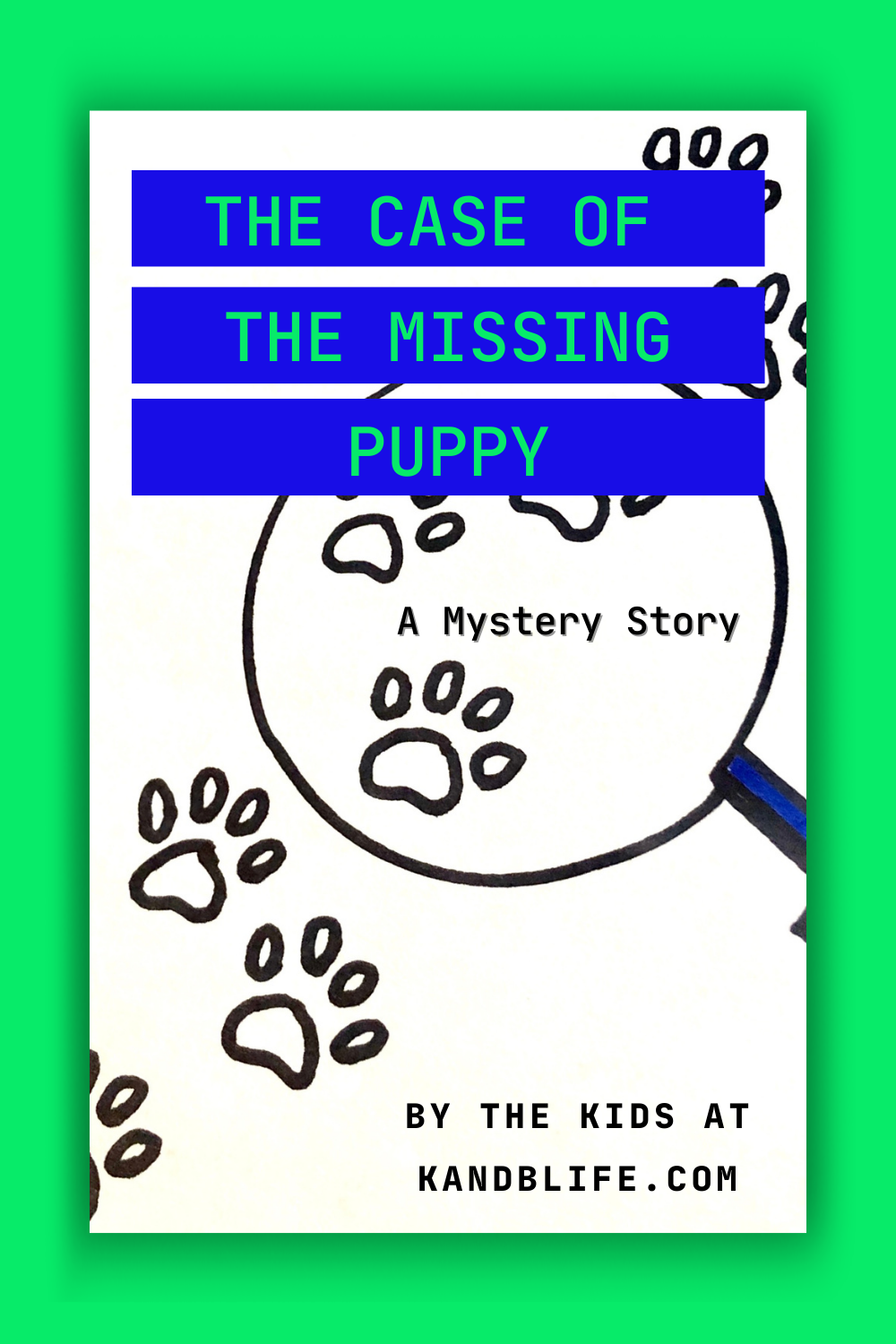 The Case of the Missing Puppy: A Mystery Story for kids
Kinley speaks into a walkie talkie: "Good morning, Ella."
"Hi", says Ella, "meet me at the park at 8:00 this morning, I may have a case for us to work on."
Kinley and Ella have been best friends since 1st Grade and are neighbors.   It's summer vacation. No school, no homework, just fun and crime solving.  Kinley and Ella are known around town as detectives, they're 11 years old and love to solve mysteries. Some say they're nosy but they say they're curious.  Big difference.  Back to the story…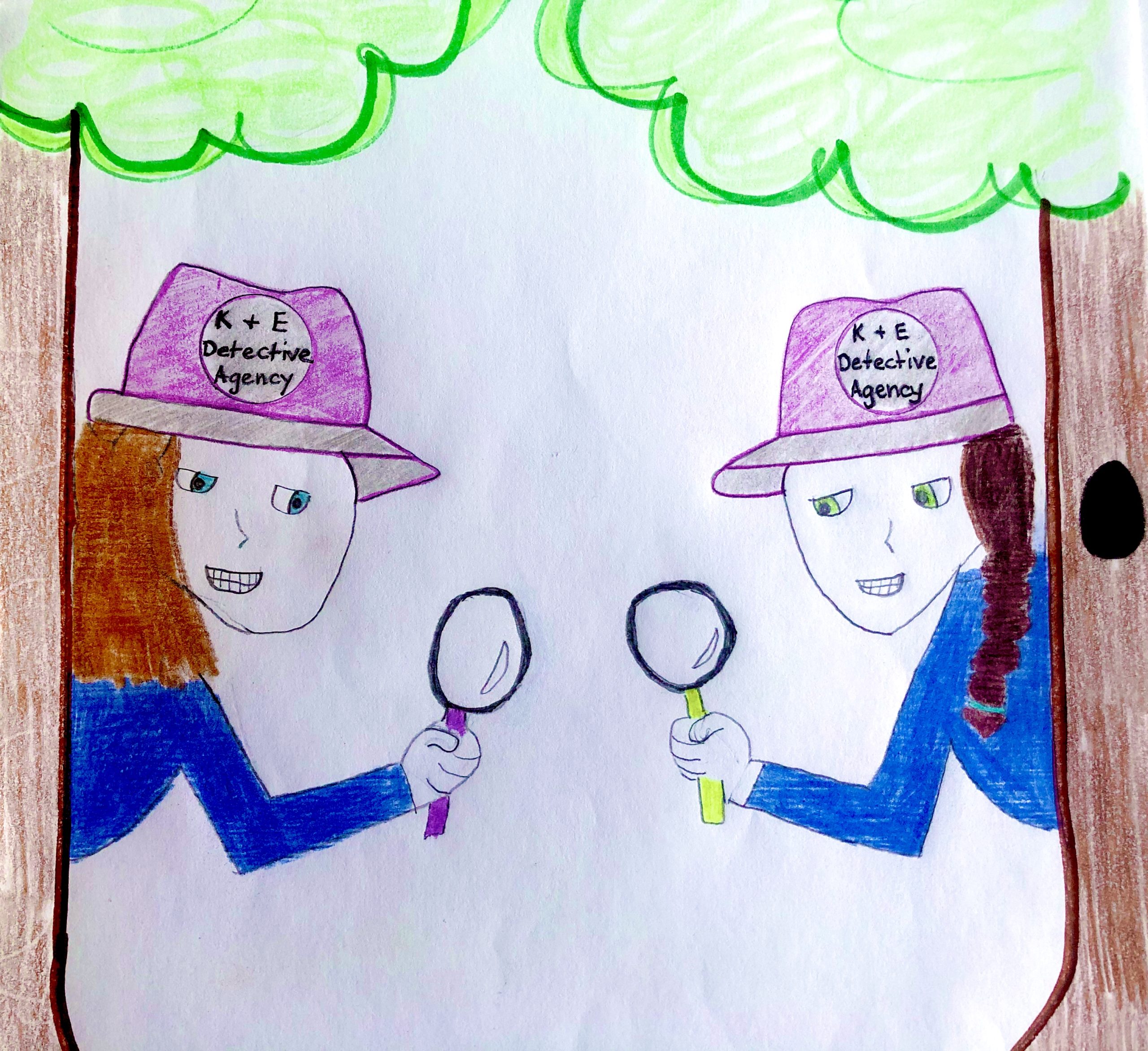 The Mystery
After breakfast, Kinley arrives at the park at 7:48 as a brown haired, sad girl named Sara walks up to her and says, "Hey, I know you from school, can you help me find my puppy? I was getting a stick to throw and she took off."
"Sure. Do you have a photo or any information about her?" asks Kinley. Sara was able to give Kinley lots of information:
A golden retriever puppy, age 5 months
She's wearing a red collar with a W on it for Wisconsin
Her name is Lucy
Ella arrives at 7:55. Kinley reports to her that there is a lost puppy that they need to find ASAP.  "Let's do this," says Ella.  They tell Sara to go home and wait and see if Lucy returns there. Ella gives Sara her radio and tells her to call them if she shows up.
The hunt begins
The two girls break up into different directions to search the park, the scene of the crime. One hour later, Kinley excitedly radios to Ella, "I found a clue! I found a clue!" Ella meets her at the big oak tree on the west end of the park. Kinley has found the collar.  It is hanging on a little branch.
Ella says, "Look! I found some puppy tracks!"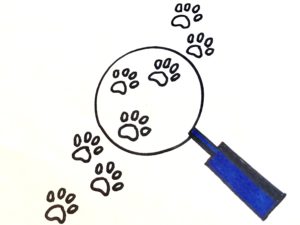 They decide to grab the collar and follow the tracks. It leads to a big parking lot.  Kinley asks, "Why do the paw prints suddenly stop?"
"Wait, there are tracks, Kinley, they've just changed. It looks like tire tracks,"  At the same time, they say, "Those aren't bike tire marks."
They look at each other and realize it could be a car or truck.  Could someone have stolen her?  Is Lucy gone forever? Ella says, "She doesn't have her collar. Do you think someone thought she was a stray and brought her home to keep her?" They both looked hopeless because they knew that was a good possibility. Then Kinley's eyes get big and looks at Ella and says, "Ella.  What else happens when someone finds a dog that has no collar?"  Together they yell, "THE DOG POUND!"
getting closer
They head over to the nearest Humane Society and check the cages. But no luck. Lucy wasn't there.  "Looks like we need to go check the other two pounds," says Ella.  They hop on their bikes and head over to the North Humane Society.  Nope.  East Humane Society?  Nope.
Kinley and Ella sit outside on their bikes in front of the building, feeling bummed. A few minutes later, they're ready to go back to the park and look again before telling Sara the bad news, when all of a sudden a truck pulls up.  Two teenagers, a girl and a boy, get out with one of them holding a golden retriever puppy. They start walking towards the building.
Lucy
Kinley and Ella look at each other happily, and yell "LUCY!"  The adorable puppy jumps down and runs to them.  Lucy knows her name, thank goodness.  The two teenagers smile at us. One of them says, "I take it she's yours."  Kinley and Ella look at each other and nod their heads. "Thank you so much for finding her," says Ella.
"Where did you find her?"  Kinley asks. "Well," says the boy, "we were eating ice cream outside over at Baskin Robbins and she came over and tried to take my cone.  We knew she was somebody's, she looked healthy."  The girl joins in the conversation and says, "After we gave her some of our ice cream, we brought her here."
"Thanks again!"  Ella yells.  The two teenagers wave bye and get back in their truck. After they leave, Kinley and Ella put Lucy's collar back on, jump on their bikes and ride back to Sara's, with Lucy trotting next to them.
When Lucy runs up to her house, Sara is very relieved and grateful to have her back.
"Another case solved for The Detectives Kinley and Ella!" screams Ella.  Just then, Kinley asks her, "Hey Ella.  This morning you said to meet you at the park because you may have a case for us to solve. What did you want to tell me?"
"Well, last night I heard a strange noise…"
The End
I hope you enjoyed this mystery short story for kids! Can Kinley and Ella find a very important missing Easter egg for their good friend, Ellie? Read another mystery, called the Case of the Missing Easter Egg next!
**This contains an affiliate link.  We may get paid a little but don't worry, it's at no extra cost to you- We just want to share books with you that we love so you can enjoy reading them, too!
We are addicted to mystery books right now, especially Nancy Drew Books
.  My favorite is The Sign in the Smoke (12) (Nancy Drew Diaries)
.  Soooooo good!  Click on any of the links to get it!