A children's story called rainbow in winter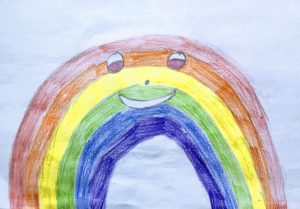 Lulu is a new rainbow and this is her very first winter. She loves being a rainbow. Her favorite thing to do is watch the people smile up at her when she's beaming. One snowy, winter day, she noticed that her family hadn't been out to shine their beautiful colors in a really long time. She went and asked her mom if she could go and make some humans happy with her stunning colors.
Her mom said, "Honey, rainbows don't shine in the winter. We don't go out in the cold, especially when it's below 40 degrees."
"Why not?" Lulu responded.
"We rainbows need sunlight and little water droplets from the rain in the air to work our magic. It doesn't rain in the winter, dear." "Not a whole lot of sunlight down there, either", my dad piped in.
Lulu did not believe them and went to ask her brother.  Guess what he said?  "It's too hard, little sister. Just wait until Spring."
She thought about it and decided to take their word, I mean they had been around longer.
A few weeks later…
Lulu was gazing down at Earth and heard a little, sweet voice, "For my birthday next week, all I want is to see a rainbow."
WHAT?!  Lulu thought.  Who said that?  Where did it come from?  Lulu moved closer to Earth, hid behind a cloud, and waited.
"Please sky, make a rainbow come out for my birthday. I wish I wish, I wish for a rainbow!"  Lulu looked all around and then…there she was!  A little girl in Dubuque, Iowa.  She was looking out her window, up at the sky and wishing for a rainbow for her birthday!  Lulu had to go tell her family so they could do something!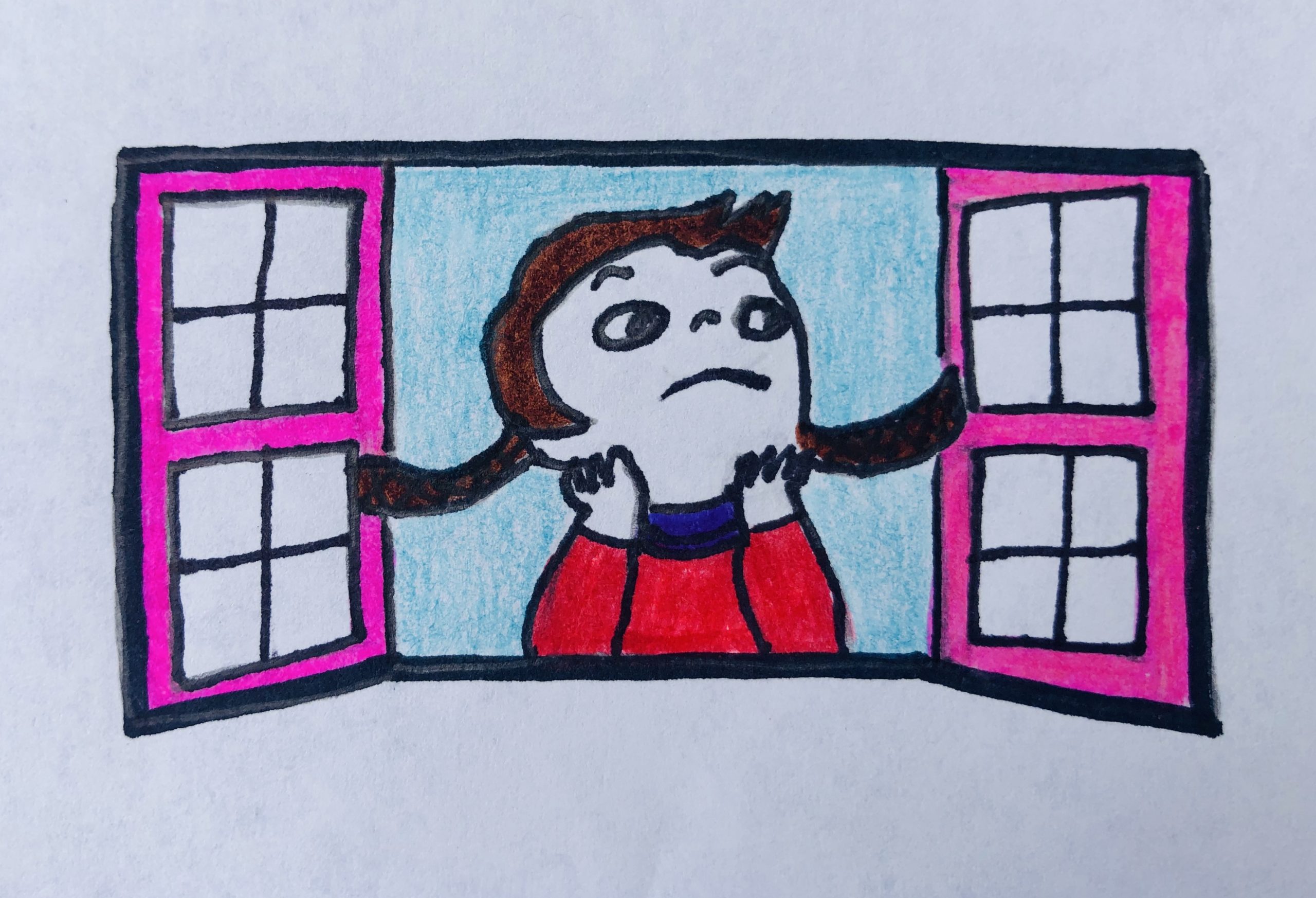 "No Lulu, we already told you.  We can't go out when it's this cold,"  her mom said.  "It's too hard," her brother replied.  "It's practically impossible," said her dad.
Lulu refused to believe them.
She just had to make that little girl's wish come true! She seemed so sad. This was an emergency!
She decided to try, her heart told her it was the right thing to do.  She tried really hard all week to shine.  Lulu got up early in the morning and tried.  She worked on it all afternoon and evening, every day!  But it didn't work.  No sun, no water. No colors.  She was about to give up on the idea when she heard the little girl again, wishing with all her might for a rainbow on her birthday tomorrow.
Lulu decided that tomorrow will be her day.  Tomorrow, she WILL do it!  She will do it for that little girl.
She got up the next morning feeling quite strong and confident.  All her practice and hard work are going to pay off.  She's not going to let herself or that little girl down.  She went outside after breakfast and it was warm.  "Well, warm enough," she said. And then she started to wait.  She waited for the sun to come out, she waited for some water droplets, she waited for the little girl to go to her window.  Come on, she thought.  This all has to come together and work!
Lulu waited all day.  Just before quitting, for the sun was starting to set, it happened.  What happened?  Everything!  The little girl went to her window, the temperature was still okay and it began to drizzle.  The sprinkling stopped and started to turn to snow but Lulu made her move- she quickly moved out there, closed her eyes, and gave it her all to shine brightly.
She kept squeezing her eyes tight and praying that she was able to be seen.  Then she heard in a distance, "Mama, Daddy!  Come and see the rainbow! Hurry, hurry!" It was the little girl's voice! She can see me! She can see me! Lulu thought excitedly. She stayed out as long as she could and admired how the little girl smiled up at her.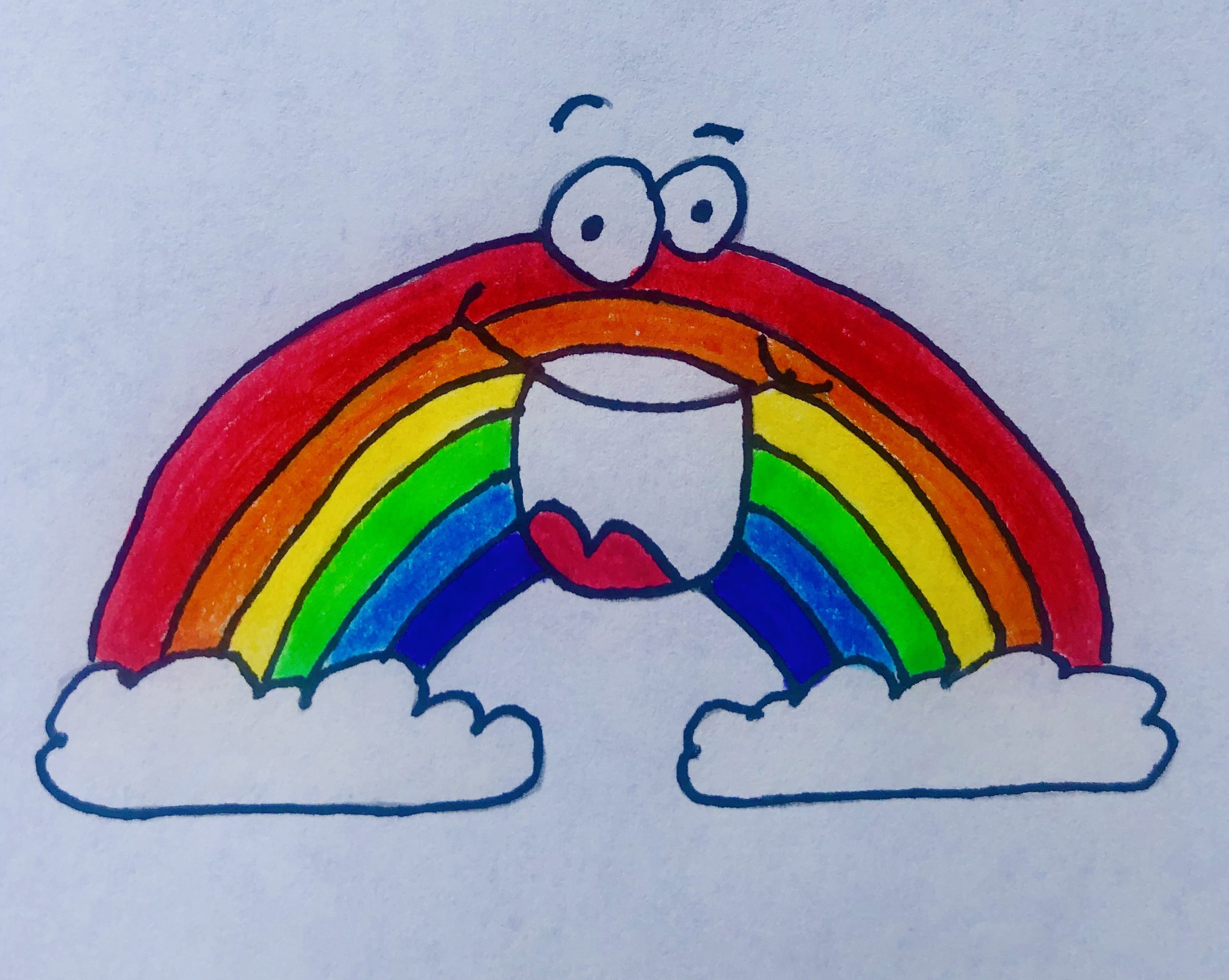 The sun began to set and Lulu returned home.  On her way home, it occurred to her that she did something that others thought impossible or too hard. She listened to her heart, worked super hard, and succeeded. From that day on, Lulu NEVER let anyone tell her she couldn't do something.
THE END
**Do you want to read another children's story about winter? Check out The Special Snowman.
**Do you know what else is special?  Underwear!  Check out My Underwear Has Superpowers!  It's sure to make you laugh.
happy reading!
We love recommending books so here's a couple of cute children's stories with a rainbow theme that we think you'll enjoy! By the way, I still have Rainbow Fish, the board book, because it is still one of my favorites to read! They're affiliates but don't worry, it's at no extra cost to you if you use the links! It just may or may not give us a little something to help keep the blog going!  Thanks for your support!