I LOVE THIS BOOK! Three Times Lucky by Sheila Turnage is the first book in the Mo and Dale Mysteries Series. There are four books: Three Times Lucky, the Ghosts of Tupelo Landing (you can find the review on that here), The Odds of Getting Even and The Law of Finders Keepers. You do have to read them in order to fully understand the plot. The author refers back so it's best to start with Three Times Lucky, first.
So What's the book about?
Three Times Lucky is about a girl named Mo (nickname for Moses) and Dale (a boy) who live in a small town, Tupelo Landing, in North Carolina. It's a town where everybody knows everybody and they all know and love Mo and Dale, it's quite adorable. Mo, the narrator, works at this family owned restaurant and Dale helps her, they actually kinda of run it, even though they're only going into 6th grade. It's funny because it's just quite normal that a couple of 11 year olds run this diner.
Anyway, their summer is going pretty smooth until all of a sudden, a murder happens right in their very town. Could it be someone that they know real well? On top of that a hurricane, a car crash and a kidnapping happens. Mo and Dale definitely have to put their detective skills to work.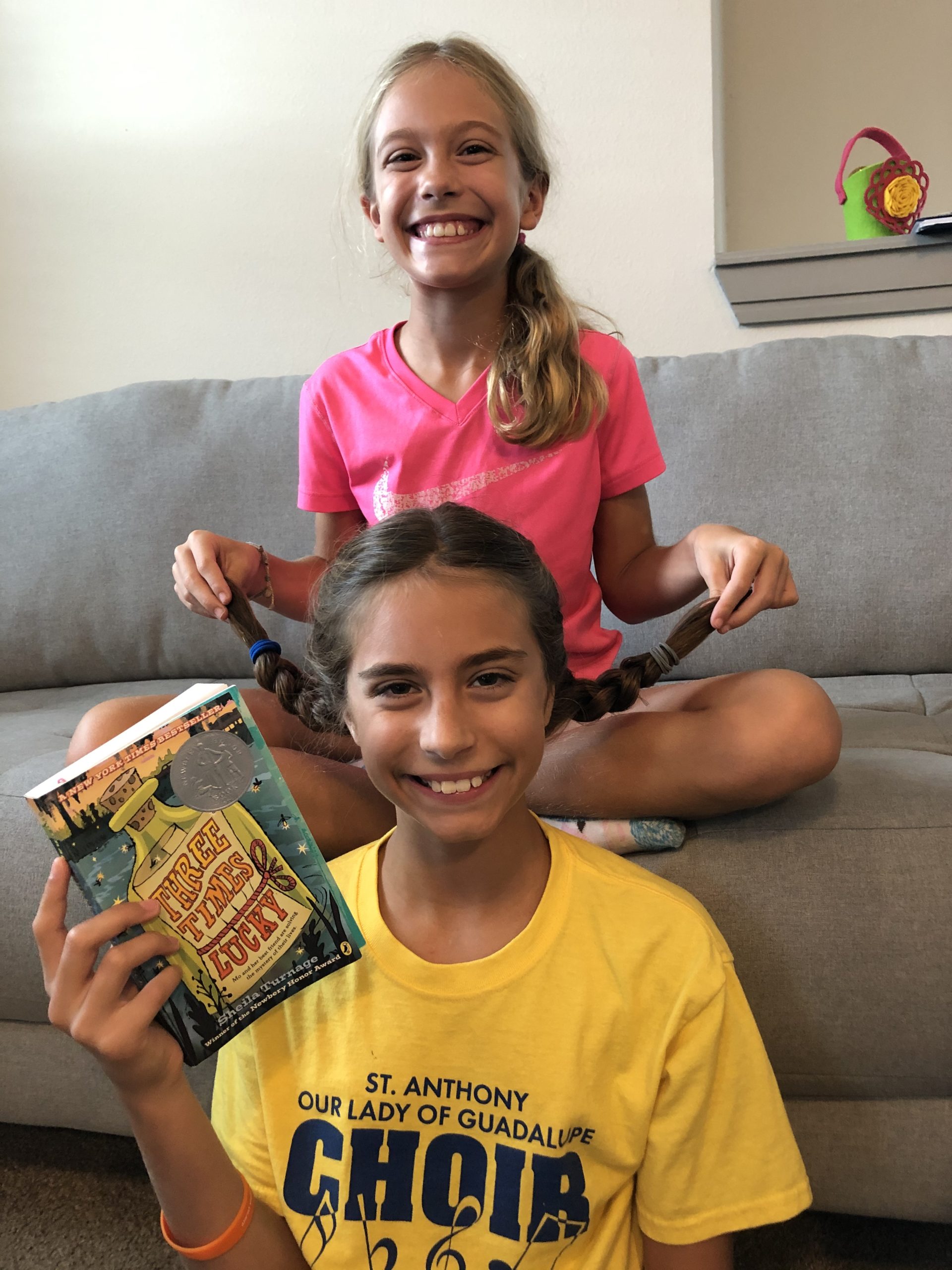 I choose this book because I like detective books. That's originally why I liked it but I ended up loving it for so much more.
The characters are so crazy!  Mo's adoptive parents are hilarious. Her mom, Miss Lana, wears wigs and has a larger than life personality and the Colonel, her dad, has forgotten his past and calls Mo, "soldier".
There are so many great one-liners that just cracked me up!

Mo: "If he tries that around me, I'll take him down.  I'm a born scrapper, and I've got karate skills."
"Never underestimate the power of stupid, Dale."
This is at the end, but don't worry, it doesn't give it away-Detective Joe Starr: "I must be getting old.  I never saw that one coming." Mo: "You are getting old.  But don't feel bad. I'm only eleven and I didn't see it coming either."
This one is the best!  I laughed out loud and then went and found my mom to read it to her, and we both cracked up! I will omit the name as to who died so it won't be ruined. Mo talking to some detectives: "They found ________ in a boat? I'm wondering if maybe he just up and died. Maybe there ain't no murder. Like the fish weren't biting and he died of boredom. It happens. Boredom kills. I've had close brushes myself, during math."  How funny is that?

The ending was a complete surprise!
Three Times Lucky is fairly long (312 pages) and has some mature topics so I wouldn't recommend it to little kids. It's a Newberry Honor Book and great for grades 4+. This is a very good book and I recommend it to everyone out there who likes detective books, funny books, books that are placed in a little town or a long time ago.
** Sounds like something you'd like to read?  You can click on any of the pictures below. They're affiliates, so we may or may not get a little something to help us keep our blog running.  Don't worry, it's at no extra cost to you!**
Thank you and happy reading!
Need more book reviews? You can head to Book Talk. Here's the review on The Ghosts of Tupelo Landing, the 2nd book if you want to take a peek…and for another awesome mystery book, check out Nancy Drew's Secret at Mystic Lake!