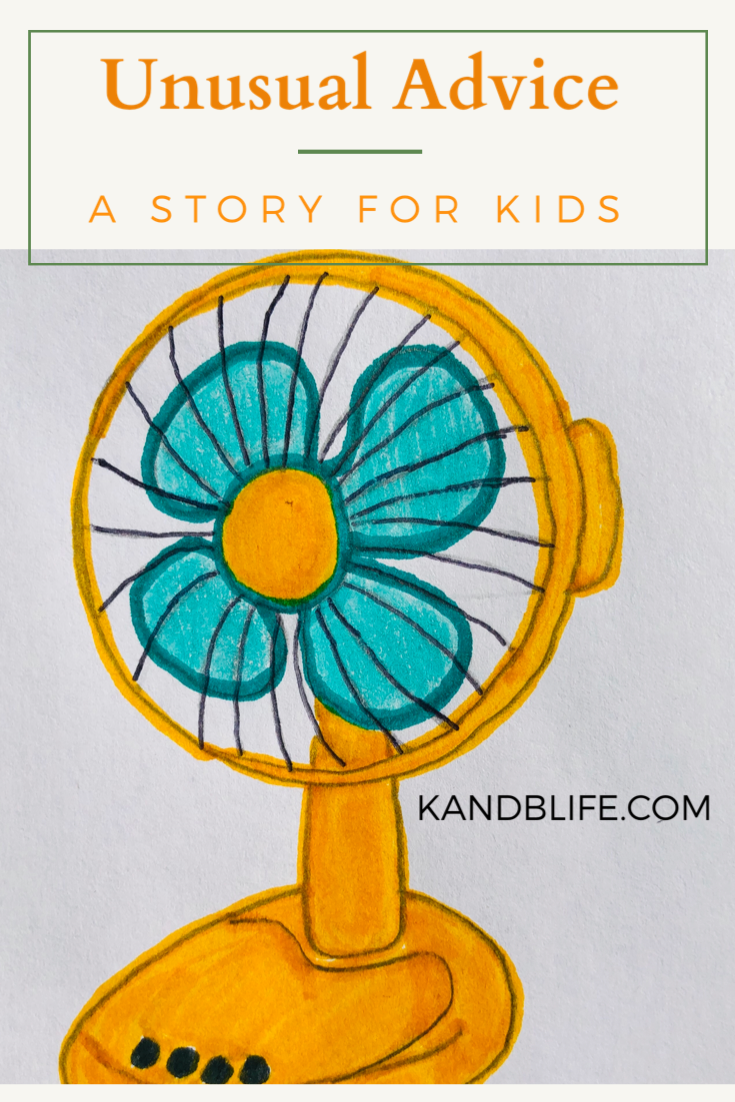 a silly story for kids called Unusual advice
One day, Corinne, a dark-haired 13-year-old girl, was getting ready for school. She was checking herself out in the mirror in her bedroom when she heard a voice say, "Your outfit doesn't match." She looked around her room, nobody.  The voice was definitely a boy's but a little older sounding.  She thought maybe it was her dad but he'd already left for work. Hmmm…maybe he came back.  Maybe he started having fashion sense. Nah, must be my imagination.
She continued to put some make-up on, straightened her hair, and started to walk out of her bedroom when she heard it, again. "Your outfit still doesn't match." She quickly looked around, turning her head quickly from side to side.  Nobody.  The only sound she could hear was her sister and mom in the kitchen and the calming hum of her brand new fan.
Corinne decided she needed to get more sleep that night because she was clearly hearing things. She turned off her lights and fan, unplugged her straightener, and left for school.
Corinne came home after school that day and went to her bedroom to start her homework. Like most teenagers, she has her own cell phone. And like most teenagers, she answers when anyone calls or texts, even during homework time.
So, when Jessica called, Corinne immediately picked up. They started to talk all about their day at school, tv shows, and what they were going to do that weekend.
They were on the phone for quite a while when suddenly Corinne heard, "You should do your homework now".
She sat straight up and was about to tell her mom that she would be off in a minute but her mom wasn't there.  Corinne went into the hallway but her mom wasn't there, either. Right away, she hung with Jessica and went downstairs where she found her mom and sister in the living room reading.
"Mom," Corinne said, "were you just upstairs telling me to do my homework?"
"Nope, why?"
Corinne said, "Just wondering."  What is going on?  She started to think she was going crazy.  She went back into her room and began to flip through Seventeen Magazine. "You should do your homework now," the voice said.
"Who is that? This isn't funny," Corinne said out loud. Again, a voice said, "You should do your homework now."  Corinne got to work on her homework thinking that maybe her family is playing a trick on her.
The next morning, she got up and didn't hear any voices.
Whew, she thought, the voices are gone. She got ready for school and before she walked out of her room, she heard, "Wrong shoes, it's gym today."  "WHAT?!" Corinne yelled out. "Seriously, what is going on, who is that?"  She went downstairs and everybody had left already for the day.  She went back up and stood in her room.  "Wrong shoes, it's gym today."  The voice came from her bookshelf but the only thing there was her new fan.
Could my fan be talking to me?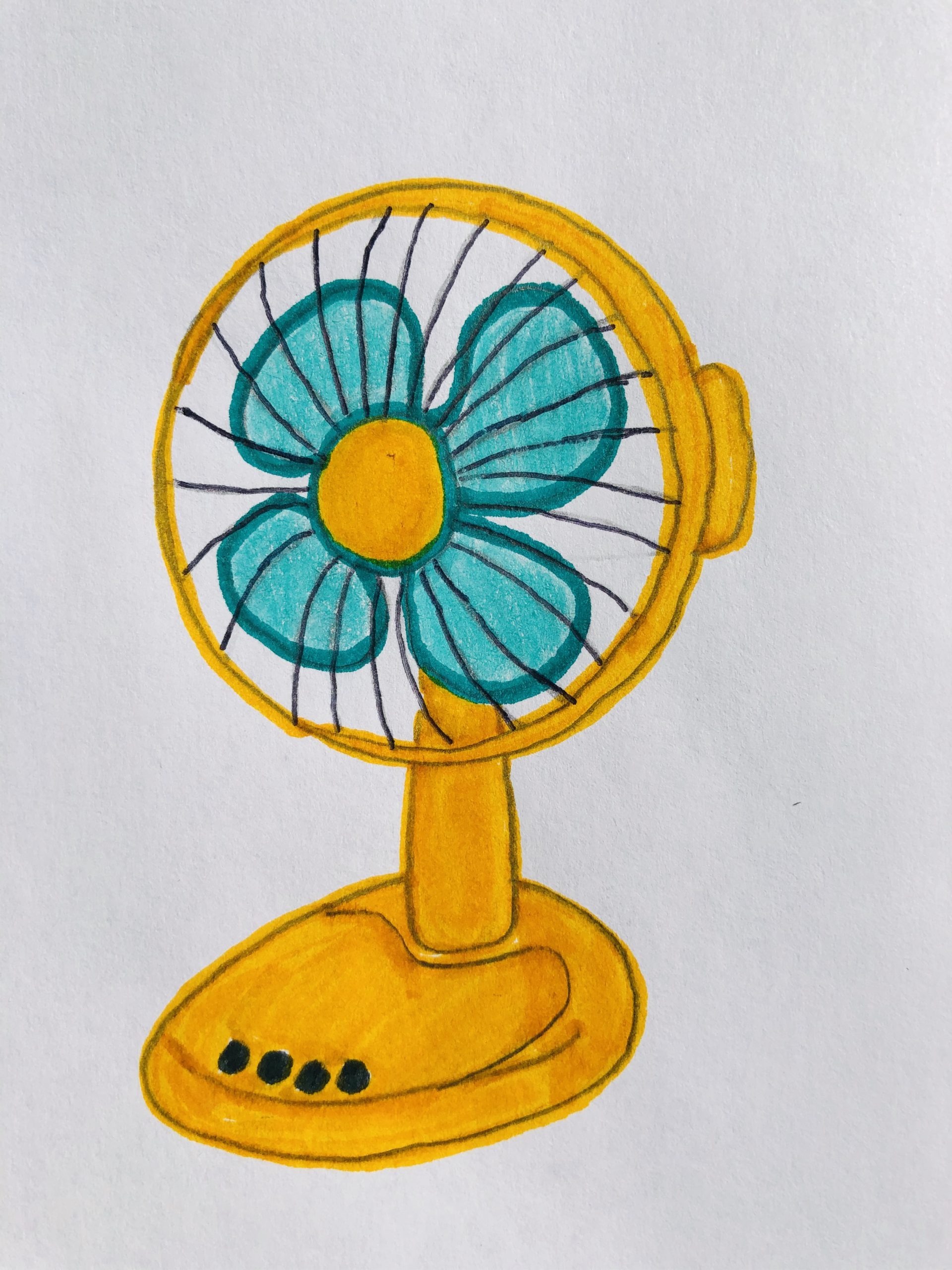 She decided to see if it would talk again and she would be looking right at it to find out.  Corinne changed her shoes but not gym shoes, she put on some high heels.  She started to walk out backward, staring at the fan and…."Wrong shoes, it's gym today."
HOLY COW!  It was her fan!
She turned the fan off and left the room, it didn't say anything.  She came back in, turned the fan on, and yep, it told her again, "Wrong shoes, it's gym today."
How about that?  Corinne's fan is giving her advice. Over the next few days, Fan (that was its name now) gave her some great advice.
When she was crying over a boy not liking her at school, Fan said, "Don't cry. He's not worth it."
One night before bed, Corinne's mom asked her if she had brushed her teeth and Corinne said yes.  She didn't however and after her mom left, Fan said, "You lied. Go brush your teeth."
Before school one morning, Fan told her, "That hairstyle does not look on you. I'm gonna puke."  This one made her laugh because fans can't throw up.  Also, she looked in the mirror, and he was right.  Her hair looked dumb.
When she was giving her dog, Ozzy, some bites of her pizza on her bed, Fan suggested, "Don't let Ozzy have that, it will make him sick."
Throughout the years, Corinne's fan continued to give wonderful advice and was always there to guide her. During 12th grade, Fan even helped her pick out the right college. She'd scan the internet and say schools that she was interested in out loud. Fan would then give his advice.  "Too many people for you."  "You'll hate the weather," or "Awful at sports." When it was time to leave for college, guess what was the first thing packed? Fan. When Corinne arrived at college, guess what was the first thing to get put into her dorm room? Fan. And it continued to give Corinne good advice for years to come..

The End
**On a side note, this story started from Brecken having a dream about her ceiling fan coming alive one night.  She told us about it the next day and we thought a talking fan would make a really funny story.  And also, we agreed that having a fan that gives good advice would be really nice. Maybe someday…
For another story for kids by us, check out My Underwear Has Superpowers  It's silly like this one.
Or you can pick a different story out in our Short Story Categories.
Happy Reading and don't forget to grab our Writing Guide! We made it just for you!