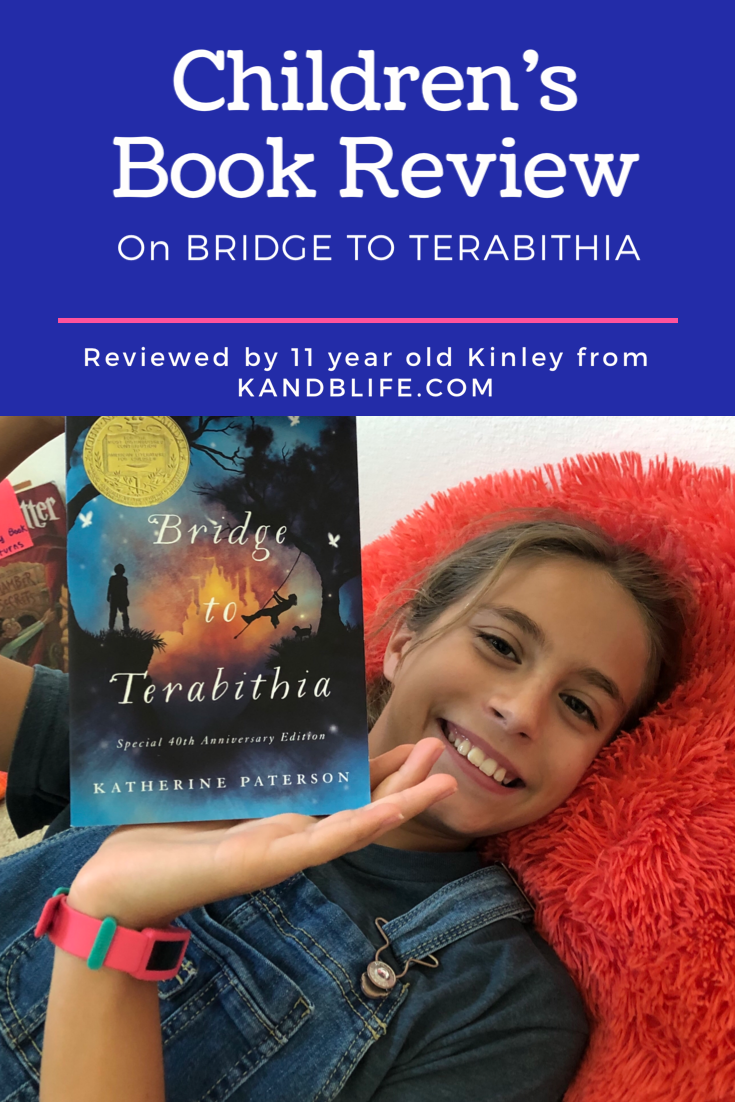 I wanted to do a book review on Bridge to Terabithia by Katherine Paterson because it has really stood out for me as one the best books I have ever read.  I read it last year in 4th grade as a literature circle book for class and it continues to be a favorite, even though I have read a ton of books since then.  I didn't know what to think when our teacher assigned it, you know how that can be.  But as I began to read it, I was SUCKED in.  I wanted to read it all the time.  It was super hard to not read ahead of my group (ok, I read ahead sometimes), but that's how engaged I was.
Oh, you know what else is cool?  It takes place a long time ago (the 1970's), like when kids used to be able to run off and do anything they would like for long periods of time- with no phones or anything! Can't do that anymore.
So what's it about?
Well, Jesse's a boy who seems a little lonely and sad until he meets out-going Leslie, who just moved into the neighborhood.  She has an imagination and personality that Jesse really admires. They really hit off and together, they build a magical kingdom called "Terabithia".  It's a place where everything you can imagine comes to life.  Jesse's the King and Leslie's the Queen of this magical world.  Then, their lives change…nothing will ever be the same.
Will Terabithia have enough strength to survive? Will it have enough magic to help them get back up? You will have to read Bridge to Terabithia to find out!
Read it if…
I think you'd like this book if you like friendship type of books and fantasy (magical creatures type of thing).  The friendship they have reminds me of some of my good friends and makes me happy.  And I love fantasy worlds so it was a good fit for me.
**DISCLAIMER!!  It. Is. Sad.  Days later, when I was writing my book review for school, I cried. However, I also think that's what makes it so good.  You are so into the book that when something unexpected happens, it makes you feel a lot of emotions.  Good books are supposed to that, and this is a good book. 
Give it a try and let me know (leave a comment) if you like this book! I would love suggestions, too!  What are you reading?
Happy Reading! For more another book review, check out Three Times Lucky or you can go back to Book Talk for other reviews.
**This post contains affiliate links- to purchase the book, just click on the pictures or the highlighted book titles.  Remember, there's no extra cost for you, just a little something in it for us to keep the website going if you buy it.  Thanks!!**