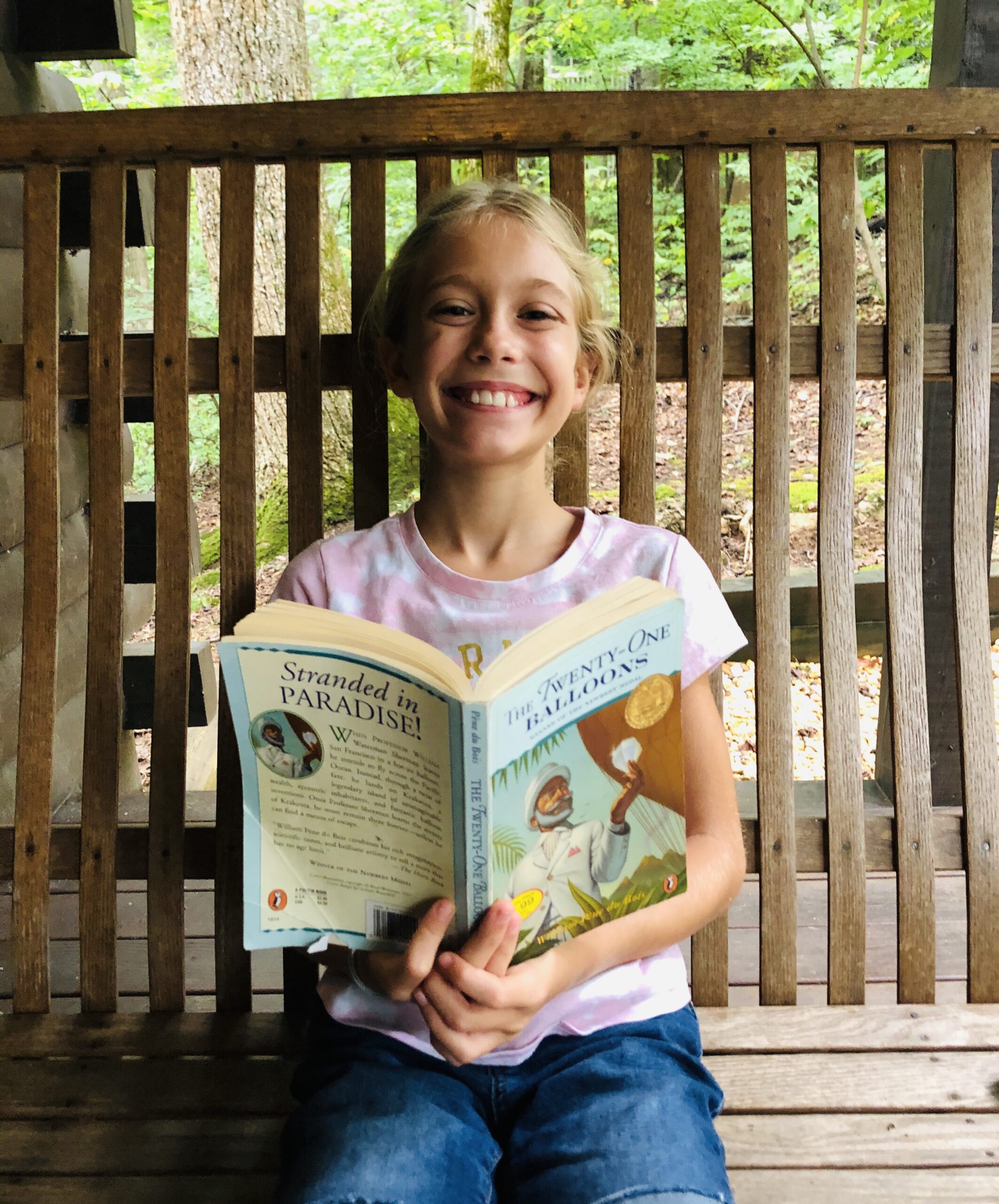 "The best way of travel, however, if you aren't in any hurry at all, if you don't care where you are going, if you don't like to use your legs, if you don't want to be annoyed at all by any choice of directions, is in a balloon. In a balloon, you can decide only when to start, and usually when to stop. The rest is left entirely to nature. "What a great way to begin this Children's Book Review!  This quote is from the beginning of the book. It makes you want to not only read the book but makes you want to jump on a hot-air balloon and go for a ride.
I had never heard of this book until my mom (a teacher) told me she used to read it to her 6th graders. She said it was exciting and that I would like it. So, I gave it a chance. Boy, was she right! The Twenty-One Balloons book has volcanoes, diamond mines, explosions and lots of cool inventions!
So, what's it about?
Professor William Waterman Sherman, the main character, is retiring from being a math teacher for 40 years and wants to be alone.  He decides to take a huge hot air balloon across the Pacific Ocean; however, 3 weeks later, he ends up being found in the Atlantic Ocean with 20 deflated balloons.  How did he start with 1 balloon and end up with 20? Well, that's what the story is all about. It's about his exciting adventures of his trip in the air AND on ground. Professor Sherman recalls his life on the island, Krakatoa, for a little while.  The author, William Pene du Bois, describes the island with fantastic detail!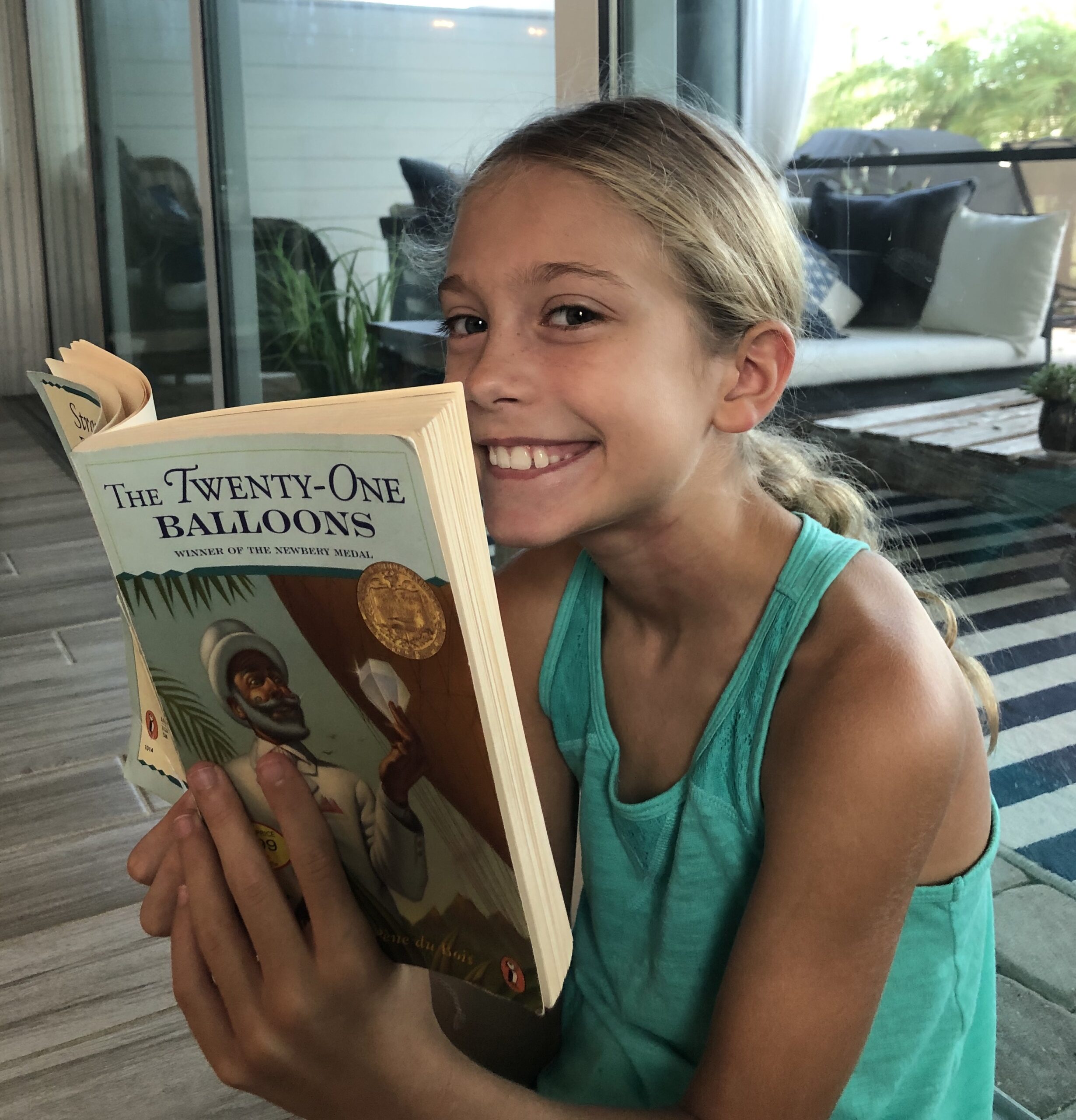 My favorite part!
The descriptions of the Krakatoa Government is my favorite part. I won't spoil it for you but it's an awesome idea based on restaurants and the alphabet! I also like this quote from the book, "Half of this story is true and the other half might very well have happened." What's so very interesting about that quote is that there actually IS an island called Krakatoa and the event that occurs at the end of the book really did happen. The author talks about it in the introduction. It's amazing!
My mom had already known about it, so we read more about it on Google after the book and it's super cool. In addition, you also get a little history/geography lesson, too.
ONE important thing
This book is one of the hardest books I've read. It took a couple of weeks to read and many times, my mom and I read it out loud together. There were a lot of words I didn't know. The author gets pretty technical when describing the balloon and all the inventions. But I learned a lot, so that's good. Even with some difficult words and descriptions, I would recommend this book. If you're younger, like my age 9-10, perhaps read it with someone to explain some things.  If you're older, middle school age, you'll be just fine.
I hope this Children's Book Review on The Twenty-One Balloons helps you and if you're looking for more books, go to our Book Talk Category. And be sure to sign up for our E-Mail List!
**The cover is different now, but if you'd like to have The Twenty-One Balloons, we made it easy for you and provided a link. It's an affiliate, but don't worry, it's at no extra cost to you. Happy Reading!