This is my vision on what the very brave little fish looks like.  I drew the 1st picture by hand, and the other one I did with a program on my IPAD.  I hope this helps you when reading this fun children's story!  Enjoy!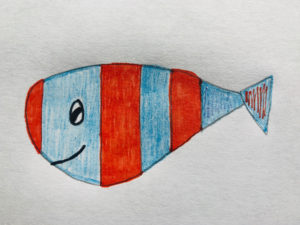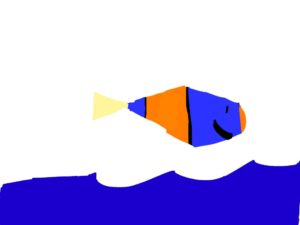 Once upon a time, a little fish was born in a tube in the ocean.  He had 900 sisters and 800 brothers.  He was the youngest in his family and was always by them.  His brothers and sisters took very good care of him, he never had to worry about anything!
It was a very safe home.  One side of the tube was blocked off and the other side was open to the wonderful ocean.
There are many interesting and fun things about the ocean: coral to swim in and out of, rocks to swim and play chase around, and the BEST part…a Shipwreck!  Little fish had it made.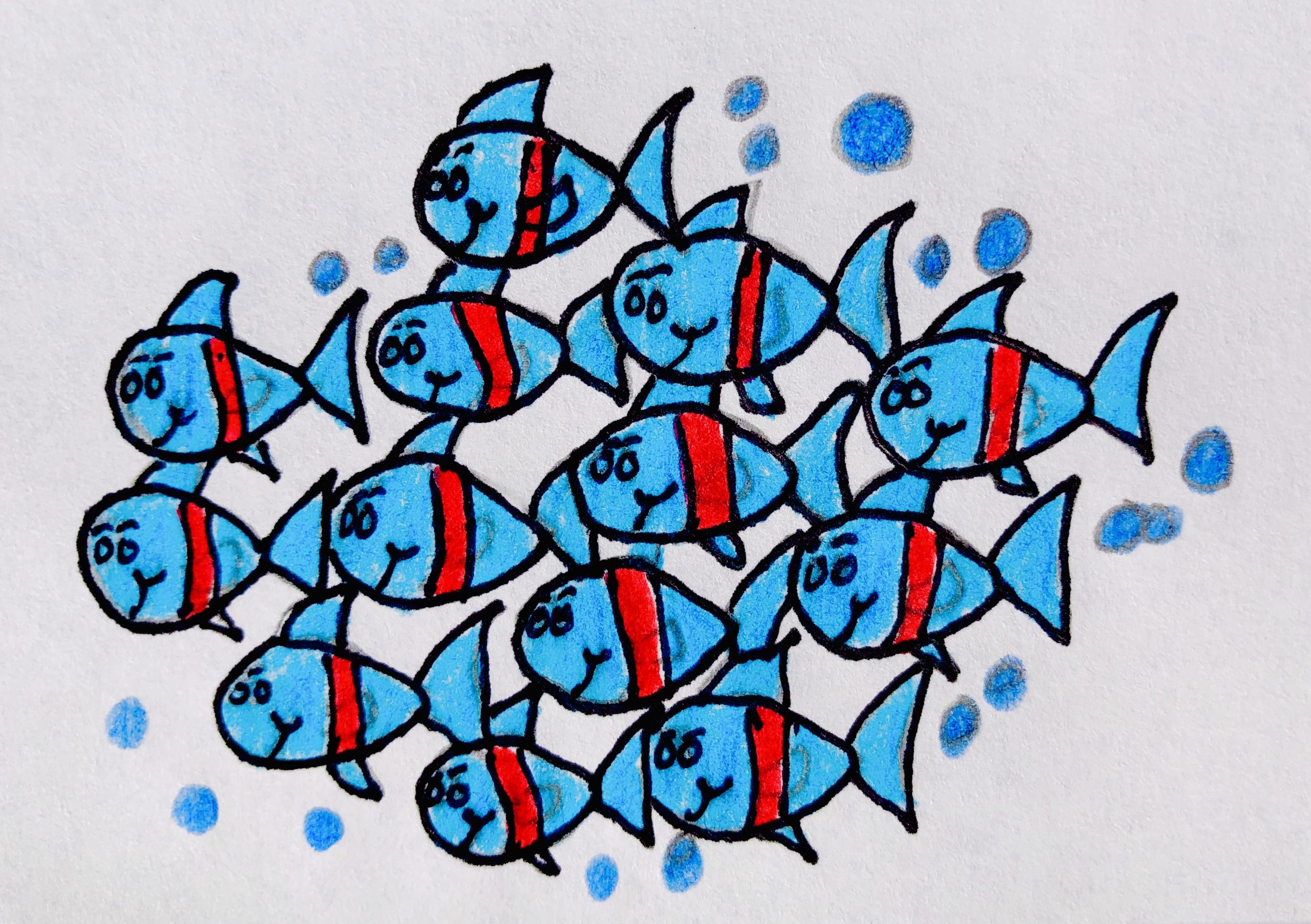 One day, mom and dad went off looking for food and after they left, the rest of the family heard human voices.  All the brothers and sisters were curious, so the they swam out of the tube, leaving little fish behind because he was taking a nap.
When the humans got closer, they accidentally took a big rock and put it over the empty end of the tube.  Now the little fish is trapped!  When he woke up, he noticed that the side to the ocean is blocked.  "Oh no!", said the little fish.
Little fish panicked slightly, "How am I going to get out?  I'm all by myself!  I've never been by myself before!"  His heartbeat was beating super fast and he started to get dizzy swimming in circles so fast.  Just then, he  remembered what his brothers and sisters told him about calming down.  First, he took some deep belly breaths 1…2…3…4…5.  In through the gills, out through the gills.  Ah, that's better.
Second, he looked around the tube for something that could help him get out.  Let's see- a button? No.  An old sock? No.  A pole? YES! So, little fish took the pole to try and lift up the rock.  But as he was lifting, the rock all of a sudden yelled, "OW!  What are you doing?"  How about that?  The rock wasn't a rock at all, it was a Horseshoe Crab. He was sleeping and never woke up when the humans had moved him.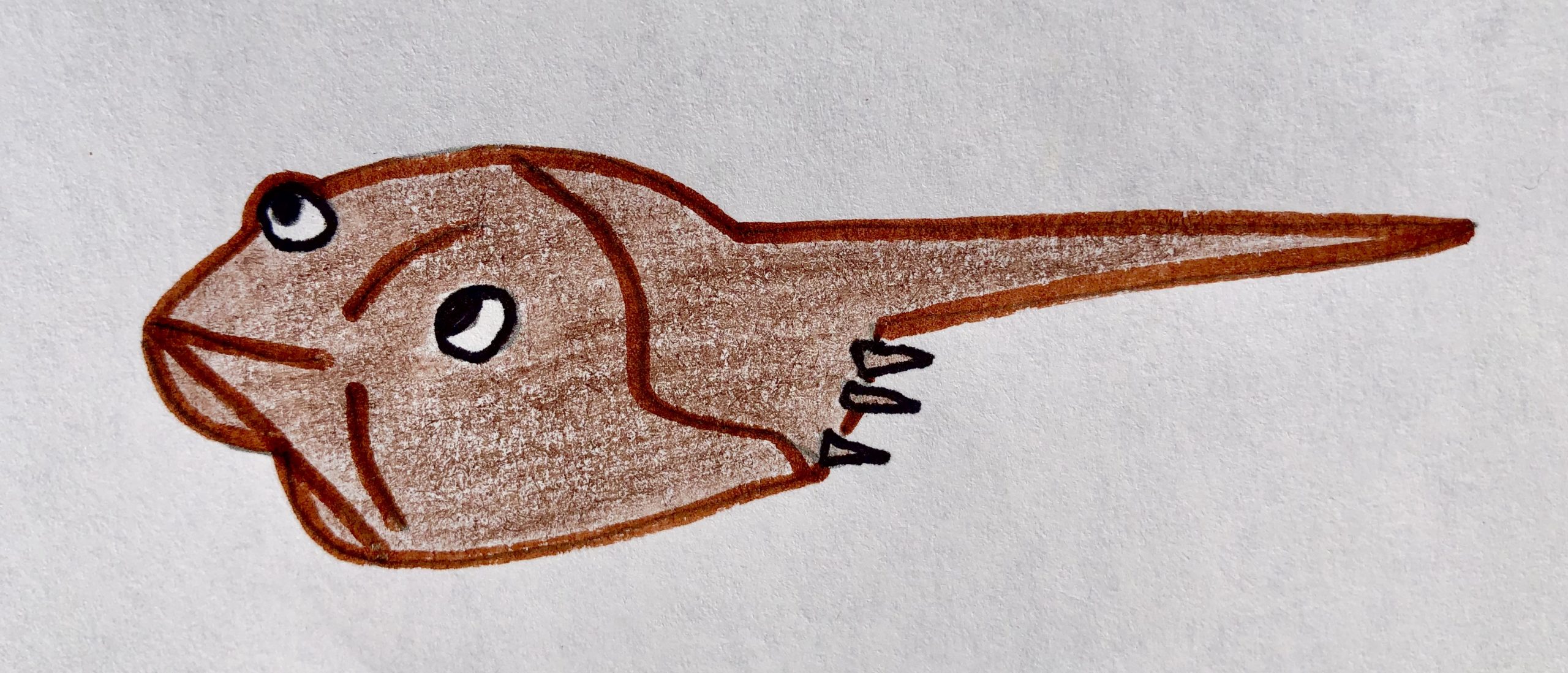 Little fish told him, "You are blocking my way out of this tube. Could you move, please?".  "Sure", he said.  However, when the crab tried to move, he was stuck.  Here we go again, little fish thought, how am I going to get out? Just then, he spotted some seaweed and remembered what he learned at school.  Seaweed makes some ocean animals sneeze.  Could it make the crab sneeze? Could it make the crab sneeze so hard, it blows him out of the tube?  "Worth a try", little fish thought.  So, little fish took the seaweed and held it up to the crab's nose.
"Ah-Ah-AH-CHOO!"  That was the biggest sneeze little fish ever heard!  IT WORKED! The crab skyrocketed from the tube, clearing the way for little fish to get out.  He swam out right away to find his family.  When he found them, they said, "Oh, you're up from your nap?  How was it?".  "You'll never believe what happened to me!"  And little fish told them his story.
THE END
**If you like this story, you might like one of our other short stories,  Rainbow in Winter. Let me know what you think!