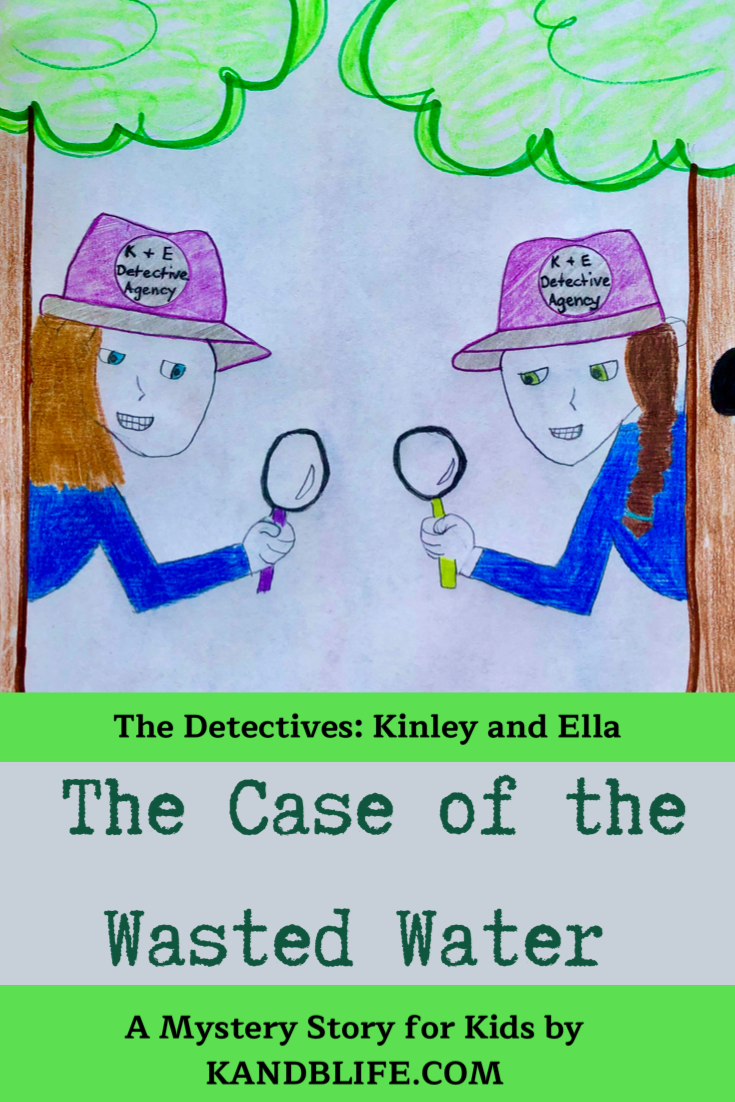 A Mystery Story For Kids- The Case of the Wasted Water
"Hi," said Kinley, over a walkie-talkie. "Over."
"Hi," said Ella, talking back into her walkie-talkie. "Are you excited to see the new girl? Over."
"Of course!" Kinley shouted happily.  "Let's get a head start so we aren't late for school like yesterday. Over."
Ella responded, "Okay, over."
Kinley and Ella are 11 years old, best friends and neighbors.  Oh, did I mention they are also two of the best detectives in town?  They even have their own detective agency called K & E Detective Agency. Some folks around town say they're nosy but they say they're curious.  Big Difference.  Now, back to the story.
The two girls got dressed, said goodbye to their parents, hopped on their bikes, and took off. When they got to school, a swarm of kids gathered around the new girl.  Her name was Wendy Willows.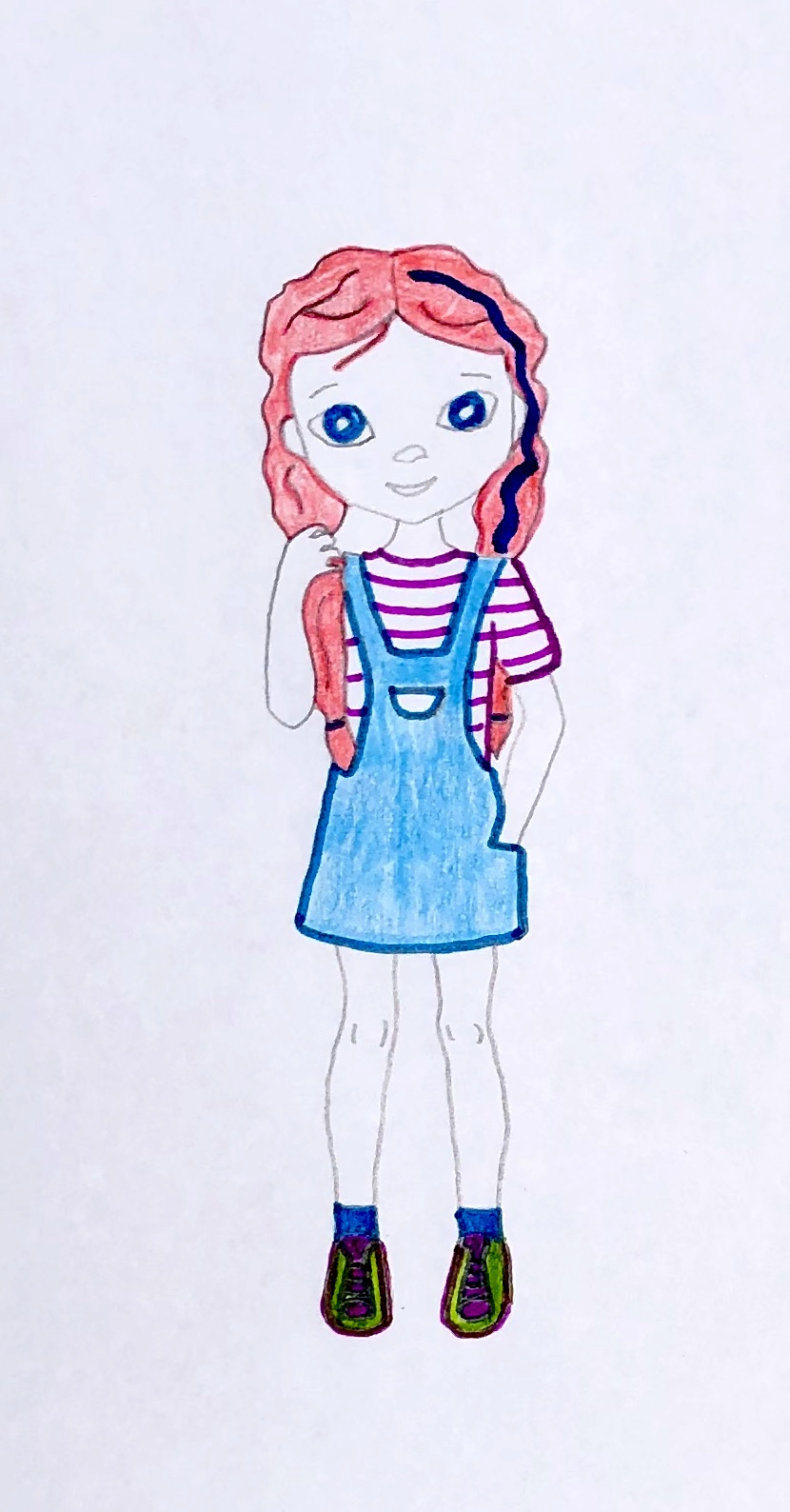 Wendy was one of those girls that were tiny but mighty. She had red hair with an awesome blue streak in the front, blue eyes, and freckles. She was adorable. From the very start of the school day, Kinley and Ella could also see she was a rule follower.  For instance, she always raised her hand before speaking, always stood in line quietly, and at the end of the day, packed up her things quickly. These things were very hard to do and yet, Wendy followed all of them perfectly.
After school, To the pool
Kinley and Ella left together and headed to the pool. Lots of kids go swimming after school to cool off and hang out. "CANNONBALL…" yelled the girls as they jumped in together. SPLASH! When they got to the surface, they realized Wendy was there. They were pretty excited since they weren't too many other kids there that day stealing her attention. She was walking towards a chair to put her towel down.  On her way back towards the pool, Kinley said, "Hi Wendy!" "Hello," she said back.
Ella asked, "Do you want to play with us?"
"Not yet, I have to do something first." Kinley and Ella shrugged their shoulders and continued to splash around. 10 minutes later, they saw Wendy in the pool and they all played Marco-Polo for the rest of the afternoon.
Trouble
After school, Kinley and Ella went back to the community pool, and immediately a maintenance guy came over to them, looking very unhappy. "Hey! You two were here yesterday and I think you girls left the outdoor shower water on! That's really wasteful!"
"Shower?" asked Kinley.  "It wasn't us. Why would we take a shower before getting in the pool?" The maintenance guy pointed to the Rules Sign on the fence.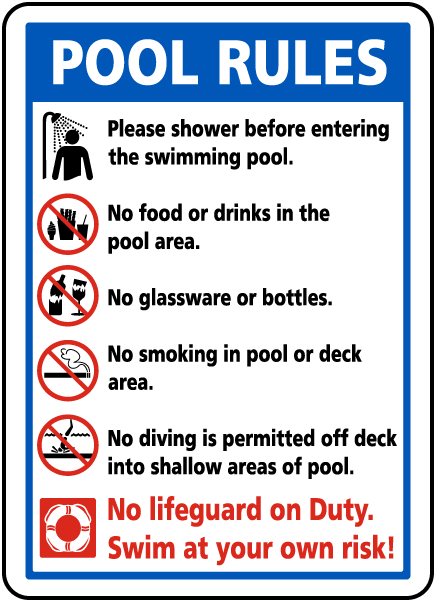 "Well, how about that!" Kinley blurted out. "It's the very first rule!" Ella was shaking her head and then said, "I never even knew that sign was there."
Kinley told the man, "Sorry sir, I've never even seen anyone use the outdoor showers before." He walked away yelling, "Well, somebody left the showers on and it wasted A LOT of water!"
Ella said to Kinley, "So weird.  First, I didn't know about that rule or the sign hanging there.  Second, nobody ever showers before getting in the pool."
"Agreed. We always come with our friends and nobody has ever used those showers before getting in.  For one, they're around the corner of the building, and second, we're usually so hot, we all just jump in!" They shrugged it off and continued to swim.
in Trouble again!
But the following day, it happened AGAIN. They went to the pool after school and the same maintenance guy came over yelling at them.  He said he saw them there and that the outdoor shower water was left running again. "You keep leaving that water on, you'll be banned from the pool!" Then he stomped away.
They both looked at each other and knew exactly what each was thinking. At the same time, they said, "We have a case to solve."  Then they laughed.  They decided to play for a while, see who shows up at the pool, and then start working on the case after dinner. Soon, one of their best friends, Lucy Lueken showed up and they were all practicing their underwater handstands.
A little while later, when they all came up from under the water, Wendy was there applauding their handstands.  The four girls all giggled and continued to play in the water.  Wendy was definitely fitting in.
After Dinner
Kinley and Ella got together to go over who could have left the water on and why. First, they made a list of everyone they knew at the pool those 2 days. It wasn't too long.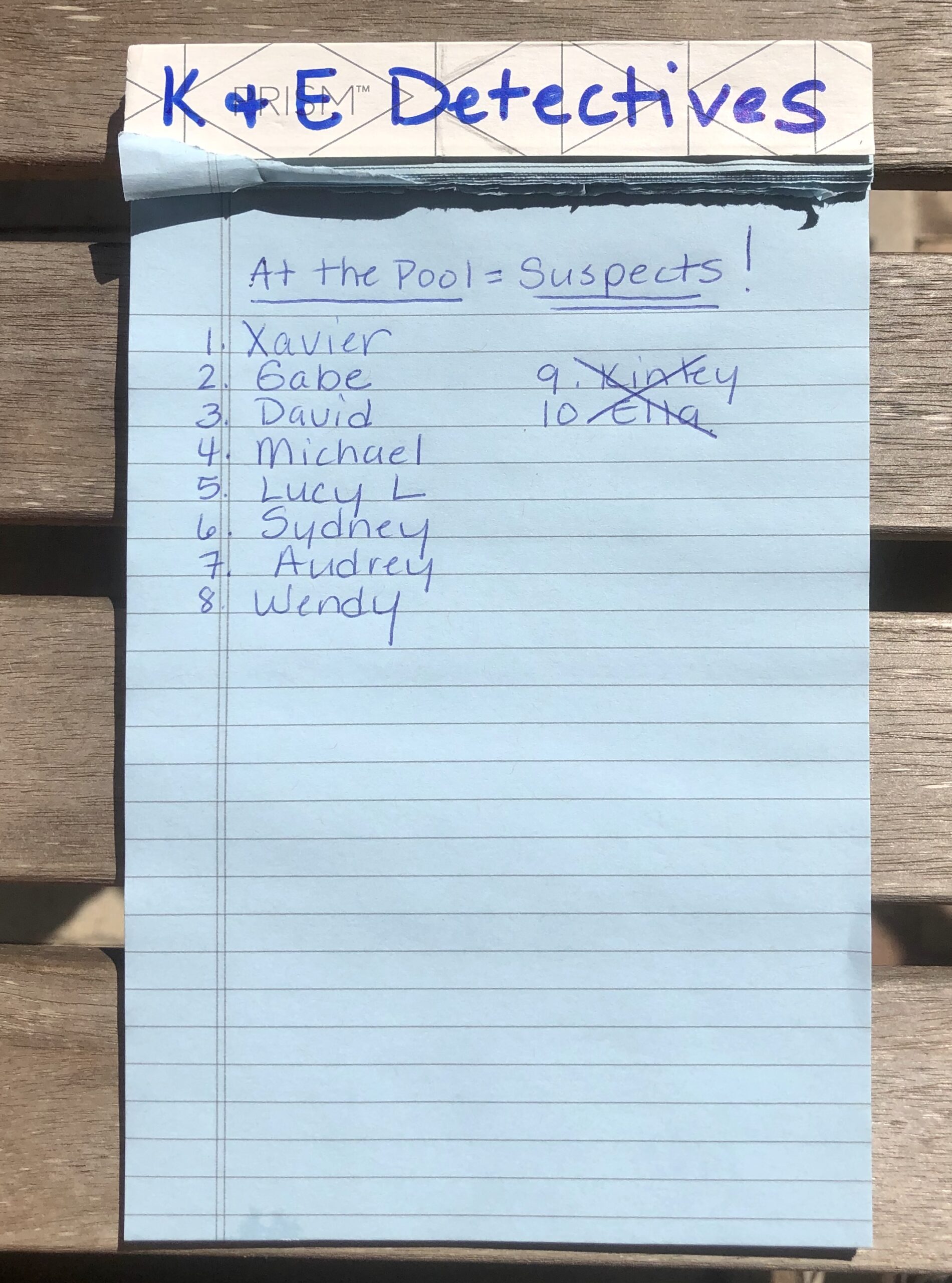 Xavier, Gabe, David, Michael, Lucy L, Sydney, Audrey and Wendy. Well, and themselves, but they know they didn't do it.
Second, would anyone of them take a shower before entering the pool, like the sign said?  They both agreed that nobody would take the time to do it even if they possibly knew there was rule for it.  Just in case, though, they would question everyone the next day at school.  After all, that's what great detectives do.  They mustn't assume anything. They split their suspect list in half, each had 4 people to question.
At lunch recess, they got together to go over their notes. Sure enough, each person they asked at school didn't know it was a rule and didn't shower before swimming. Kinley wondered, "Ella, do you think that maybe one of the boys is playing a trick and left it on, on purpose?" Ella said, "Could be. But we just learned about water conservation and everyone was into it.  Those guys are pranksters but not by wasting water. Whoopie cushions and anything with farting noises are their pranks."
Kinley laughed and agreed. "Yeah, I thought it might be a long shot. I think our next move is to catch the water waster! Thank goodness it's another hot day. Let's go to the pool after school again and watch the showers to see who is leaving the water on."  "Got it!" said Ella.
After school, back to the pool!
Kinley and Ella rushed over to the pool on their bikes as fast as they could. They put their towels over by some umbrellas and chairs where they could just barely see the showers and the main entrance. There's also a neighborhood entrance but you have to live in that neighborhood to have one.  None of their friends live there, so they staked out the main one. And they waited. And they waited and sweated. Finally, some people started showing up. "Here we go!" shouted Ella. Except, every single person that came in, DID NOT shower.  They would walk in, put their towels on some chairs, and jump right in.  Kinley and Ella looked at each other disappointed until…
Wendy suddenly appeared in the pool. Kinley and Ella, confused, jumped in the water, and swam up to Wendy. Ella said to her, "Hi Wendy, when did you get her?" "
"Oh, just a few minutes ago."
Kinley whispered to Ella, "I didn't see her come in, did you?" Ella shook her head, no. "Did you come in the main entrance?"
Wendy said, "Yep, the same one I've been coming in all week."  Kinley and Ella are very confused. How could they have missed her? They decided to meet after dinner again to go over the information.  At the Chicken Coop, their backyard office, they discovered Wendy is the only one that is suspicious because neither of them saw her come in.  She just appeared in the pool.  The two girls decided to keep a closer eye on her tomorrow.
Wendy's way
That proved to be quite easy due to the fact that Wendy invited them over for a snack before heading to the pool.  After school, they rode their bikes to Wendy's house.  They had a yummy snack of carrots and garlic hummus and started off towards the pool. When they left, Kinley and Ella turned right but Wendy went left. Wendy yelled, "Where are you guys going? The entrance is this way!  Follow me!"
As they approached the "neighborhood" entrance, they were both thinking the same thing. Wendy must be the water waster. Kinley leaned into Ella, "It's got to be her, she's been coming in the back entrance right by the showers, That's why she always just appears in the pool, and we know she always follows the rules. Taking a shower before entering is a rule, even if no one follows it."
"Yes, but we still need proof,"  Ella whispered back. All three locked up their bikes and went in.  Kinley and Ella thought they were wrong about her when Wendy walked right by the showers but then something else happened. The three girls dropped off their towels on some chairs and ran to jump in, except for Wendy.  She said she'd be right back.  AHA!
The two girls got up and followed her.  She walked past the bathrooms and went to the outdoor shower. Wendy turned one of them on, got under the stream to get wet for a few seconds and then turned it off and began to walk away.  Kinley and Ella were there when she turned the corner.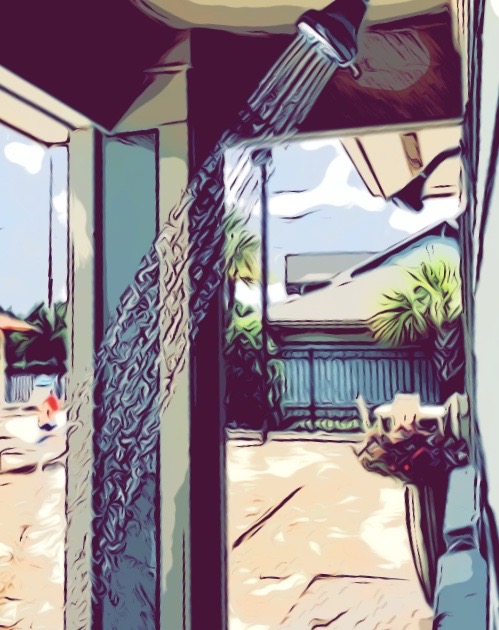 "Ahhhh," screamed Wendy, obviously not expecting anyone to be right there. "Wendy, you're the one who was taking a  shower!" said Kinley.
"And wasting water by leaving it on," added Ella.
"Well, it's a rule," Wendy stated.
"The first rule is to 'Please shower before entering the swimming pool". Kinley looked at Ella surprised, "I can't believe she actually saw the rules." "I can't believe she actually followed them," said Ella.
Kinley asked Wendy, "Why did you lie to me when I asked you earlier about it?"
"Why do you think? I'm new. I didn't want anyone mad at me and I swear I turned it off each time but I guess not. I made a mistake so I just thought that I'd be more careful from now on and make sure I turn the water off. And today I did." All three girls turned around to see that the water was still running.
Wendy gasped, "I KNOW I TURNED IT OFF!" Kinley and Ella both agreed with her, they saw her turn it off. They went back to look at the shower.  Kinley turned the handle to turn on the shower and then back off again. It was off. Wendy looked so disappointed, "I guess I wasn't turning it all the way or turning it hard enough. I'm sorry." Just as she finished her sentence, the shower turned back on, all by itself!
"What the?" shouted Ella.
The three girls looked at each other surprised.  This time, Ella went over to the shower.  She turned it on and back off. About 15 seconds later, the water started coming out. Ella said, "It must be broke."  Wendy was relieved, "Oh, thank goodness. And Kinley, I really am sorry.  I shouldn't have lied. I want to be friends."
"OF COURSE WE'RE FRIENDS!" Kinley yelled.  And the three girls hugged.
They decided to go tell the maintenance man that the handle was broken. He didn't believe them at first, but after the girls showed him, he apologized for yelling at them and said he'd fix it.
Just as they were about to jump in the pool, Wendy stopped and said, "Wait! Let me go take a shower first! Just kidding!" All three laughed and then Kinley and Ella pushed Wendy into the pool.
THE END
**For more mysteries by The Detectives: Kinley and Ella, check out one of my favorites- The Case of the Missing Easter Egg.
**And as always, if you have not read any Nancy Drew Books, I highly recommend them! My favorite is Secret at Mystic Lake.  I'm currently reading The Phantom of Nantucket, so stay tuned for a book review on that one.