The Believer: a short story
My name is Anna.  I live in New Mexico. My dad got a new job so I had to move here. Now I'm lonely and today is the first day of school for me. Of course, it's not the first day for the rest of the class, though.  They all know each other. I'm kind and nice but not ready to make new friends. I know I will, though, I'm a believer. I'm depending on God and Jesus. They are always there for me.
A week later…
So far, so good. I'm getting the hang of the new school and meeting people. My mind wanders off sometimes in class, though.
Let me tell you the story about what happened the other day at school. It was during science when my mind began to wander. When I was little, I went to the airport and I always got water on the plane. So, I drank all the water and then I had to go to the bathroom.  My mom didn't hear me when I asked to go, she fell asleep, so I screamed my head off. After that, she woke up. It was funny because everybody on the plane looked.
While I was thinking of that story, I caught the last part of someone saying in my class, "Unicorns aren't real because you can't see them."  I thought to my myself, I believe in unicorns. I've never seen one but just because you can't see it, doesn't make it not real. I can't see God but I know He's real.  I'm a believer.
Math at my new school is very hard.  I have to work extra hard at home to catch up. When I get discouraged, my parents say, "You can do this, never give up believing in yourself." We're all believers.
On my mom's birthday, we got her an awesome ice cream cake. It was really big and yummy. We were having lots of fun that day, we were laughing and dancing. And then we got a call. We had a death in the family. Everything changed. My mom was sad, my dad was sad, my sister was sad. I was, too. It was hard to see everyone dealing with the pain. We talked a lot about heaven and that it's not goodbye, it's just "see you later".
I had a couple of days off of school for the funeral and to spend time with family. When I went back to school, I was in pretty good spirits.  During circle time, my teacher commented that I had a really positive attitude for such a great loss. I said in a few short words with a tear in my eye, "It's not like I will I never see her again. I'll see her in heaven."
A classmate asked, "How can you be sure?"
"Because I'm a believer."
The End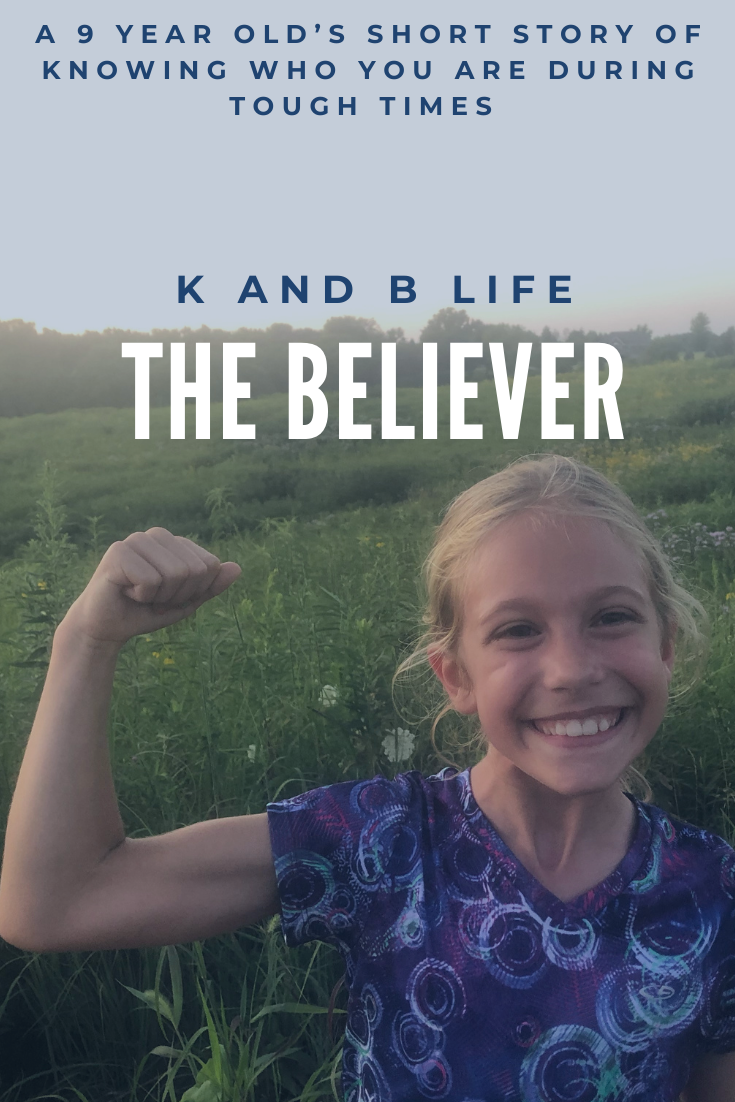 *I would love to know what you think!  Are you a believer in something? Leave a comment and as always, feel free to share this short story if you think it would make someone's day!
**For more short stories written by me and Kinley, you can go to Short Stories OR for a mystery story, click on The Detectives: Kinley and Ella.  We also have Rowan's Diary, which is an ongoing Barbie Doll Adventure from the perspective of a Chelsea Doll.  She has 11 people in her family!
***We'd love to help you get reading, here are a couple of books that we think you'll enjoy! One is a devotional, Mighty God Girls, and it's wonderful! I'm going on 10 and it's perfect for my age.
These are affiliates but don't worry, it's at no extra cost to you! It just may or may not give us a little something to help keep the blog going. Thank you for your support!