Dear diary,
With all the snow we've gotten, I have to tell you about how much fun my sisters and I have playing in it.  We have races all the time . Sometimes, we pretend it's like the Olympics.  Here are some of our competitions:
Sledding
Ice skating
Puppy Catching- the puppies love it when we do that!
Who can pick up the most dog poop (mom's idea)
Belly sliding
Best snow angels and
Hot Chocolate chugging (it can't be too hot, though)
We have everything we need at our house.
We have a lake in our backyard for ice skating,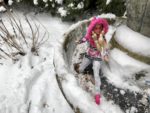 an awesome hill for sledding and belly sliding,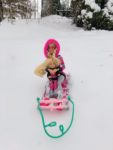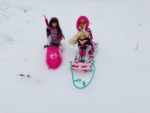 lots of puppies to catch and poop (UGH no picture for that),
snow for snow angels,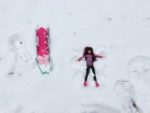 and a fantastic mom who makes us hot chocolate when we're cold and done.
I love it when we come in from outside, our cheeks are pink and our noses red. Sometimes, we look like clowns!
Maya and Vivi don't play in the snow with us, they think it's too cold.  I don't agree with them, I love snow and the cold.  It works out for the best anyway, because Brynn and I can get pretty competitive, especially during the belly sliding competition.  We can get going at 50 mph, well, at least it feels like it.  Belly sliding is the funnest (I know, I know-my teacher says I should use most fun but I like funnest) snow sport there is!
You should try it!
Gotta go drink my hot chocolate, bye diary!
**If you would like to make some kids super happy, you can buy them what we were playing with- just click on the pictures below.  These are affiliate links, which means we may get a small commission, but don't worry it's at no extra cost to you!
We would never recommend anything that we didn't use and love.  These products are so much fun (and durable) as you can see from the pictures above!  Have fun!
.