My Book Review on Junie B. Jones and the Yucky Blucky Fruitcake!
By Brecken
First of all, ALL the Junie B. Jones books are pretty good. The book is Junie B.'s narration and Barbara Park does a super job at writing like how a kindergartener would talk.   I like it when she uses half words, such as 'greedients for ingredients and 'structions for instructions. It's totally the way little ones talk. She also uses poor grammar, just like how a 5 year old would speak, "I runned and runned till I found…", "I winned all of those games…", and "'Cause your feet are way gianter than mine".  I can hear Junie B.'s little girl voice as I read and it's adorable.
What's it About?
The story begins with showing how competitive Junie B. is.  In the morning, she plays games with her grandpa and you can tell she DOES NOT like to lose.  And when she wins, she sings over and over, "I'M THE BESTEST WINNN-ERRRR." Then, she gets on the bus, because she has afternoon kindergarten, and gets competitive with her "bestest" friend, Grace.  They play some games and Junie B. shows AGAIN that she is not a good loser or a good winner.
This is all set up for the main part of the story, The School Carnival Night.  The carnival will have prizes and Junie B. is all about winning.  You can tell from the title and the picture on the front that it will not go as planned for her.  What happens along the way is super funny.  That brings me to my favorite part…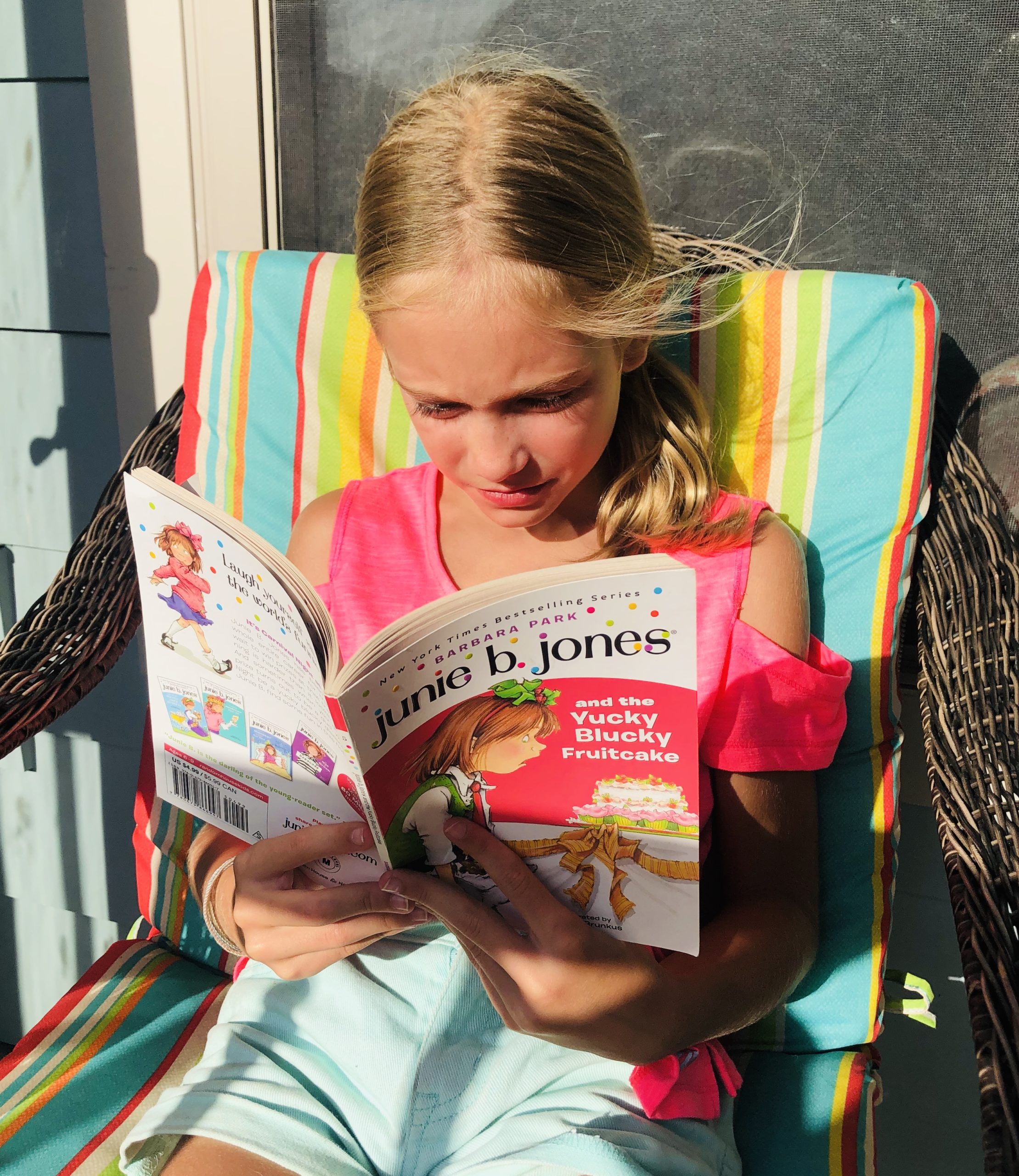 Earlier that day, the teacher tells the kids what some of the games will be at the Carnival and Junie B. runs home to practice.  Except, she doesn't quite get the games right so she thinks the games are going to be easy and she thinks she'll win everything.  It's hilarious.
Why I recommend it:
Junie B. Jones and the Yucky Blucky Fruitcake is funny, silly and a nice easy read. She reminds me of Amelia Bedelia a little bit in this one because she misunderstands the way the games work. Try it out and let me know what you think in the comments.
**Here are some links for you.  We may or may not receive a little something, but don't worry, it's at no extra cost to you. Happy Reading!
For another review by me, check out Fudge-A-Mania.