Dear diary,
After 4 airplanes and a 2 hour bus ride, we're in Costa Rica! And guess what? Me and Brynn both got cameras to take pictures! I love mine!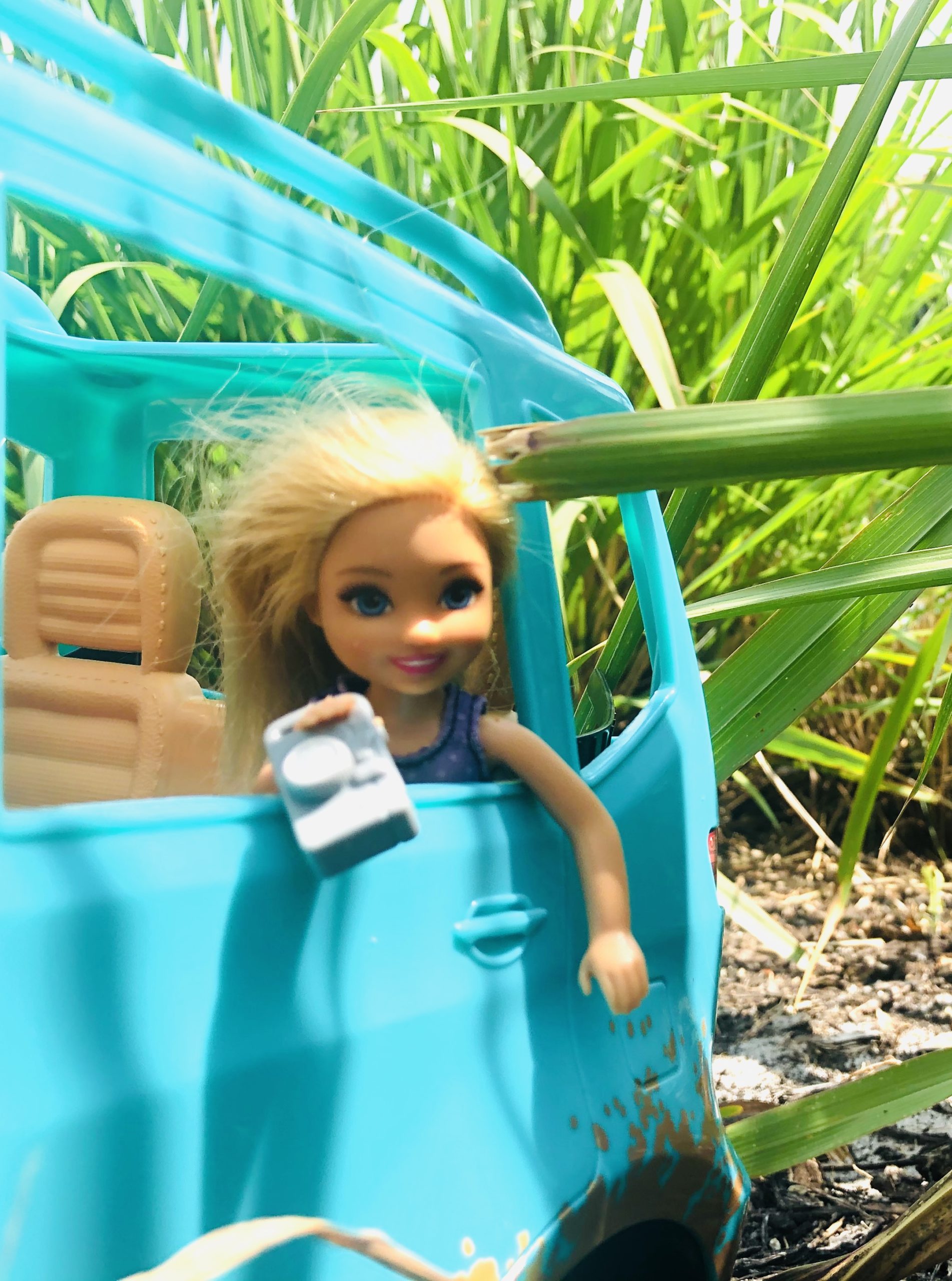 When we got to our place, we realized mom only booked us a 3 bedroom place! Mom slept with Emma and Ella (because they are the loudest), me, Brynn and Maya slept in another room and Charlotte, Lea and Vivi slept in the third. We had to separate Maya and Vivi because they were fighting. So, sleeping was a little chaotic, but our place is a TREEHOUSE!  Seriously, it's the coolest.
Our first day here was awesome! We went JEEPING!  My family is so big that we needed 3 Jeeps.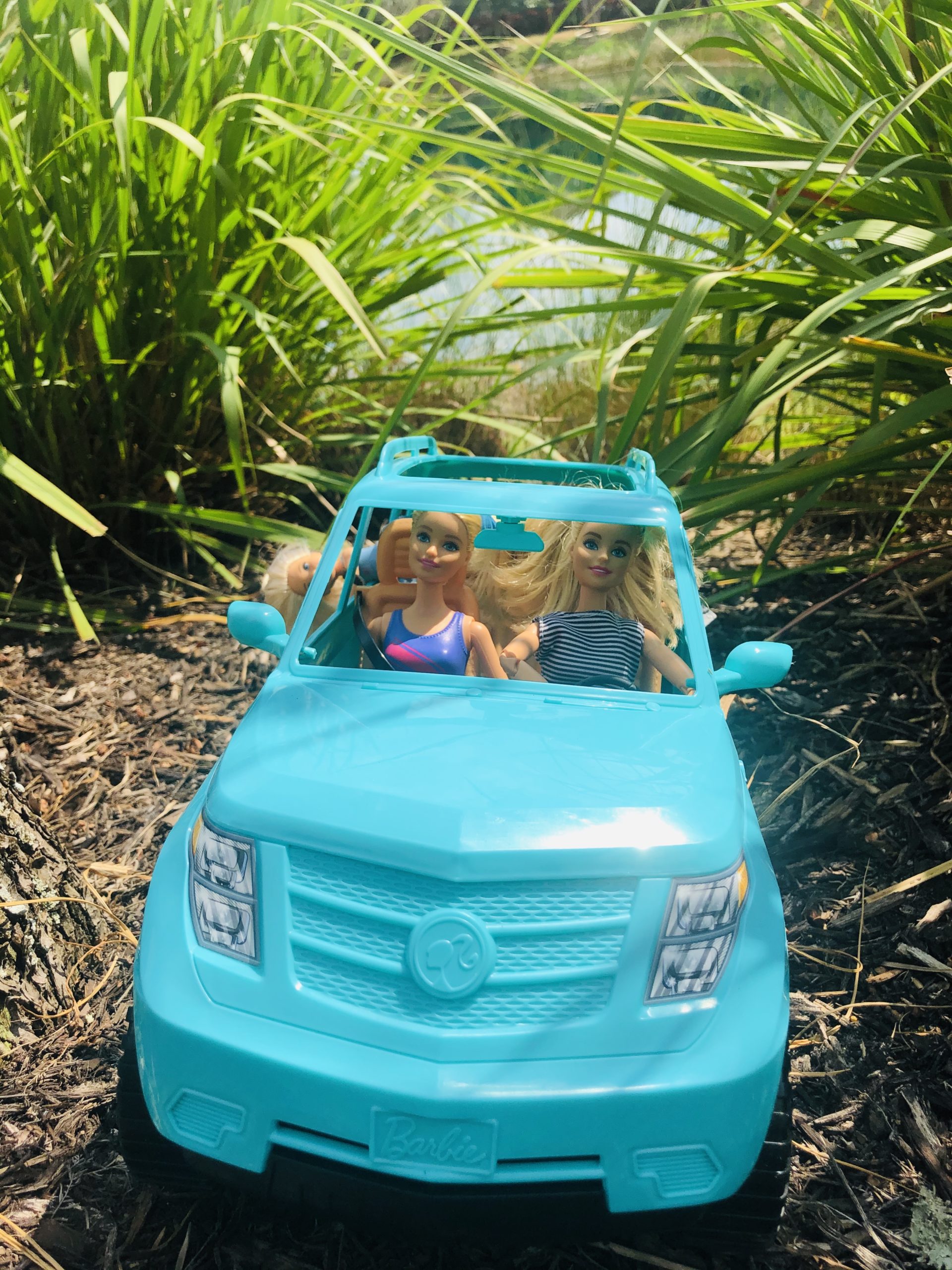 Our tour guide's name was Kevin. The first part of our jeeping experience was at the Nature Center. It was a little boring because all we did was sit and listen to Kevin yack about Costa Rica stuff. I listened to a bit of it because I felt bad for the poor guy. He did talk about some interesting stuff though, like how people who live in Costa Rica are called Ticos and when you say, "hi" or "nice to meet you", you say "Pure Vida!" But the rest of our family was looking very bored. Emma was sleeping and Ella was chewing Lea's hair. Charlotte was French braiding Mom's hair and me and Brynn were writing notes to each other. Now, Maya and Vivi didn't even bother being polite to him because they were in the bathroom messing around. After that, mom pulled us all to the side and yelled at us for not being polite. She said, "I will decide your punishment once we get back to our treehouse." Yikes. We thought the day was a bust. We were wrong.
everything changed when we got to get in the Jeep and GO!
Mom drove Lea, me and Brynn in one Jeep and we followed the other 2 Jeeps.  Now, when I say my mom drove us, I do not mean she drove us like, "on our way to school driving".  SHE WAS A MANIAC!  I have never seen her drive so fast!  She was whipping in and out of the jungle, in-between palm trees, bushes and bamboo.  She darted up hills and sped down them. And the whole time, we were all hooting, hollering, laughing and had the biggest smiles on our wind blown faces.  At one point, I was laughing so hard, I had tears coming down my face.
Another exciting part was when Brynn about fell out of the Jeep, thanks to mom.  We were stopped, looking at some wildlife (I'll tell you about that in a minute) and Brynn took off her seatbelt to lean out the window and get a picture. Well all of a sudden, the jeeps in front of us moved and mom stomped on the gas.  We all jolted forward but poor Brynn about tumbled out of the jeep because she was still taking a picture.  Luckily, I grabbed her by the hair (she's still a little mad at me about that) and yanked her back in.  Okay, I know the hair thing probably hurt but it was the first thing I saw to grab onto.  And you know what?  Mom and Lea had no idea about it until later when we told them.  They were just up in the front seat blaring Bon Jovi, they love the 80″s.
WOW! As if going fast and bumping up and down in a cool Jeep wasn't enough, we saw monkeys and all different kinds of birds. It was so cool! Every once in a while, we would get out and see a waterfall or something fantastic! Once, we got to dip our feet in a huge waterfall. It was really loud so Ella started crying. Maya and Vivi weren't aloud to get close to it though because they could easily get caught in the stream. I even saw my favorite animal, the toucan. Their beaks are so magical and pretty! I asked Kevin to talk more about Toucans so he did and guess what? Tucans can't fly for very long because their wings are so small!
Now, how I reacted seeing my favorite animal was different from Brynn's reaction to her favorite animal.  She is obsessed with sloths and it just happened that on our way out of the safari, we saw a sloth.  You'd think she'd have taken a picture or something, but nope. Brynnie fainted. She passed right out! Seeing her pass out made me scared. Actually, I was SO scared, I passed out.  Now, don't judge me, it wasn't my fault that Brynn passed out. Anyway, I'm safe and Brynn is too. When we got back to our treehouse, we were all very tired. The Jeeping Trip lasted 6 hours and Maya and Vivi never took their naps!
Thank goodness it's dinner time.  Gotta go, Bye!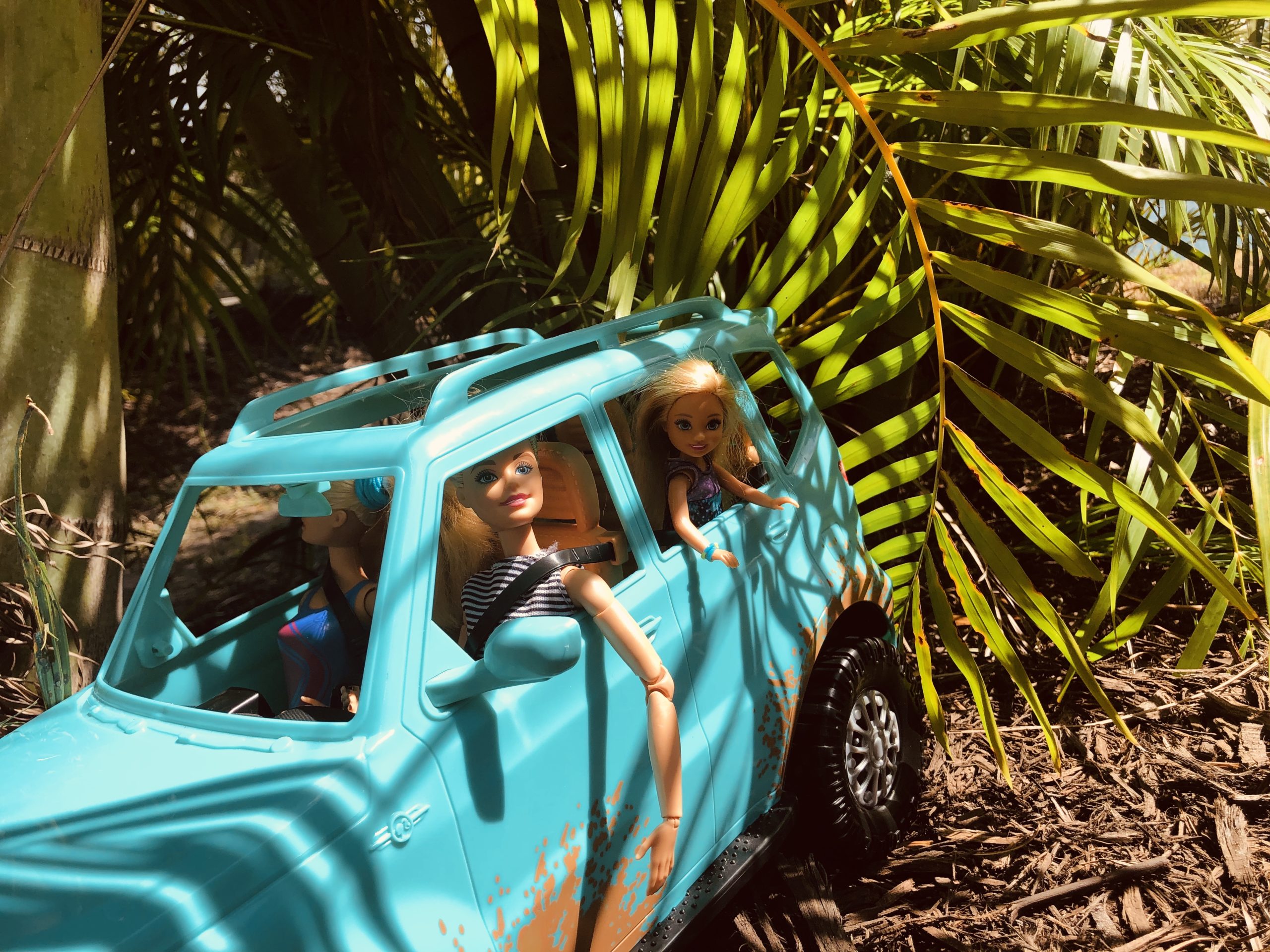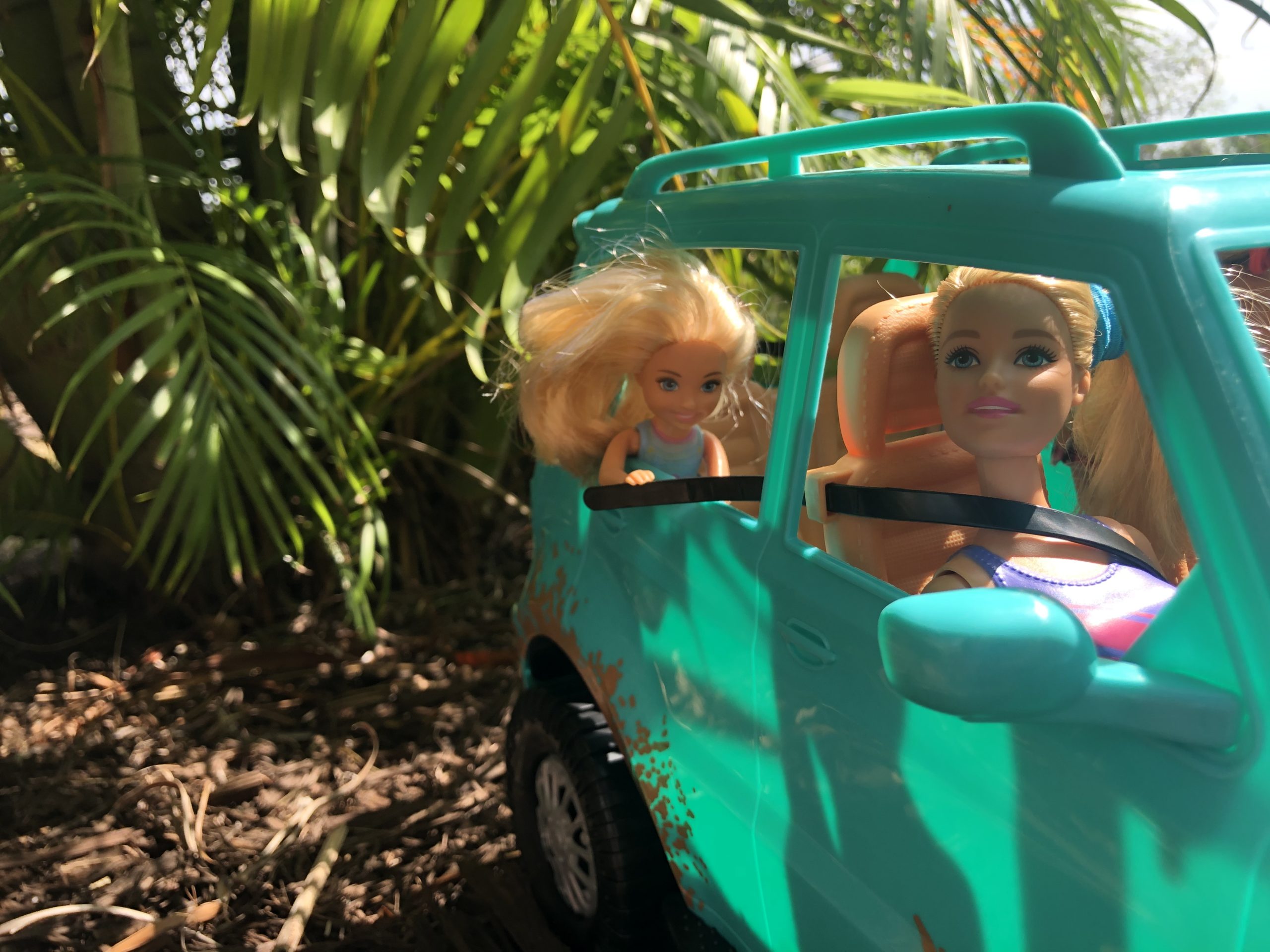 *If you want to go on your own Jeeping adventures with your Barbies, you can get one here. Or click on the picture.  Remember, you can be anything!* 
Did you miss the beginning of this adventure?  Read Airport Fun to catch up!