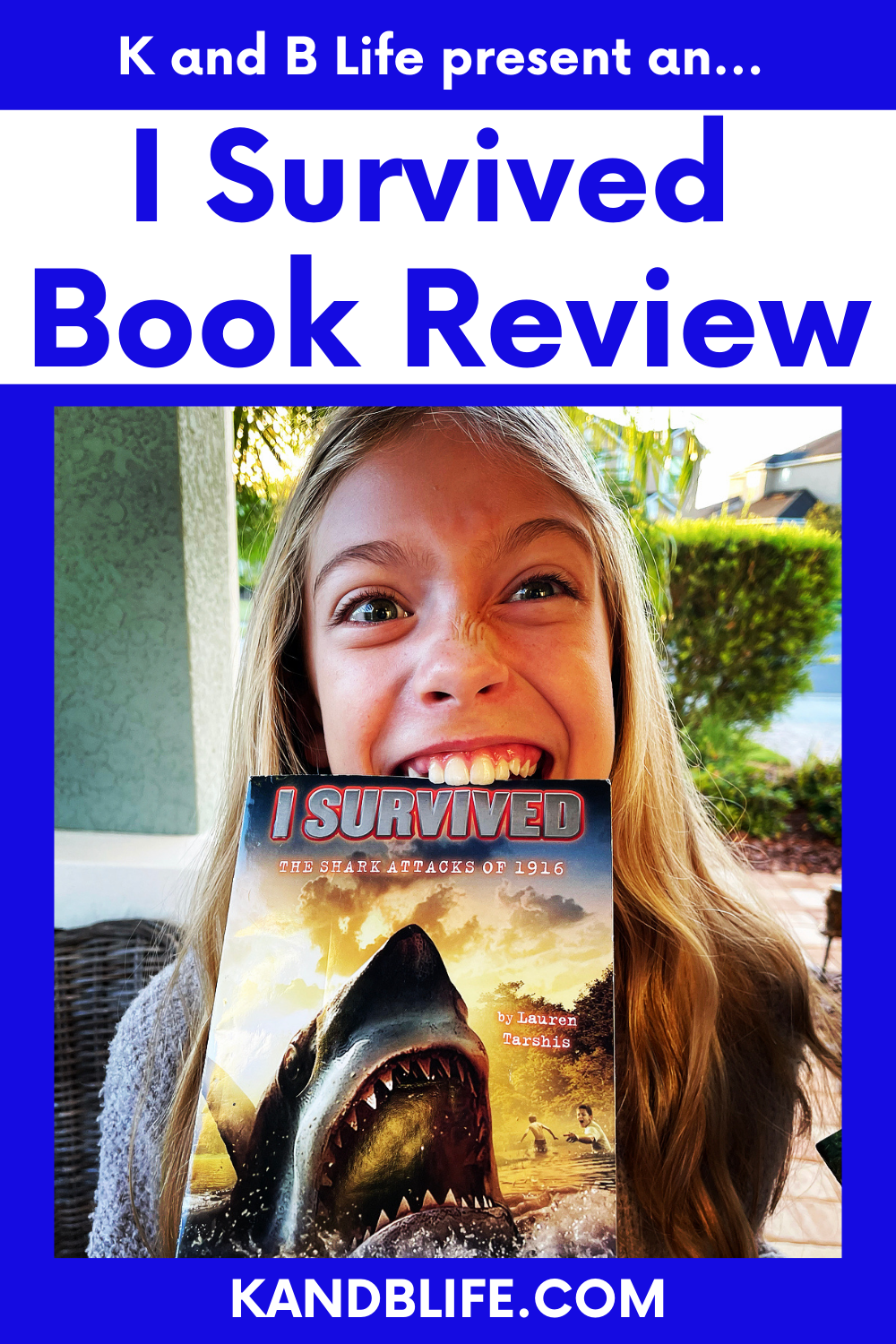 In this 20 Book Series I Survived Book Review, we'll talk about the series in general, our favorites and who would enjoy these books. First of all, we have not read ALL of them, YET, but we feel completely confident in giving a book review.
We're slightly addicted, okay we're obsessed, which is why we HAD to tell you about these amazing books!
We have only 5 more to go and we've read most of them a few times, so has our mom.
So, what's it about?
Each book tells such an exciting story from the perspective of a kid who's going through a terrifying event in history. There's events like the Battle of Gettysburg and natural disasters such as the the Joplin Tornado.
There's a wide range of topics and each one is thrilling, terrifying, and oh so good.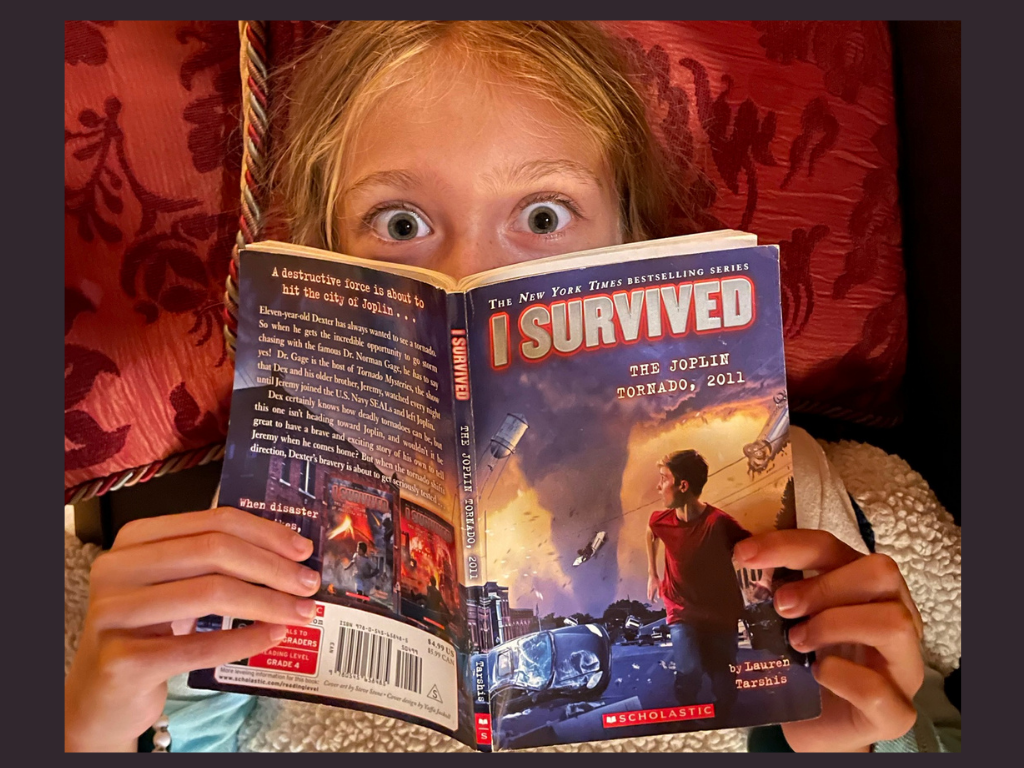 I like that they're about somebody who's gone through a lot, especially death but continues to persevere.
One of the best parts about the I Survived Series:
The author, Lauren Tarshis, gives added factual information at the back of the book, after the story. She gives you:
Her story about why she wrote the story about this particular event
Questions and Answers about the event
Further reading and learning
Other facts and sometimes a timeline of how the events went down
The extra information at the end just makes the story even more amazing! It's a great added touch that many historical fiction books don't give.
Our Favorite Books: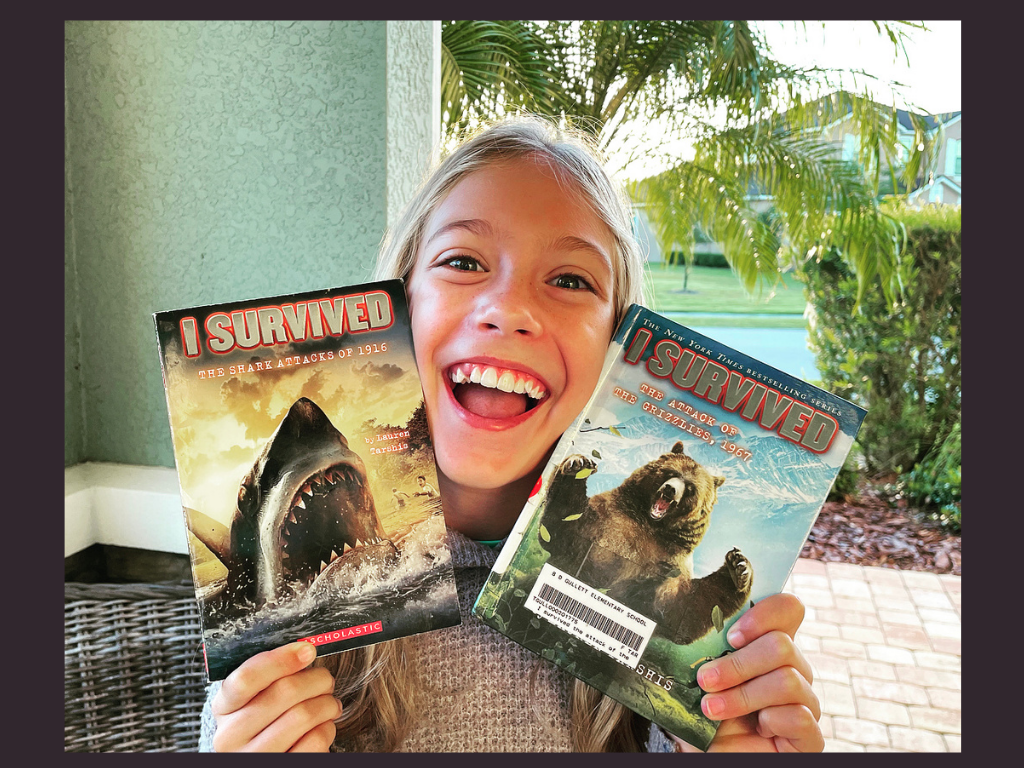 My favorite book in this series (so far) is the I Survived the Attack of the Grizzlies, 1967. What makes it different than the other is that it has to do with humans and our faults.
Such a twist! It's really the humans fault as to why the grizzlies started to attack! You'll see why.
My runner-up: I Survived The Shark Attacks of 1916. This one was mildly gory but I liked it, it wasn't too bad.
What made this one neat (other than it's about sharks) was that no one listened or believed the main character, Chet, at first about seeing a shark. I don't want to give too much away but that made it exciting because you just wanted to scream at the people in the book to listen to him.
And because the townspeople thought he was pulling a prank, you didn't know what was going to happen and to whom!
Kinley's Favorite: I Survived the Great Chicago Fire of 1871. She liked this one the best so far because the thought of being in a fire was most frightening to her.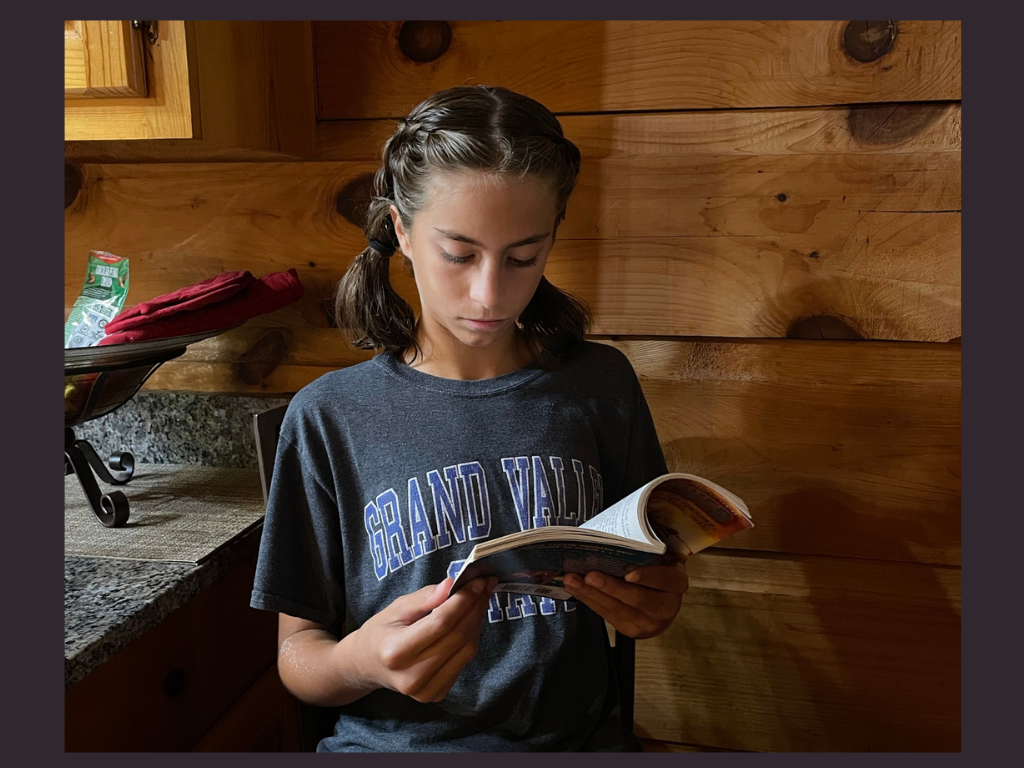 Who's the I Survived Books for?
Anyone who enjoys thrillers likes learning about natural disasters, history, and adventure. It's the perfect mix of all of those things.
It's perfect for both girls and boys, too. Some of the main characters are boys and some are girls, so everyone can relate.
The I Survived Books are not too long and an easy read. By that I mean, the language and vocabulary are not difficult.
Recommended grades 2-7.
A Little Warning…
Some of the books' topics are heavy.
For instance, I Survived the Battle of Gettysburg takes place during the Civil War with slavery going on and the Nazi Invasion deals with the Holocaust. Those can be pretty heavy and filled with lots of emotions and questions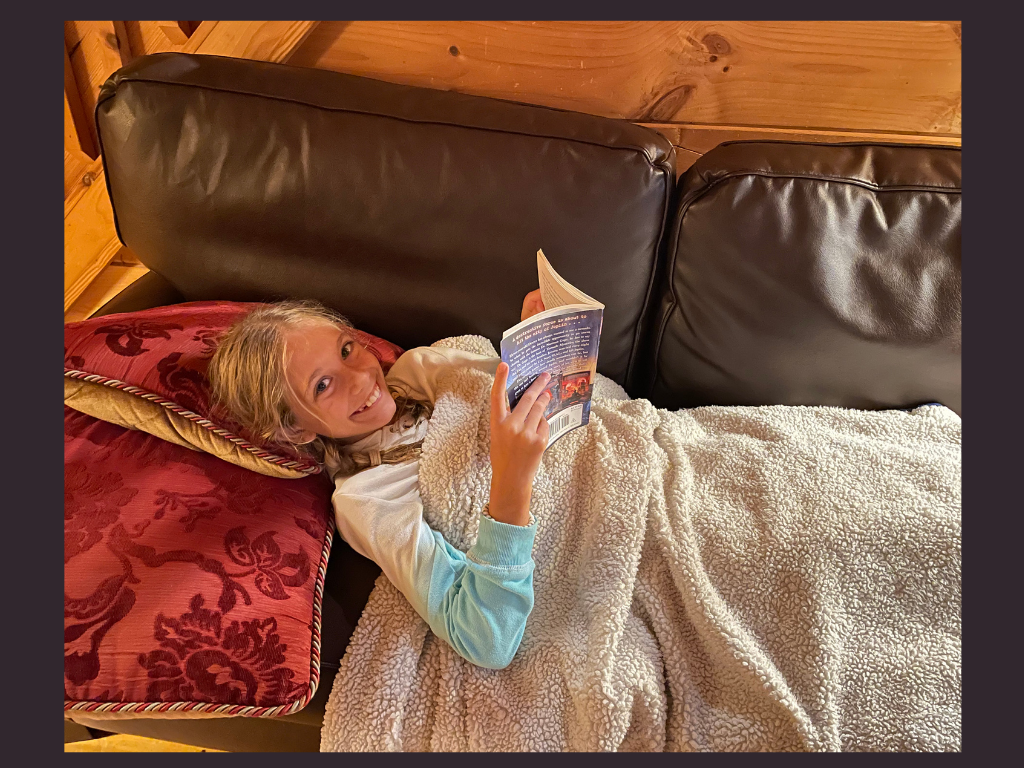 They are still great books but perhaps for the older kids. The Nazi Invasion was one of my mom's favorites because she studied WWII in college.
Hurricane Katrina was super sad, more than the rest for me. Well, the whole situation was sad but especially if you're a pet lover, it's going to be devastating.
All and all K and B Life recommend these books very much!
So go on…get to reading!
And don't forget to check out our other Book Reviews on Book Talk!

Books We Mentioned:
**To make it easy for you, we have links to buy the books we've mentioned, below. They're affiliate links but don't worry, it's at no extra cost to you! It just may or may not give us a little something to help keep the blog going, thank you for your support!
They even have box sets because, let's face it, you're going to want them all.