Children's Book Review on The Girl with the Magic Ponytails
Kinley's View-Age 11
Normally, we don't do picture books but this one I just had to write about! This book was super good, everyone!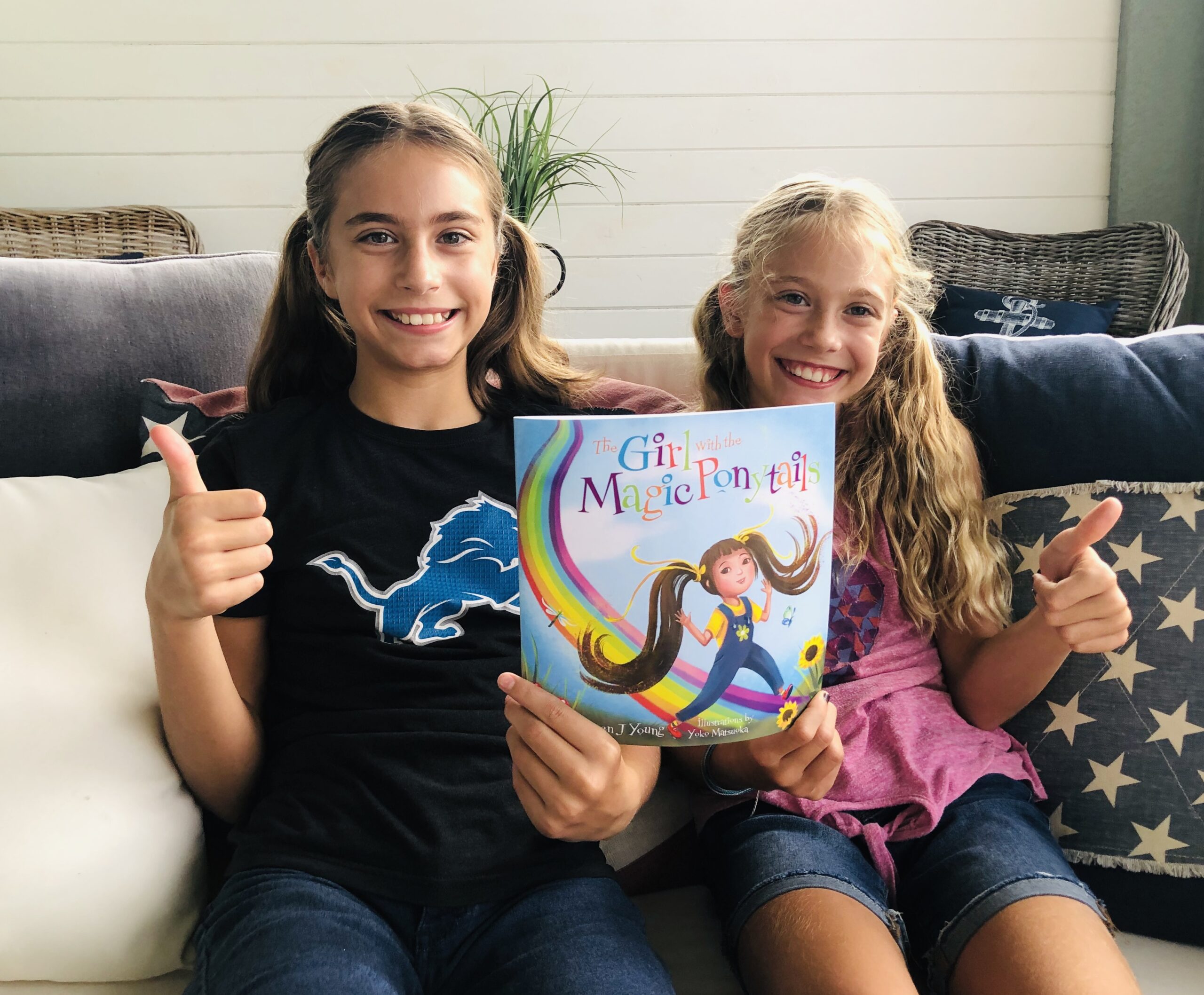 The Girl with the Magic Ponytails by Karen J. Young is about a girl, Riley, who has these super long, not high, not low, in the middle just right ponytails. She couldn't be seen without her ponytails, that's because her ponytails hold special magic… She can do amazing things with her ponytails!
I really liked this book because Riley uses her ponytails, imagination, and creativity to come up with all these really cool adventures! My favorite ones are:
The homerun one- she turns her hair into a baseball bat
I liked it when she put out a fire and made a garden grow.
I also liked it when she saved the raccoons and used her hair as an umbrella. That was neat.
There are so many more, but you have to read the book to find out! This book also inspired me a lot. Her imagination makes me want to write some amazing stories and also go out into the world on an adventure. Riley just turns ordinary things into magical experiences.
The Illustrator is awesome! Brecken and I looked at the pictures a lot. There are bright colors and lots of detail. We'll have to get Yoko Matsuoka to illustrate for one of our books!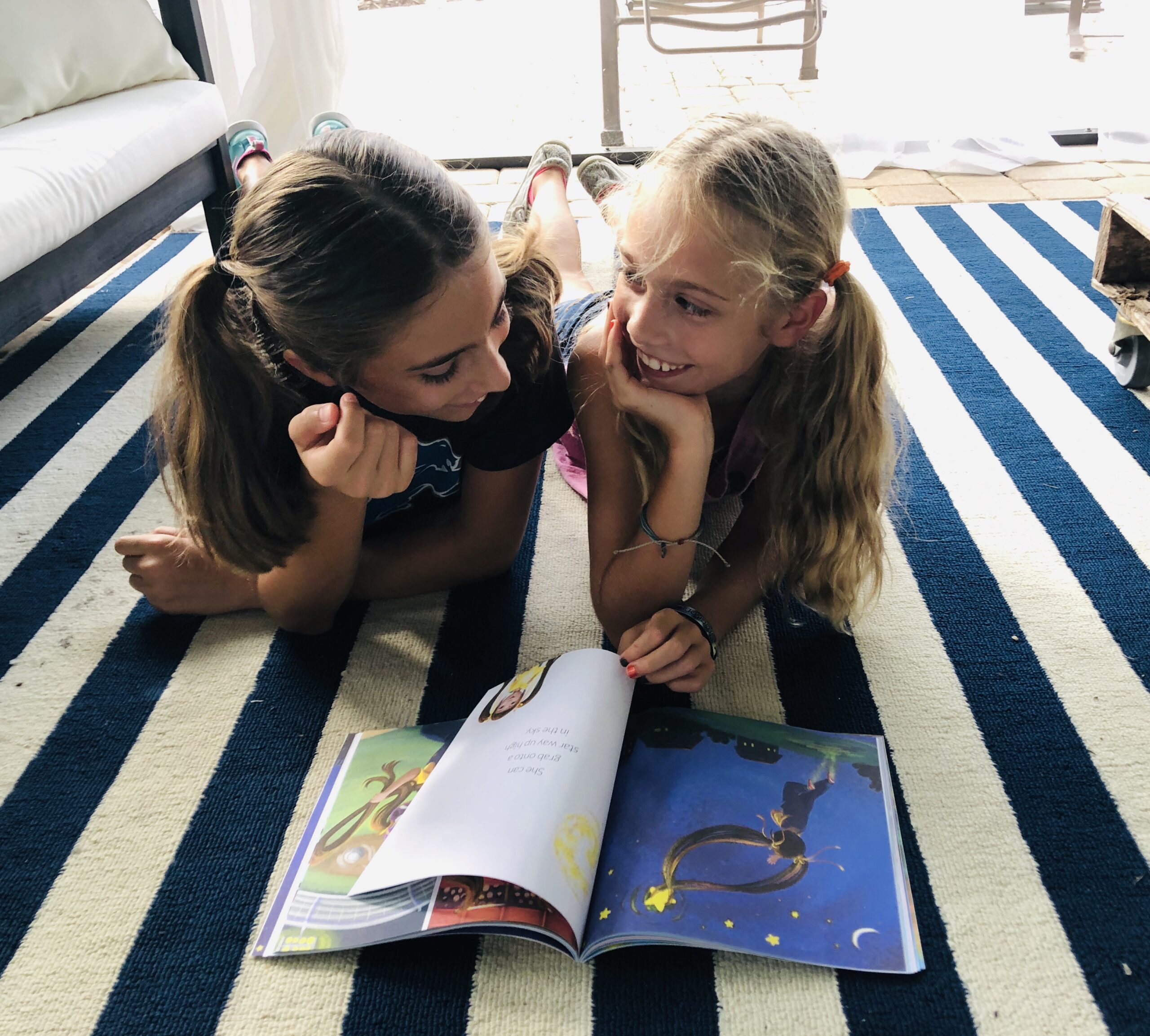 Be sure to watch the promotional trailer for the book at https://youtu.be/2XpE1k8N7XM. You won't be disappointed! It's like a little movie!
Brecken's View-age 9
I like the book because Riley has such a good imagination! The author did a really good job of creating neat things a girl can do with her long ponytails. Okay, her ponytails are really cool. too. It makes me want to wear my hair in ponytails all the time now, too! My hair is not as long as Riley's but I'm going to grow it out!
Like Kinley said, her ponytails have a special magic and they take her on cool adventures. I have a skateboard so my favorite part is when she's skateboarding.
We are definitely putting this one on our 2020 Gift Guide, it'd be a good gift for a kid but also for a teacher. They have classroom libraries and it would be a good one to have in the classroom.
Also, we all liked that the author, Karen Young, based this book on her daughter. Her daughter had lots of hair and always wore ponytails. Up until elementary school, she rarely left the house without her hair in ponytails.
The author, Karen Young, said,  "She could never really say exactly why she was so attached to her ponytails. I always thought that for Rachel, the ponytails held some kind of 'magic'. The kind that spurs imagination, lifts the spirit, and ultimately, strengthens identity." How cool is that? I love that the author got the idea to write this book based on real life. That's what we do in our writing, too!
I love this book, it makes me feel happy and feel that I can do anything. Riley is a girl you will want to be friends with and will want to read about her over and over. I hope there's another book with Riley in it! Do you hear that Mrs.Young?
Thank you so much for reading our Children's Book Review on The Girl with the Magic Ponytails. Let us know what you think in the comments!
Get this wonderful story on Amazon, here!
**For more book reviews by us, check out Book Talk!