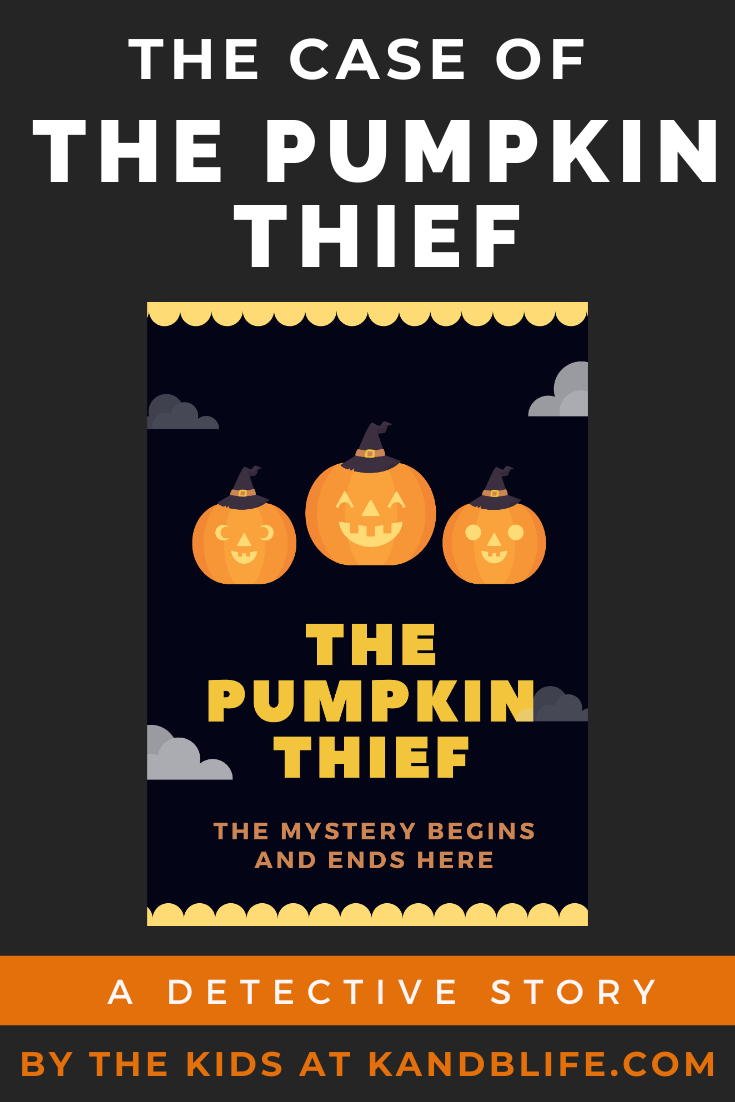 A Detective Story: The case of the missing pumpkin thief
"Hi," said Kinley on the Walkie Talkie.
"Hi," said Ella, "I just got a call from Mrs. Unsen, our librarian, and she says she's missing a couple of her jack-o-lanterns. Someone took them from her porch."
Kinley said, "Let's meet in the park."
Kinley and Ella are 11 years old, best friends, and neighbors. Oh, did I mention they are also two of the best detectives in town? They even have their own detective agency called K & E Detective Agency. Some folks around town say they're nosy but they say they're curious. Big Difference. Now, back to the story.
Kinley and Ella got dressed and rode their bikes to the park. "Mrs. Unsen brought over a picture of her stolen pumpkins. Her family had just finished carving them. This is the photo," said Ella showing Kinley.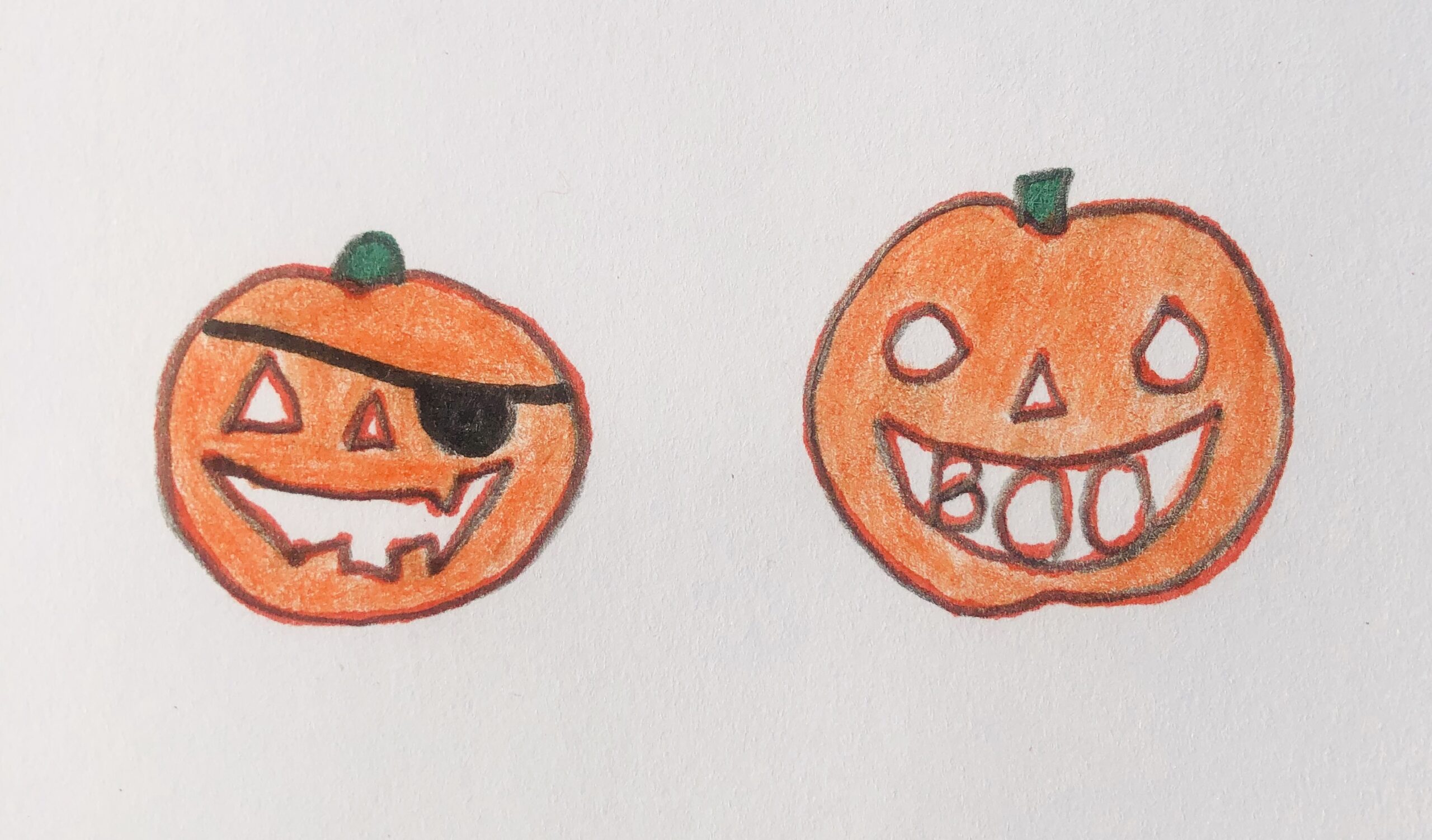 "Let's ride around the neighborhood and see if the thief is using them as their own decorations." The girls rode around but didn't see the pumpkins anywhere.
Kinley suggested, "We should make flyers and put them up around town. Somebody might have seen them." They went back to Ella's house and made 100 copies and hung them up around town. After they hung up the flyers, Kinley and Ella went back to the "agency" (a chicken coop in Ella's backyard) and waited. They decided to recite, "Supercalifragilisticexpialidocious" until someone called and said they found it. But nobody called and they got really sick of that song. At 4:00, the girls called it quits. "We'll have to continue tomorrow. Let's meet at 9:00. Bye!" "Bye!"
The next day
"Hi Kinley, come to my house right away!"  "Of course," said Kinley, "I'm just finishing up breakfast."
After breakfast, Kinley went to Ella's house and Ella immediately shouted, "Somebody stole our spider decorations!"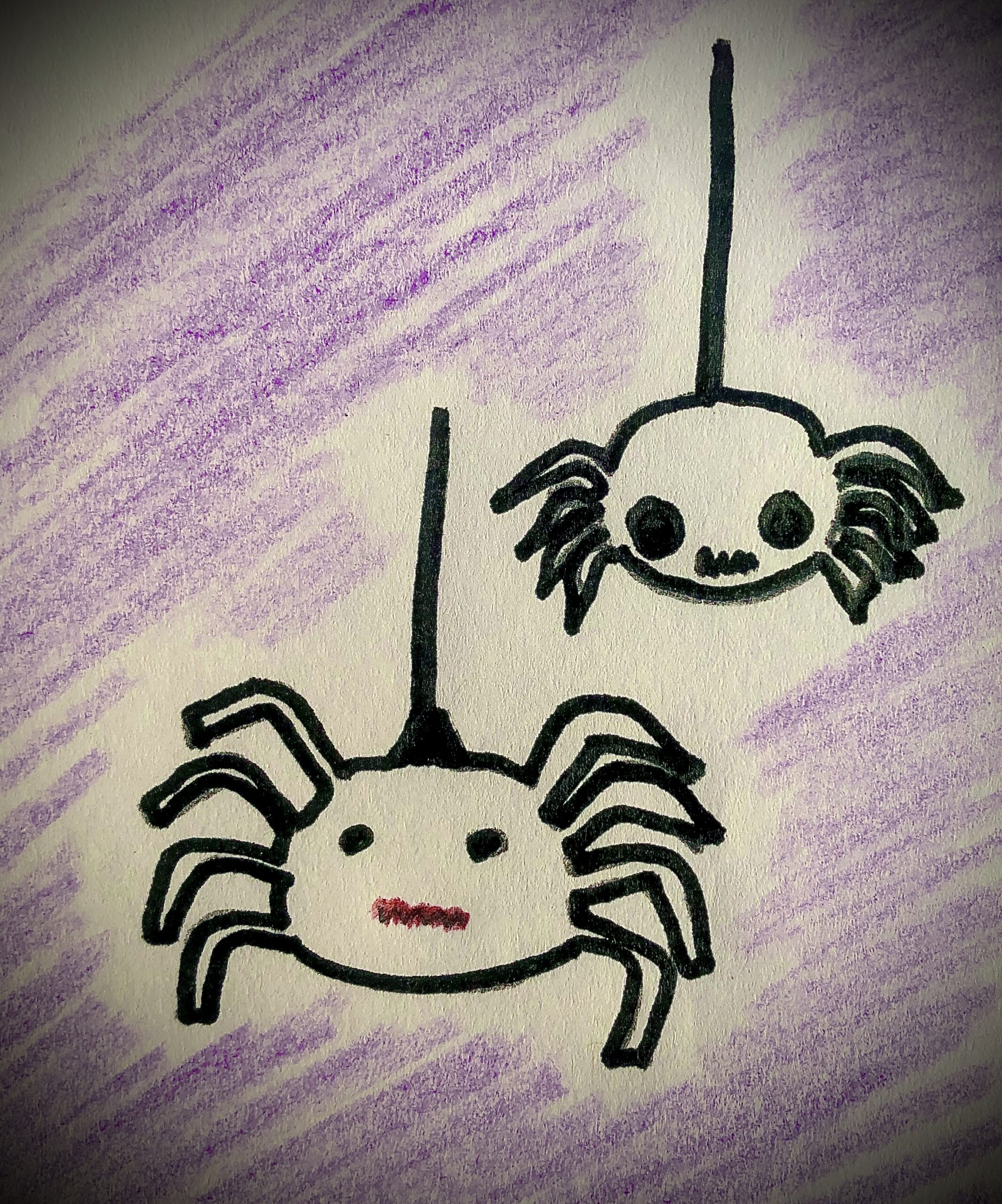 Kinley said, "Oh no! This means that there's definitely a Halloween Thief in our neighborhood!"
"Yeah," said Ella, "they could come to your house next! You have awesome decorations."
Kinley asked, "Did the thief leave any clues? Have you looked around?" "I did but I didn't see anything unusual," said Ella, "Let's go talk to Mrs. Unsen. Maybe she found something that could help us."
Mrs. Unsen's House
The girls went down the street to Mrs. Unsen's house. They asked her if she found anything or saw anything that could help narrow down the thief but she didn't have any clues for the girls. Just as the girls were walking down the driveway she yelled out, "Girls, come here!" They ran back up and she told them how strange it was that first, there were pumpkins stolen, and then there were spiders stolen.  And in the same neighborhood.
"Why is that strange?" asked Kinley. "Because," Mrs. Unsen said, "it's just like this book called The Pumpkin Thief by Namkeid Nire. It's a detective story and a lot of kids are reading it right now. First, pumpkins are taken from the librarian and then spiders are taken from some nosy kids. No offense, girls." The girls shrugged their shoulders, "None taken, we're used to it."
Ella asked, "Do you remember what happens next?" Mrs. Unsen didn't remember. "Can we borrow the book?" Kinley asked.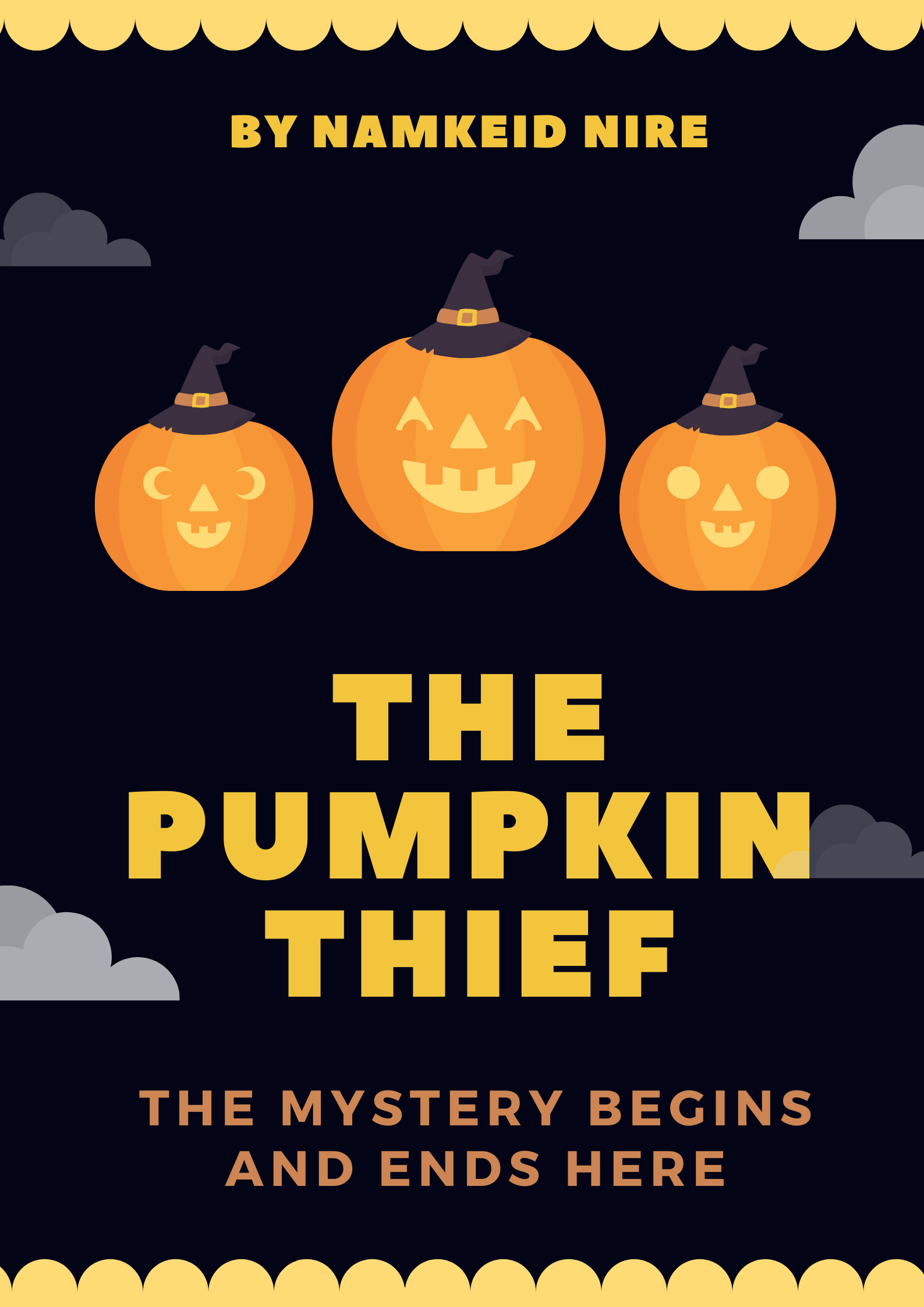 "I wish, but they're all checked out. I think every Halloween book is checked out right now."
Ella asked, "Do you remember anyone that has it?" Mrs. Unsen said, "I believe Connor from your class has a copy."
Mrs. Unsen wondered to the girls, "You don't think Connor could be behind this, do you?" All three of them looked at each other and shook their heads no. "No way," said Kinley and Ella at the same time.
Connor's House
They hopped on their bikes and headed over to Connor's house. They knocked and knocked. No answer. They rang the doorbell and finally, Connor answered the door.
"Hi, Connor. We were wondering if we could borrow your book, The Pumpkin Thief, that you checked out of the library the other day."
"Sure," said Connor slowly, "I'll get the book." The girls waited and waited. They looked at each other and rang the doorbell again. Connor answered, "Hi." "Hi Connor, did you find the book?" asked Ella. "What book?" he replied.
"You know, The Pumpkin Thief. You're going to let us borrow it, remember?"
"Oh yeah. I'll be right back." The girls waited again. They grew impatient and rang the doorbell. Connor's mom answered the door this time. "Hi, girls," she said. Kinley said, "Hi, we're just waiting for Connor to give us a book. I don't think he knows where it is." Connor's mom looked annoyed, apologized, and then shut the door. Next, they heard her yell, "CONNOR, ARE YOU LOOKING FOR THAT BOOK?" "WHAT BOOK?" he yelled back. "FOR THE GIRLS! THE BOOK FOR THE GIRLS, CONNOR!" They heard Connor respond, "Oh yeah, they still here?" "YES!" she screamed.
They waited for what seemed like an hour and Kinley thought her head was going to explode. Finally, they heard Connor's mom yell to him, "CONNOR! Are you getting that book for the girls?!" "I'M TRYING!" he yelled back. Eventually, Connor came out with the book, and Kinley's head, luckily, did not explode.
Miss White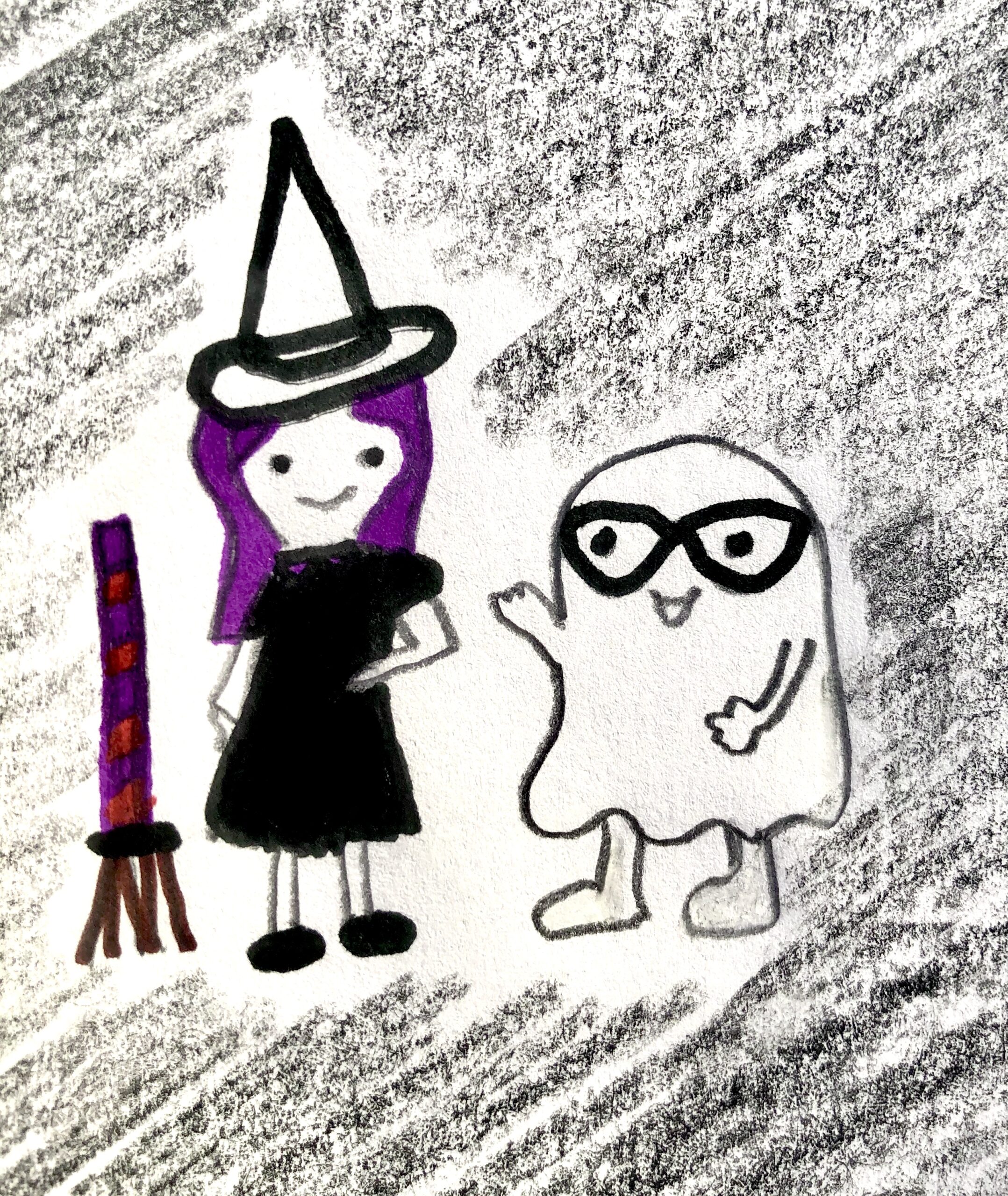 They rushed back to the agency to read the book and see who was next to have something stolen. They skimmed the book until they got to the part of the next victim. It was an English Teacher. They looked at each other and said, "Miss White."  She only lived 3 houses down so they walked over to warn her.
Kinley and Ella explained what was happening and that she was next, according to the book. She hadn't had anything taken and didn't quite believe that there was a copycat thief. We found out that a copycat is someone who copies someone else's ideas. However, Miss White called the next day, she said she had some decorations taken. Kinley asked, "Was it a witch and a ghost?"
Miss White didn't even respond yes or no, she simply said, "It was in the book, wasn't it?" "Yep," the girls said. So, now they know that the thief is definitely copying the book.
Who's next?
Kinley and Ella spent the day and a good portion of the night, finishing the book. They found out who the next victim was but unfortunately, it got too late and their parents wouldn't let them go anywhere. The next morning, though, they hurried downtown on their bikes. The next victim was the owner of a gym, so they rushed to warn Mr. Tigges, who was also the girls' gym teacher at school, but it was too late. The girls rode up on their bikes just as he was telling someone leaving spin class, "Have a good day, I guess I need to get some more decorations since mine were taken last night. "Shoot," whispered Kinley to Ella.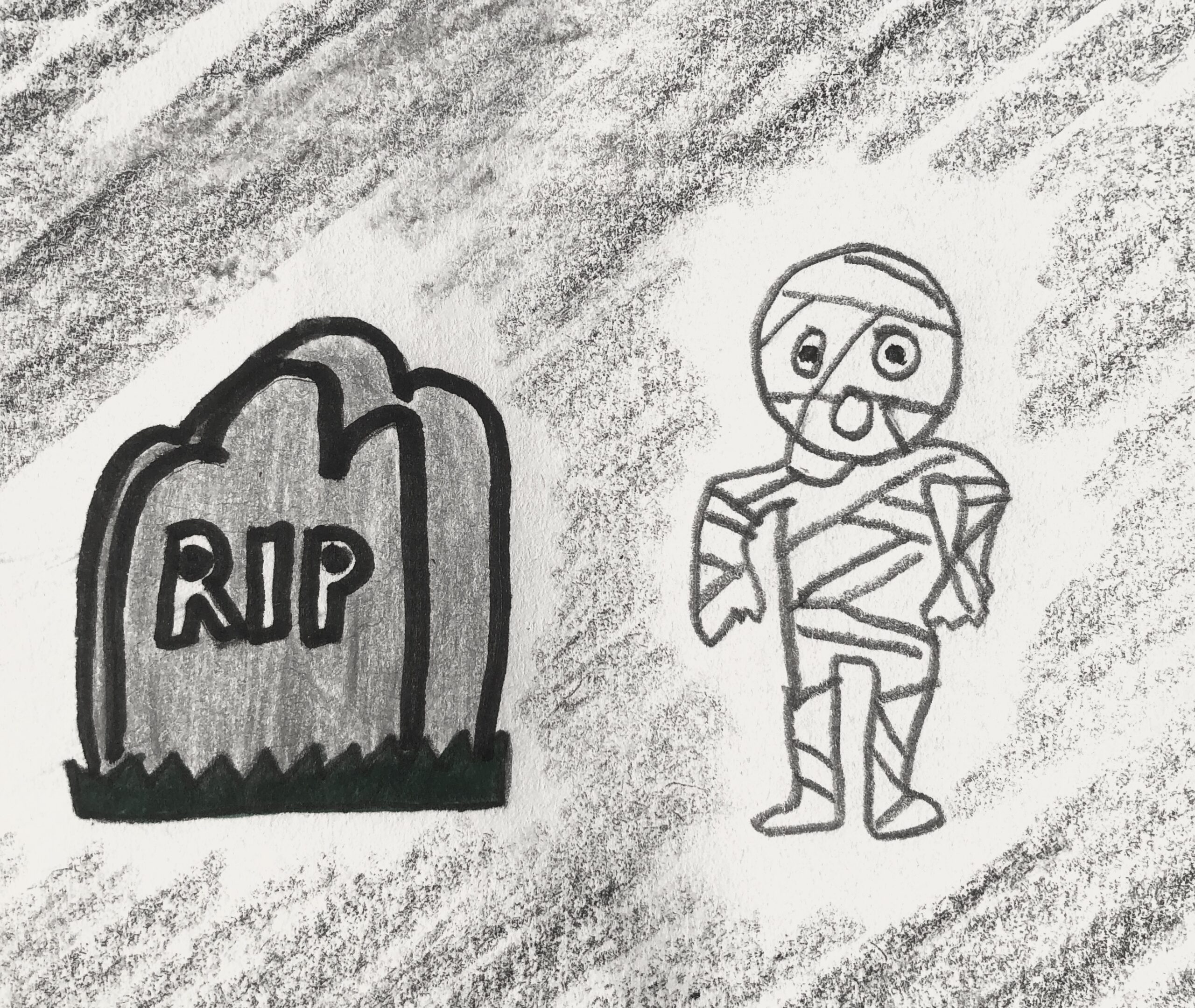 They found out the indeed Mr. T had a mummy and a tombstone stolen, just like the book predicted. The good news is that they did finish the book, so now they knew that there weren't any more decorations being stolen and they knew who the thief was.
the thief is…
The thief? It was the author of the book. "This is crazy," said Ella, "the book is about a copycat thief copying a book." Kinley said, "It's exactly what's happening right now. It must be the author doing it to our town, too. We need to find this Namkeid Nire." Turns out, finding the author was impossible. There is no information on the internet about this Namkeid Nire. Not only that, but nobody in town had ever heard of him or her. Ella said, "Obviously, it's not the author's real name. Now what?" The girls were stuck. "There's got to be another clue," thought Kinley. They went back to everyone's houses, and the gym, to question them and look for clues. Nothing turned up.
The girls returned to Kinley's bedroom to think. They decided to take a break, and get ready for a roller skating party happening later. Kinley put the book, The Pumpkin Thief, up a shelf and tried to forget about it for a while. Sometimes, taking a break and then revisiting the case helps give you a new perspective.
The Mirror
As Kinley was brushing her hair in the mirror, she noticed the book, which was on the shelf behind her. She was looking at the reflection in the mirror and finding it very odd. She kept looking at the book in the mirror and then turning around and looking at the book on the shelf. Something is not right. Kinley kept staring at the reflection of the book in the mirror, what's so odd about the cover?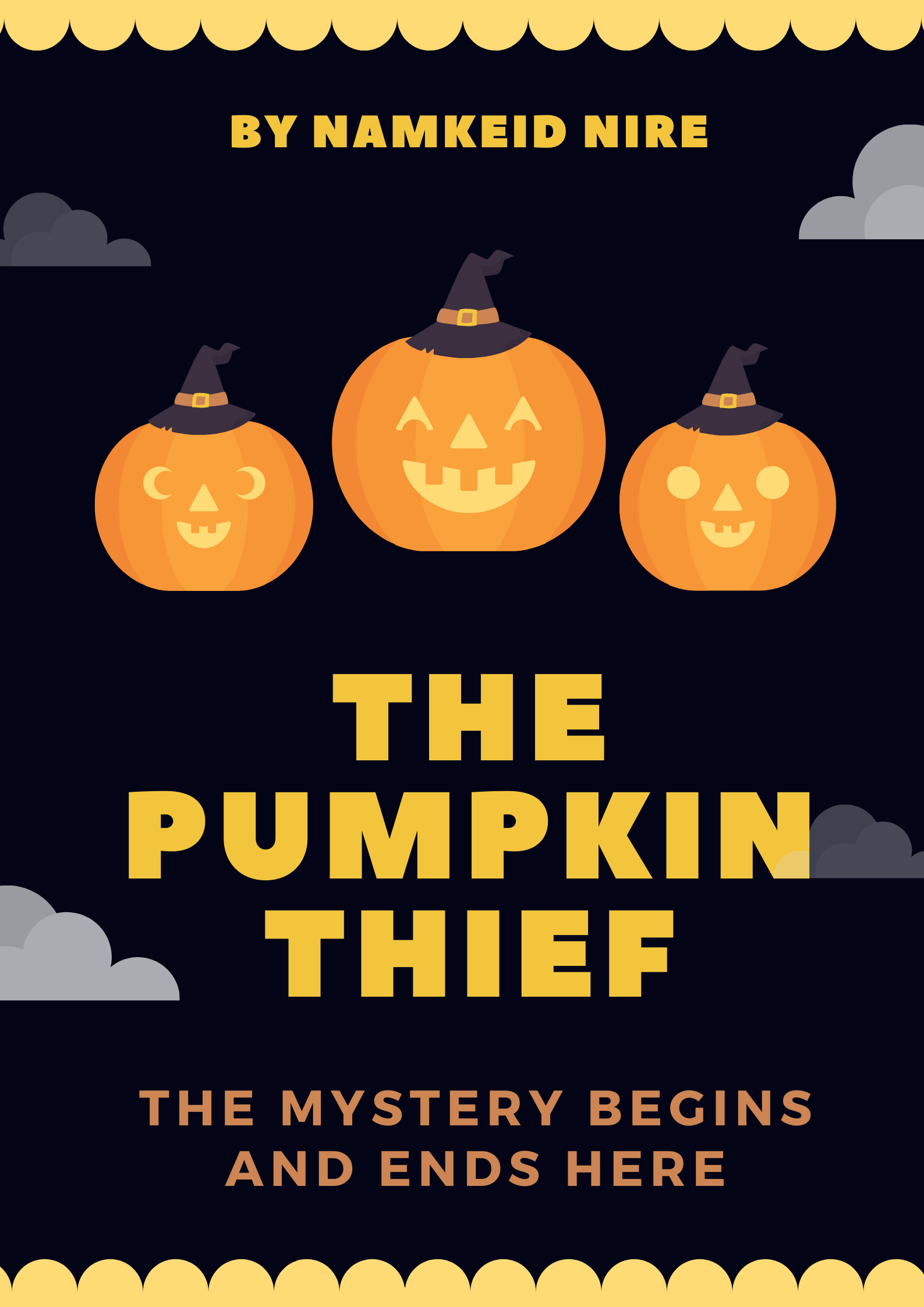 Then, a gasp! Nire Namkeid…Nire Namkeid…"ELLA!" Ella walked over. "Look at The Pumpkin Thief in the mirror." Ella stared at the book. "Look at the author's name in the mirror, Ella, look at the REFLECTION!" Ella's eyes got super wide.
"Kinley," said Ella with amazement, "it looks like it says Erin Diekman."
"Yes. It. Does."  Erin Diekman, or Mrs. Diekman, was a teacher at the girls' school. "I didn't know she was an author," said Ella. "Neither did I."
the finale
The girls decided to go confront Mrs. Diekman. They went to her house and she admitted it. "I knew you two would figure it out! I just wanted to promote the book and get people talking about it. But, I don't want anyone to know I'm the author. Can you keep the secret? I love teaching and want to remain anonymous, please?"
Ella said, "You have to give the decorations back." "Absolutely," Mrs. Diekman said, "I was never going to keep them, girls. It was just part of the promotion. I was actually going to put them all back tonight."
Kinley and Ella decided to keep her secret. In return, they each got their own signed copy of the book. And what a promotion for the book this whole ordeal was! Mrs. Unsen and Miss White told everyone about how their decorations being stolen was just like the detective story, The Pumpkin Thief. Of course, everyone went and bought the book and the whole town was talking about this anonymous author, Namkeid Nire. In the end, nobody looked at the book in the mirror because nobody figured out that Mrs. Diekman was the author.
And so it is, another case solved for the detectives, Kinley and Ella.
the end
We hope you enjoyed this Detective story! We love mysteries can you tell? For more stories from The Detectives: Kinley and Ella, just click here.
**We have links below for you to some of our favorite mysteries! They're affiliates but don't worry, it's at no extra cost to you! It just means we may or may not get a little something if you use the link.**
We highly recommend the Nancy Drew Diaries by Carolyn Keene and the Mo and Dale Mysteries by Sheila Turnage. My favorites to start with are below. Enjoy and be sure to let me know how you like them!