children's book review on dragons love tacos by Kinley
Dragons Love Tacos This is one of my favorite picture books of all time! WHY? It has adorable, funny dragons (not the scary kind) and tacos!  Who doesn't love tacos? They're messy and delicious! Tacos are one of my favorite foods, so there's that, too.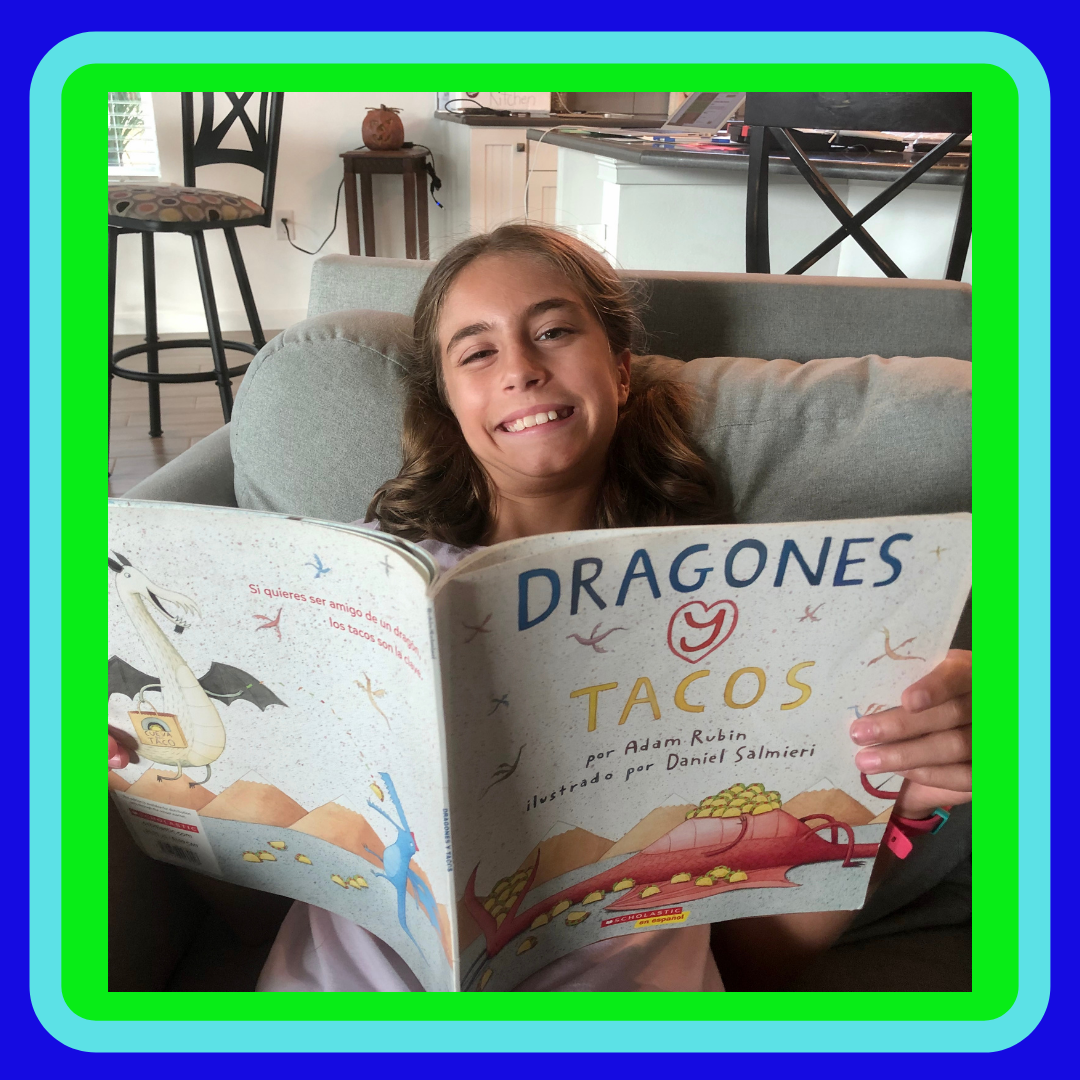 So, what's it about?
It starts off by talking about how much Dragons love tacos AND how much they love parties.  For instance, they love chicken tacos, beef tacos, great big tacos, and teeny tiny tacos. They love costume parties, pool parties, and tiny little parties with charades.
So, this boy decides to throw the dragons a party. But not just any party, a TACO PARTY! The narrator warns to not have anything spicy at the party because the only thing dragons don't like are hot and spicy tacos.  Even a little bit of spiciness, like from salsa, can cause tummy trouble and make them breathe fire.
Everything is going great until the boy notices a warning, in fine print, on some of the jars that say, "Now made with Spicy Jalapeno Peppers." He tries to warn and tell the dragons but it's too late. What's happens next?  You have to read the book, silly. I wouldn't want to spoil it for you!
The Illustrations are fun, too.
The illustrator uses bright colors and there are all different kinds of dragons, too, which is cool. They all have different features, sizes, and colors.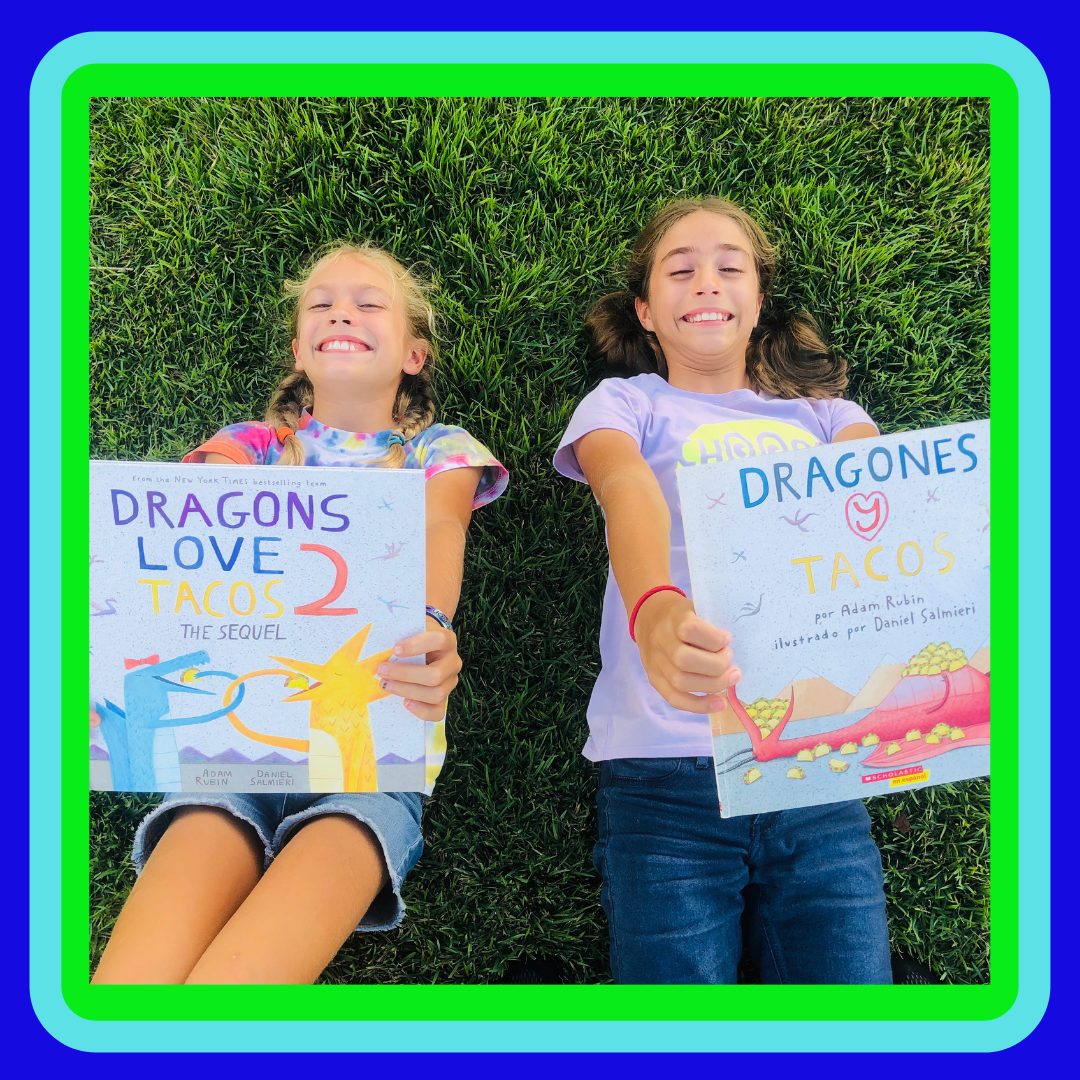 Children's Book Review on Dragons love tacos the sequel by Brecken
I like this one because I think it's sillier and makes me laugh more.  Just so you know, you really need to read the first book before this one to understand it. The author refers back to the first book so if you didn't read it, you will be like, "What?"
So, what's it about?
It starts out with a newspaper article stating that there are NO MORE TACOS. The World is in shock and the boy and the dragons have to do something about it because after all, Dragons love tacos. So they hop in a time machine to go back in time to the taco party (it's in the first book). The idea is to grab some tacos, bring them back to the present, plant them and grow taco trees so they never run out of tacos again. Does their plan work? You have to read the book to find out!
My favorite part is…
When they land in different spots of time is my favorite part of the book. I won't spoil it but I laughed so hard when they landed where Dragons love diapers! How crazy is that? There are other silly things like that and it's so funny.
Another interesting thing…
The author, Adam Rubin, writes it like he's talking to you. I like that and I think you will, too. It makes you feel really included in the story. My mom used it as a read-aloud to us (I was in her classroom) and it was like she was talking to us. The author asks questions to the reader that we could answer and we acted out some of the parts. For instance, he tells you to, "Set the dial to 'taco party," and "Give the dial a little twist." I was in first grade and that was fun!
We both love these books and recommend them! Thanks for reading our reviews!
If you'd like more recommendations, head to Book Talk and take a look!
**Do you like the sound of this book? Check out our links below to add it to your collection or give the plush toy set as a gift to someone who likes dragons and/or tacos! HINT, HINT: Our mom's a teacher and she loves the books with the stuffed animals, just in case you want to give to a teacher.
***También disponible en Español: 
Be sure to sign up for e-mail and grab our FREE Helpful Writing Guide for Kids! Enjoy!