Middle School Book Review on Math Doesn't Suck
Do you hate math? Do you love math? Either way, you need this book and I'm here to tell you why!
You all know Danica McKellar from The Wonder Years (if not, watch the show-it's good) but she also graduated from college with a degree in math! You guys, she also has co-authored a groundbreaking mathematical physics theorem, which is also named after her: The Chayes-McKellar-Winn Theorem. I haven't gotten to theorems, yet, but she knows her stuff, let's just say that.
No More "Math Nerds"!
As a 7th grader, Danica was very nervous and scared for math class and tests. She would just freeze up! During her 8th grade year, she finally started to realized math is very important in life (I guess you're right, mom and dad) and she started to love math!
As she took more advanced math classes, Danica realized math gets a bad rap, especially for girls. She wanted to break the stereotype of, "Math Nerds" and to have a message to girls: Smart is sexy!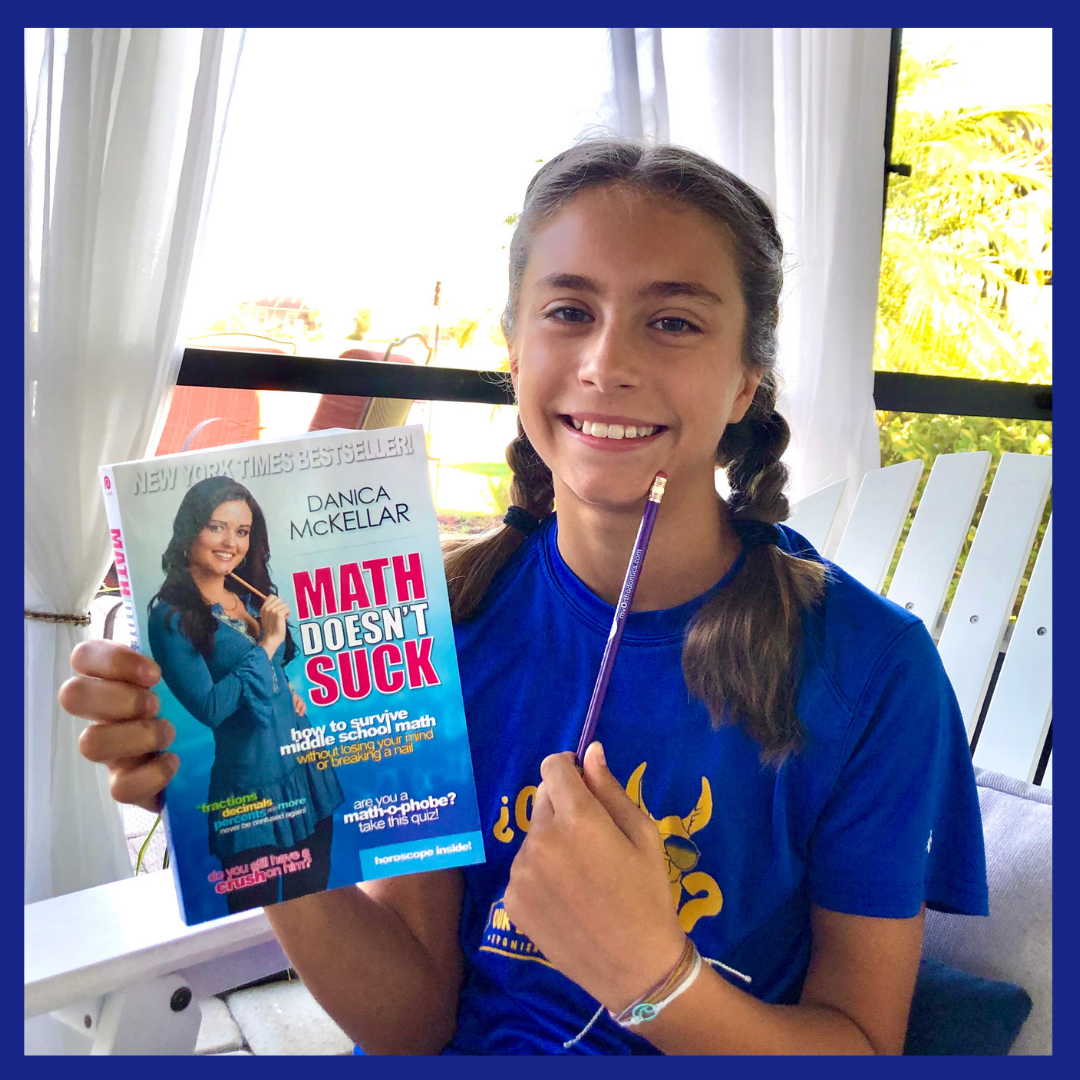 Years later, she wrote this book for middle schoolers, mainly girls, called, "Math Doesn't Suck: How to survive middle school math without losing your mind or breaking a nail".
So, what's it about?
MATH! MIDDLE SCHOOL MATH! This book is seriously a lifesaver for those people out there who just don't understand a simple concept. The great thing is you don't have to use the whole book, just look at the table for contents and find what you are struggling with.
For example, let's say you need help converting decimals to fractions. Look it up and it's Chapter 12, page 150.
**This is so awesome: with every chapter, she names it something that might apply to girls! Chapter 12 is called, "How to Entertain Yourself While Babysitting a Devil Child". What a great title!
In each chapter, she gives Step-By-Step instructions with lots of examples. She adds in questions you can do by yourself, too! She provides answers and explanations on the last 10 pages of the book. On the website, there's also a Solution Guide!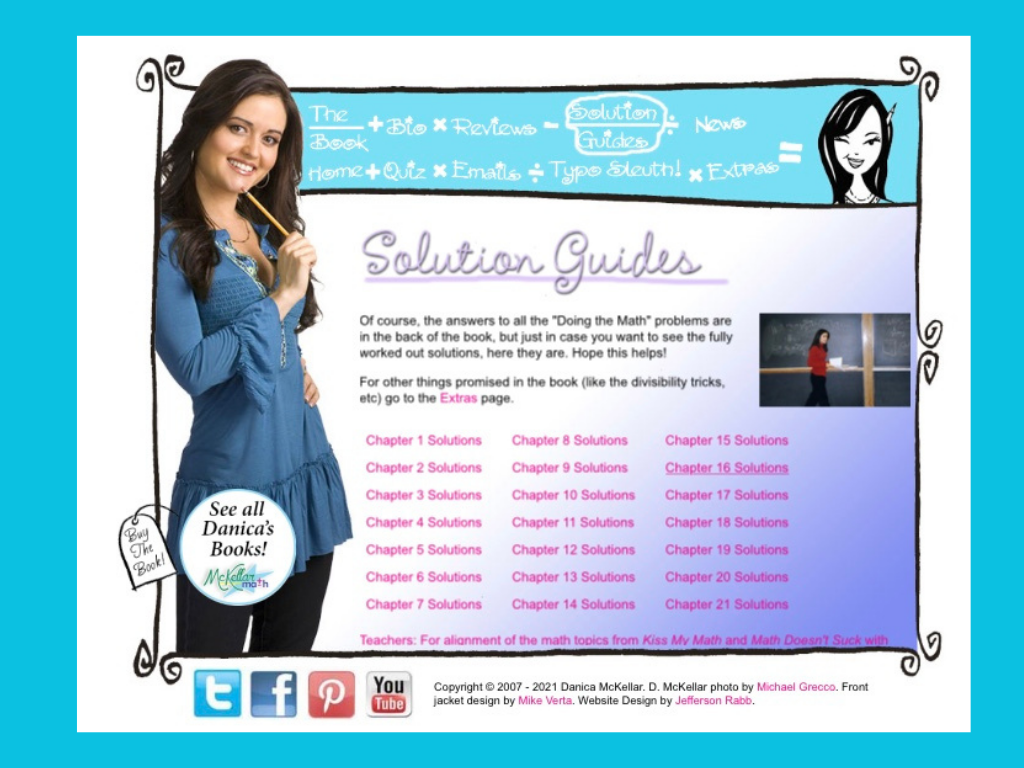 Not only are there numerous examples, but she also gives a whole bunch of tips and tricks on how to do it!
She has a lot of little, special treats sprinkled throughout the book:
What's the Deal?
What's It Called?
Takeaway Tips
Quick Notes
Watch Out!
Shortcut Alert!
Have you ever thought to yourself when you come to a math term or vocabulary word, I wonder why it's called that? Danica explains it in the What's It Called section. I think this is a good idea because when you find out why something is named, it can make learning the procedure easier to remember. Sometimes.
She even tells a life story that applies to each concept. She calls it Danicas Diary and I absolutely love that she tells funny stories about herself and math!
My Favorite Part…
Remember how I said Danica uses stories to make the math lessons realistic? My favorite is from the chapter I was talking about earlier, Chapter 12: Converting Decimals to Fractions. This story is called Chocolate Malt Madness!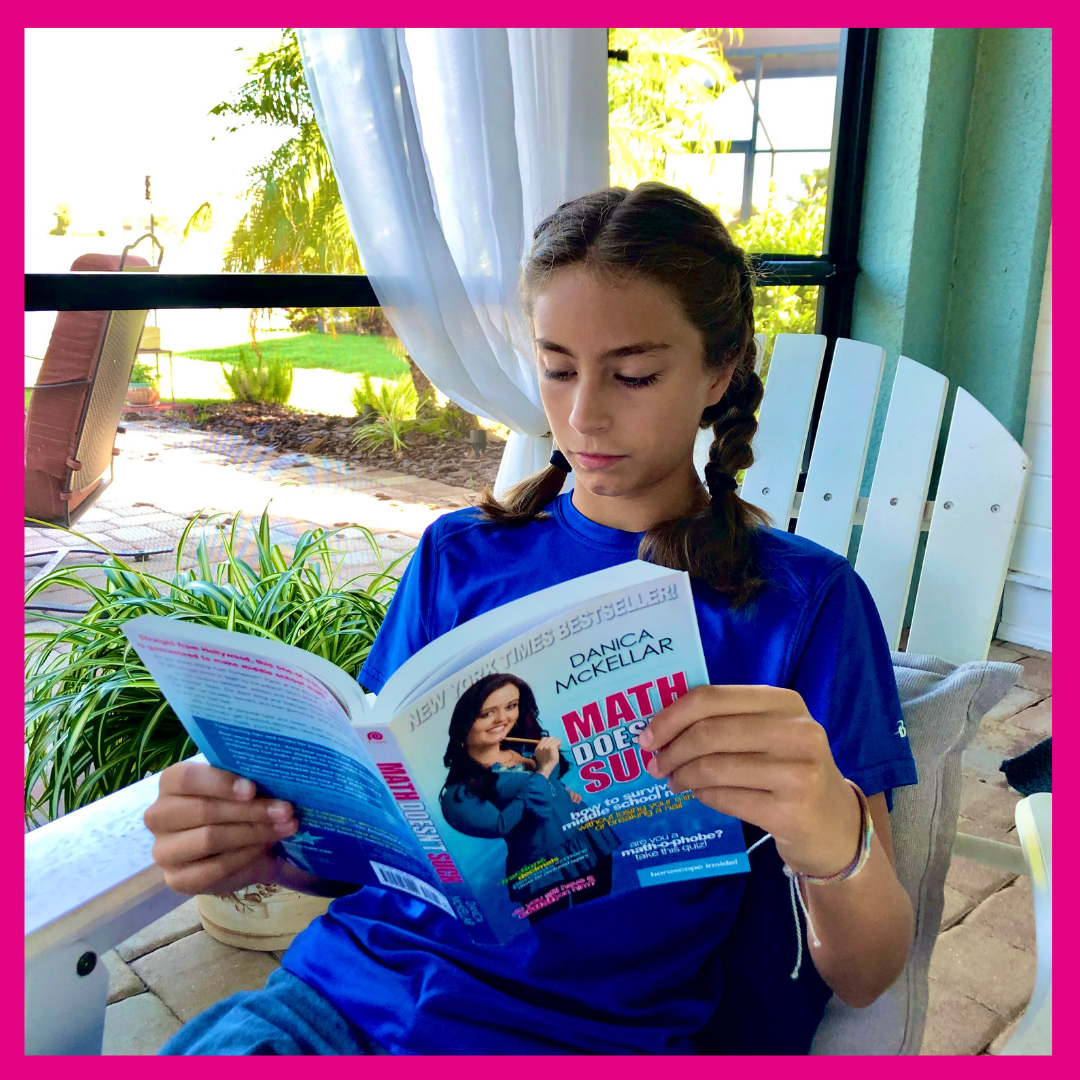 She talks about how a time when she wanted to make chocolate malts for her friends and didn't know how much chocolate to put in since it was in liters and she only knew how much she needed in cups, a fraction. She then gave the example of how to convert it.
I mean, HOW HELPFUL?! The only bad part was that after reading it,  I was super hungry for a chocolate malt and we didn't have anything to make them. 😉
Other cool things!
💡The book has quizzes such as "What's Your Math Horoscope", "Are You a Mathophobe?", and "What's Your Learning Style?"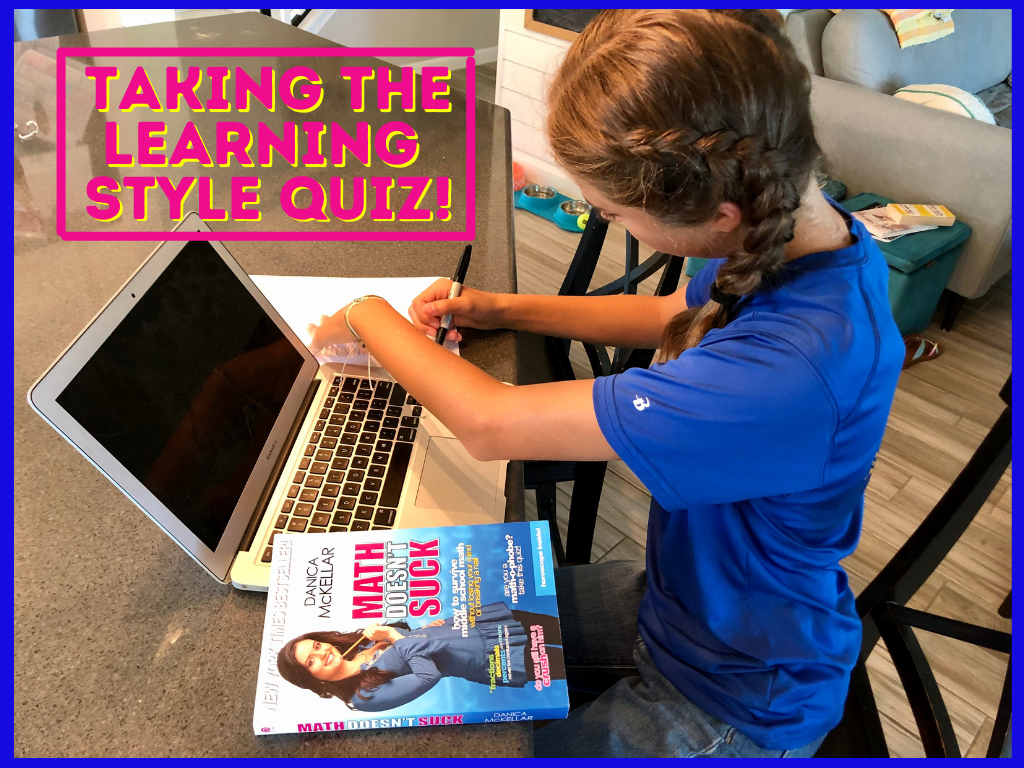 The quizzes are FUN, INTERESTING and HELPFUL.
💡Math Doesn't Suck has a website! Click here or on the picture and I'll take you there! You can see from the main page that there is a lot more information!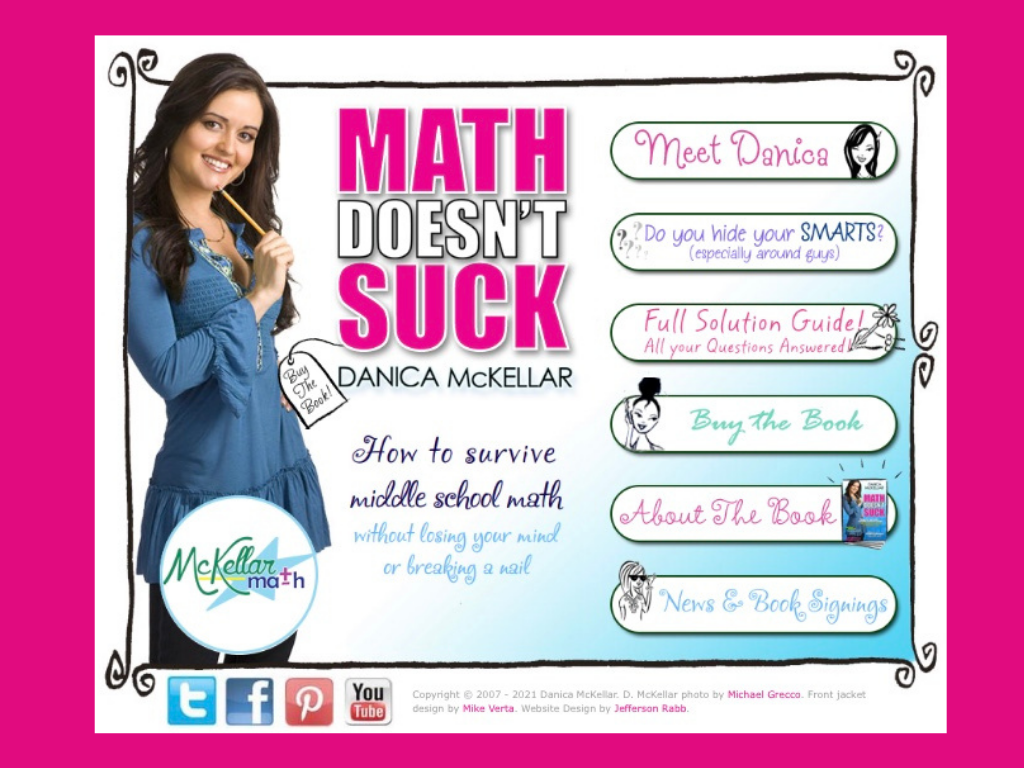 Who's it for?
I recommend this book to any girl who is struggling in math AND any girl who is NOT struggling. I am not struggling in math, but got the book anyway, and I've learned a lot!
🤩This book has made me more excited about math, so if math is not your favorite subject, I suggest reading this. It could be the little push you need to LOVE MATH. Or at least tolerate a little better.
It is for 6th-8th graders (or middle schoolers).
Everyone parent should get this book for their middle-school girls, it's very empowering!
Does Math Suck?
Danica McKellar wrote this book like she is one-on-one with you, and she tells stories and she makes you feel like she's a friend, and that math is just something fun you want to do! It is not written like a boring math textbook, it truly brings math to life and dare I say, makes it cool.
There is one thing I got out of this book and it is that…Math doesn't suck…
                                                                      MATH IS FUN!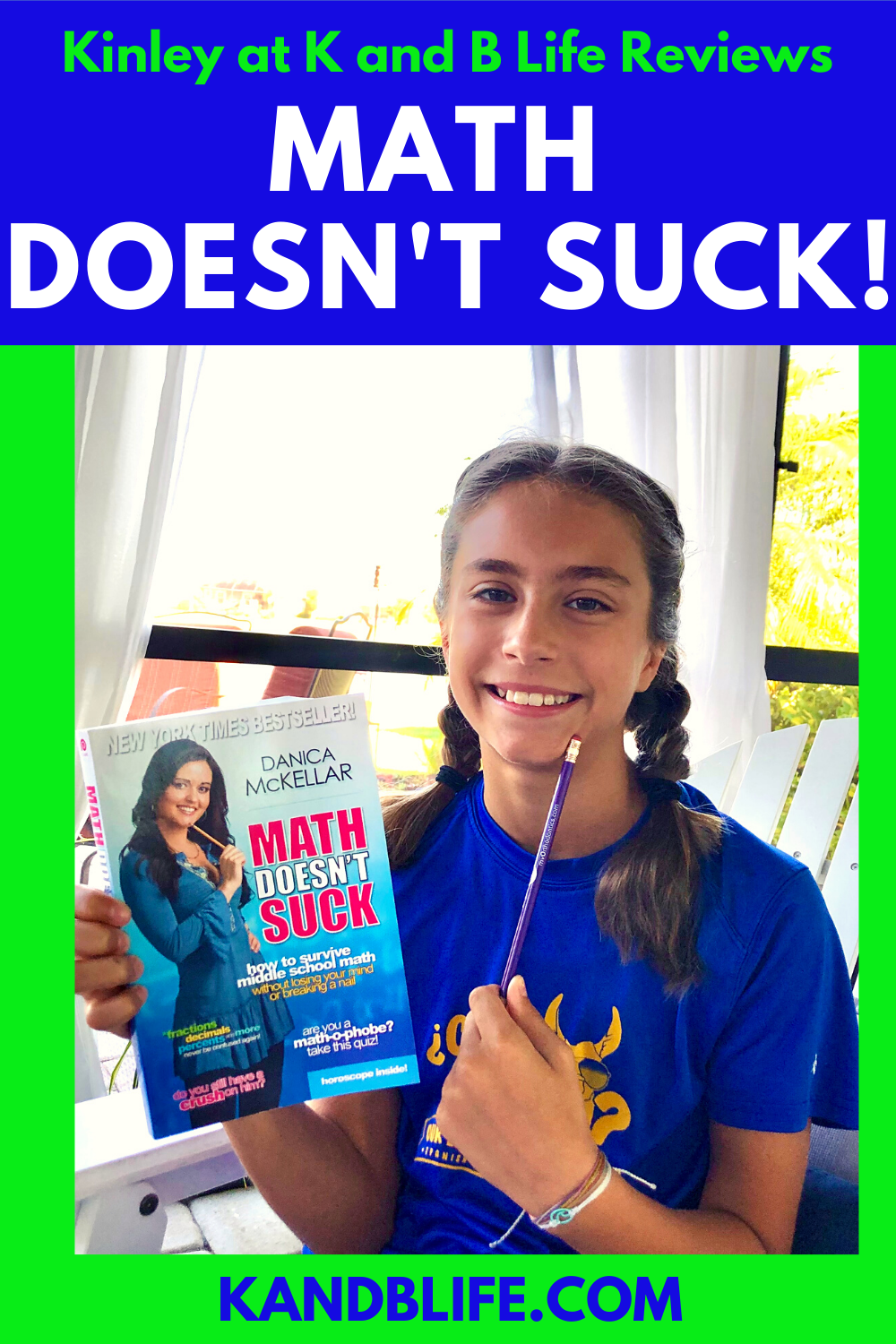 Don't Miss Out!
**Danica has gone on to author a few more books on math (I'll eventually get them all):
Kiss My Math: Showing Algebra Who's Boss (Pre-Algebra-Grades 4-8)
Hot X Algebra Exposed: Word Problems, Polynomials, Quadratic Equations and More (Grades 7-9)
Girls Get Curves: Geometry Takes Shape (Grades 9-10)
***The above are affiliates so may or may not get a little something to help us keep the blog going. Thank you for your support! And as always, keep reading!
To head back to Book Talk- click here!