Description
These  were designed to help kids learn Spanish/English vocabulary associated with Summer and have fun doing it! While coloring, they're being reinforced by the words on the page.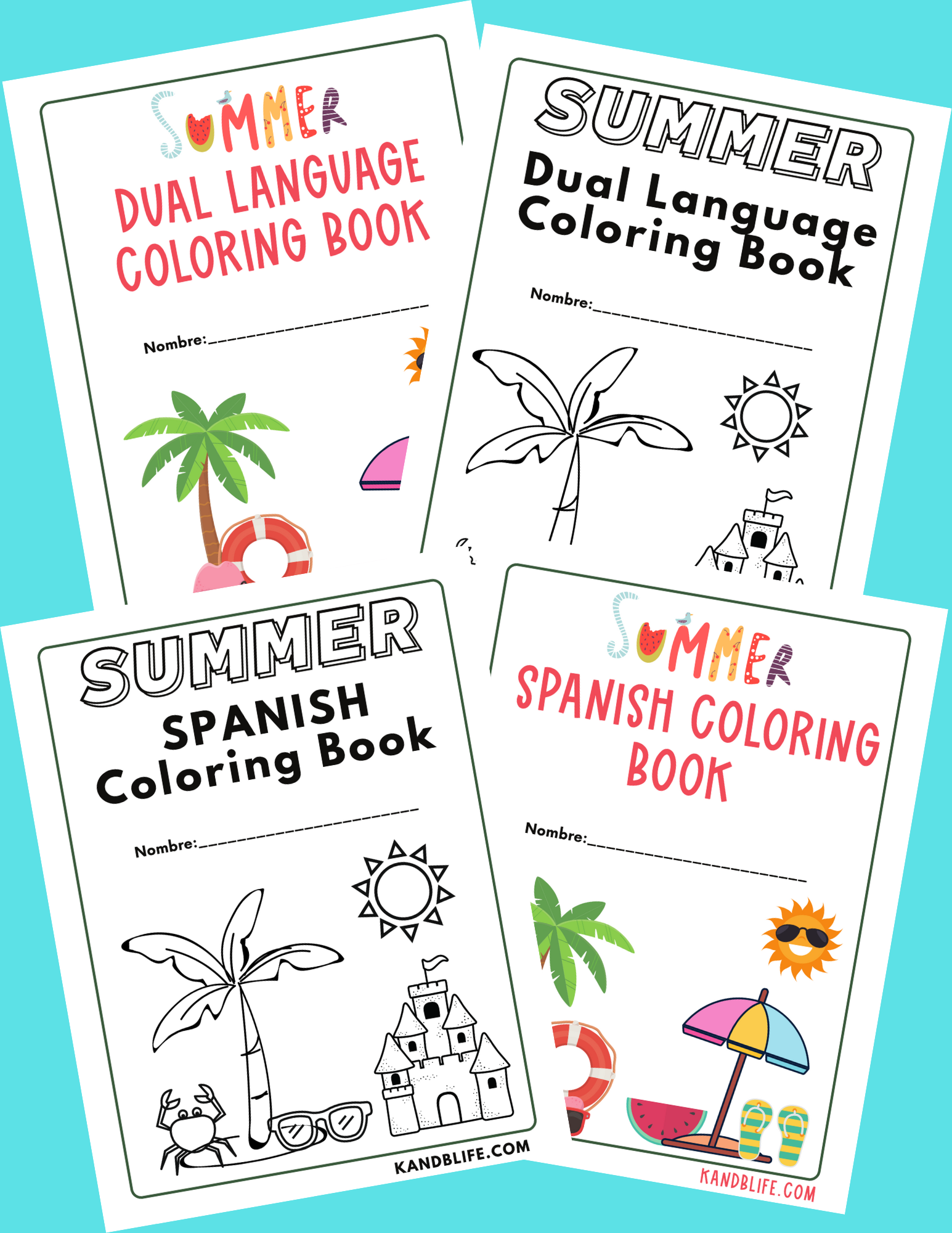 ⭐️ Included:
35 Vocabulary Words/Coloring Pages in Dual Language
35 Vocabulary Words/Coloring Pages in Spanish
Black/white AND color Cover Options
An Ideas Page!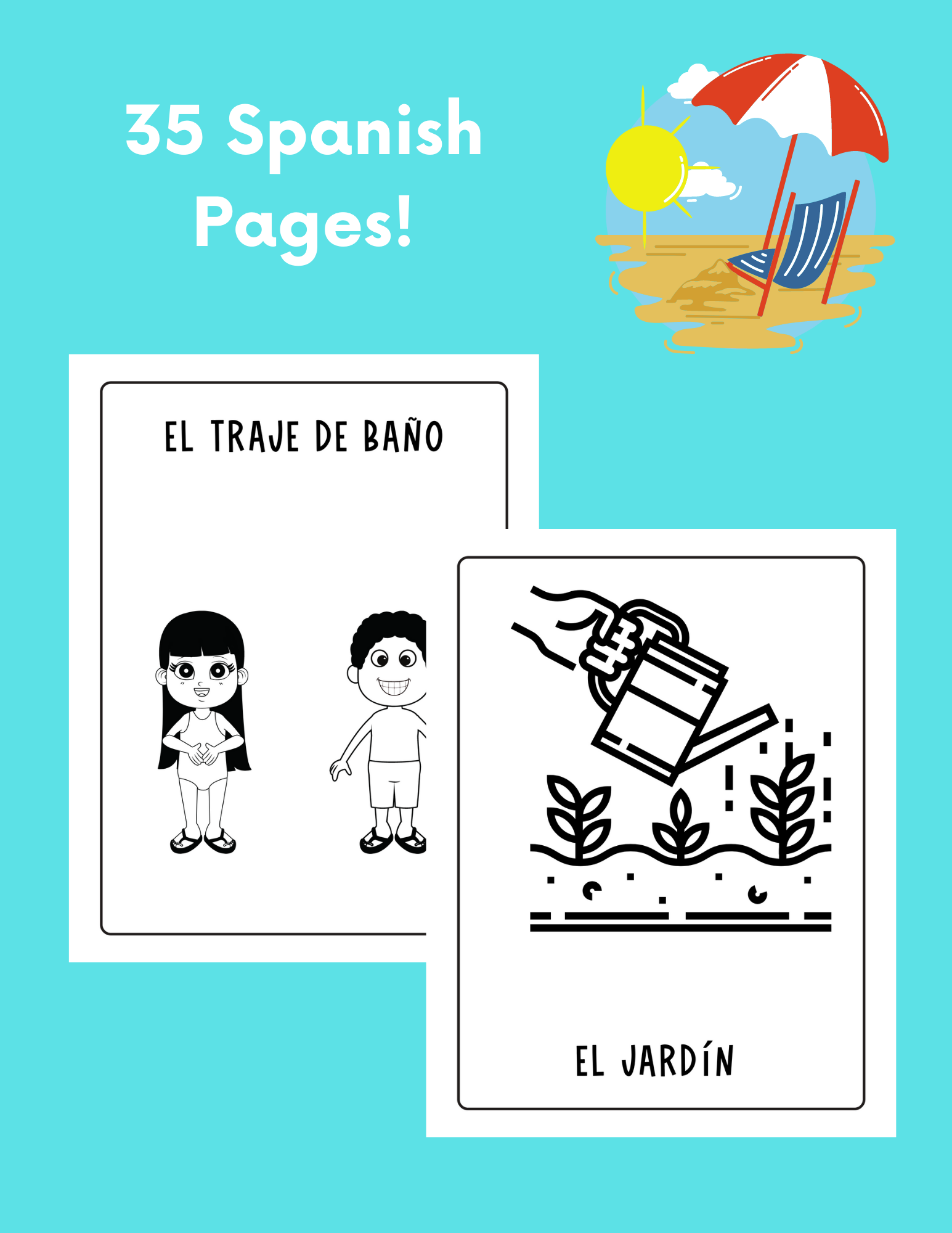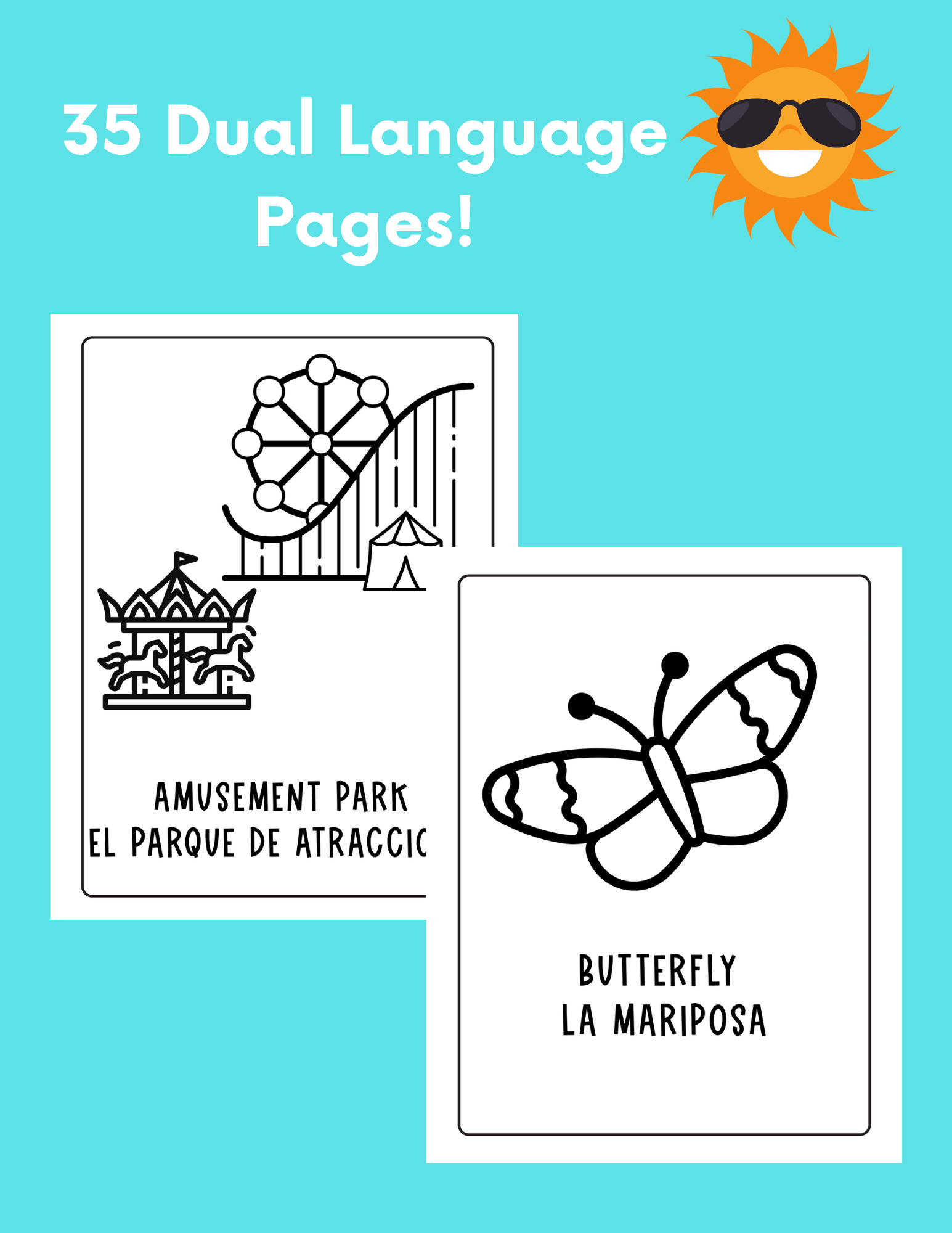 Not only are kids learning essential vocabulary but coloring and drawing have so many benefits:
Helps Train the Brain to Focus.
Improves Fine Motor Skills
Develops Hand-Strength Needed for Writing
Encourages Self-Expression
Gives Practice for Pencil Grip
Nurtures Creativity
Enjoy the season with this fun summer-themed bingo game with pictures and Spanish words! Students love playing Loteria! It's a Mexican game similar to Bingo but instead of numbers, it has pictures, which is FANTASTIC for kids learning Spanish Vocabulary!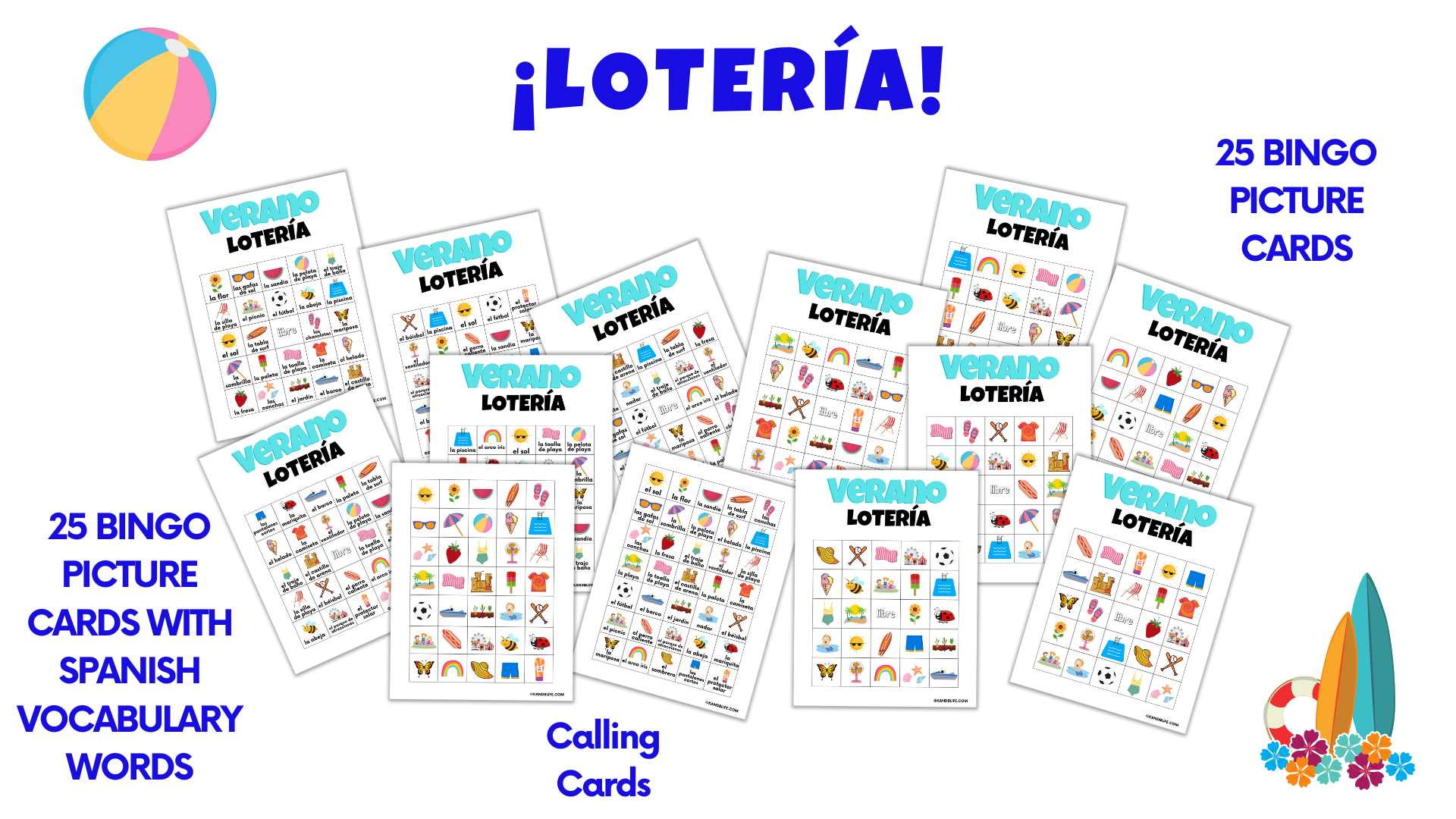 ☀️ Summer Bingo Game with Spanish Words Include:
2 Calling Cards (1 with just pictures and one with pictures and Spanish Vocabulary)
25 different bingo cards with pictures
25 different bingo cards with images and Spanish words
35 Vocabulary Words to learn/review
These fun-filled Beach Day Spanish Activities will have kids enjoying, learning, and engaged during their last week of school or on a cold, wintery day! With a variety of writing activities, there's something for everyone to be successful.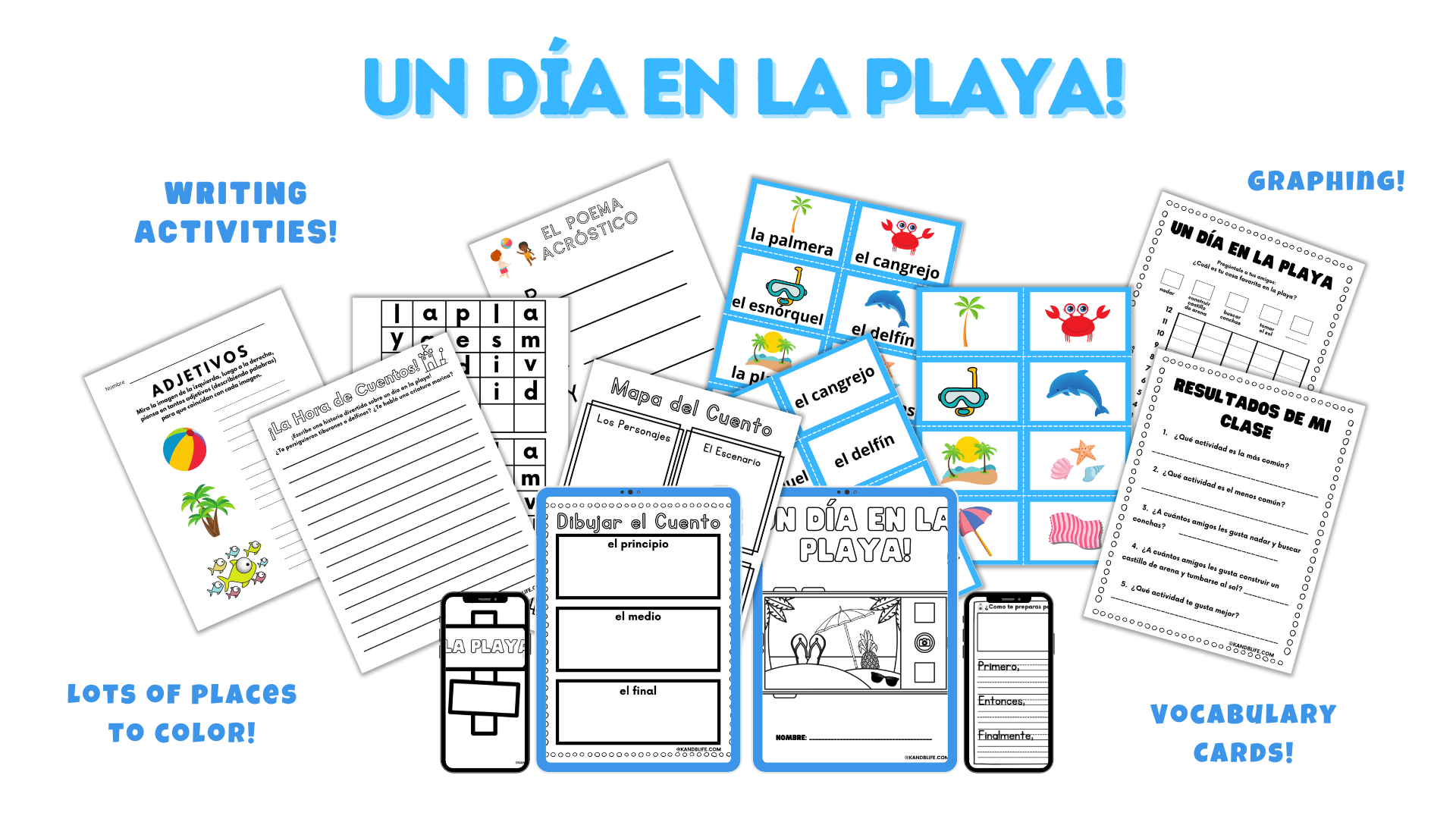 Beach Day Fun Spanish Activities Include:
Adjective Page
Tracing
Letters to cut out and spell words
Recording sheet for words
Functional Writing
Creative Writing
Story Maps
Summer Bucket List
Acrostic Poem
Flashcards
Graphing Activities
Lots of places to color!
❤️ Why it's GREAT:
NO PREP
They can use it anywhere (inside or outside)
Kids are working on Writing AND Math Standards
Differentiated writing lines
Places to color and make it their own
They can be silly, use their imagination and have FUN
⭐️ KIDS LOVE IT!
These resources can be used in Spanish, ESL, Dual Language, or Bilingual classrooms and homes.